THE WALWORTH FARCE Comes To Kings Cross Theatre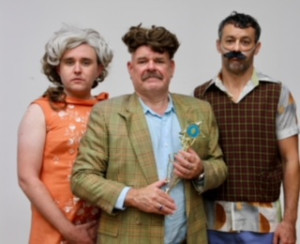 Dinny has kept his two boys Sean and Blake locked away from the dangers of the world in a tiny flat on Walworth Road, South London ever since bringing them from Ireland as young boys. He endlessly forces them to perform a farce at 11am every morning which is the story of their final day in their homeland. But as the outside world begins to infiltrate their seclusion and cracks begin to appear in Dinny's version of events, the blurry line between truth and lies threatens to tear the family apart.
Equal parts hilarious, menacing, absurd, terrifying, tender, violent and deeply moving, Enda Walsh's The Walworth Farce is a wild exploration into what can happen when we get stuck inside the stories we tell. Because in the end ... what are we if we're not our stories?
Workhorse Theatre Company has assembled a wonderfully talented cast and creative team for their production of The Walworth Farce, which plays at Kings Cross Theatre from 17 May. The acting ensemble includes Rachel Alexander (new graduate of The Actors Centre making her professional debut) as Hayley, Laurence Coy (The Removalists, The Night Alive) as Dinny, Robin Goldsworthy (Look Back In Anger, All My Sons) as Blake and Troy Harrison (The Motherf**ker with the Hat, Savages) as Sean. The Walworth Farce is directed by Kim Hardwick (The Shifting Heart, One Flew Over the Cuckoo's Nest), with set and costume design by Isabel Hudson (The Shadow Box, The View UpStairs), lighting design by Martin Kinnane (The Shifting Heart, New Year's Eve Harbour Bridge effects 2000-2007) and sound design by Benjamin Freeman (Sydney Theatre Award winner for 4:48 Psychosis).
Producers Zoe Trilsbach and Troy Harrison are thrilled to present this deceptively old-fashioned high farce. "When Enda Walsh sat down to write The Walworth Farce he has said that he wanted to write a play that was impossible for actors to perform. Apart from being an epically great piece of theatre, the challenge as an actor of 'impossible to play' is irresistible. There are very few plays that can honestly claim to be a hurricane of a rollercoaster. This is one of them," they said.
"It's very rare that a farce is produced in Australia. It's even rarer for an independent company to bring one to the stage, and for good reason. They are extraordinarily hard to pull off. What makes The Walworth Farce exceptional is that it is a play within a play. The farce that is being performed is being played out in the middle of a dramatic psychological thriller by the characters in the play. The style of play jumps from drama to farce and back again at breakneck speed. While the play does become an extremely uneasy piece of theatre to watch, it is truly shocking and explores a multitude of issues that are very common and relatable to us all. More than anything we wanted to produce a play that is a rollicking good night at the theatre. The Walworth Farce is all of that and then some."
More Hot Stories For You