New Australian Play Exposes Danger in Drama Schools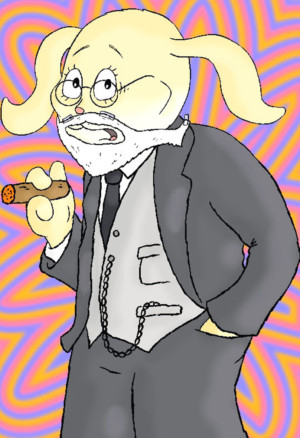 A new Australian play fleshes out trauma in the acting classroom, exposing harmful practices and contributing to the current industry discussion on ethics.
HYPNAGOGISM is a biting satire on the world of drama school from the sharp pen of Frankie. The play takes its name from the mental phenomena that occur during the "threshold of consciousness" before sleep, that includes lucid thought, dreaming, hallucinations and sleep paralysis.
Follow drama student 'Michelle' as she enters a nonsensical world filled with bizarre characters. There's a rabbit, a failed fortune teller, a scumbag cigarette who only lives for seven minutes, and a child's drawing of outer space who is utterly convinced she is an entire universe. The guru remains hidden behind a curtain, as he is a celebrity, and students would be star-struck if they could see his face." While negotiating her way through the madness of the school, the interpersonal struggles of forced intimacy among other young students leave Michelle hypervigilant, and she clings to information for dear life. In an institution where pain is glorified and delusions are praised, can she make it out with her mental health intact? Frankie's darkly funny satire draws from her own experiences of being psychologically injured in an acting class, where the quest for authenticity went awry.
She developed full-blown Complex Post-Traumatic Stress Disorder, became suicidal and was hospitalised. HYPNAGOGISM became her reason to live. She says, "I'm putting my mental breakdown on a stage and I want you to come and laugh at it with me."
Mark Seton, co-author of the Australian Actors Wellbeing Study, is very supportive of this play: "Hypnagogism allows a space for us to seriously talk, in the industry, around the questions of psychological and emotional health and wellbeing in places of actor training, and the ethics that surround that."
This is an insider's perspective on the strange and confusing journey that is drama school, where the line between fantasy and reality is blurred, the pain is real, and the guru is always right.
Directed by the playwright with Luke Beattie, HYPNAGOGISM stars Bretany Amber as Michelle, Brielle Flynn as the Rabbit, Daniel D'amico as Mitch, Vonne Patiag as Toby, Tivy Siripanich as Taryn, Kate Allison as Stephanie, Ash Sakha as Darren and Lachlan Mcnab as Jamie.
It plays nightly Wed-Thurs 4-14 October at the Factory Theatre in Marrickville.
Balter Theatre presents
HYPNAGOGISM by Frankie
Directed by Luke Beattie and Frankie
Wed-Sat 7pm 4-14 October (4 Oct preview)
The Factory Theatre, 105 Victoria Rd Marrickville
Tickets $40/$35 Information and bookings
www.baltertheatre.com/hypnagogism
Related Articles View More Australia - Sydney

Stories

Shows
More Hot Stories For You