Chatswood Musical Society Changes Name to North Shore Theatre Company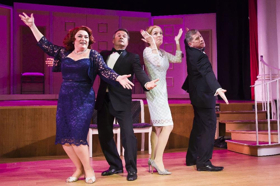 After 66 years as one of Sydney's longest running musical theatre companies, Chatswood Musical Society has changed its name to North Shore Theatre Company effective 1 January 2018.
With 145 productions since 1951, Chatswood Musical Society has played in the old Bailey Hall, Chatswood Concourse, Mosman Town Hall, Zenith Theatre, PLC Pymble and currently at North Sydney's Independent Theatre. Having attracted audiences from the wider North Shore community for well over six decades, the company felt it long overdue to acknowledge the wider community it serves and establish itself as Sydney's premiere Northside theatre company.
"Changing our name not only better reflects where our audiences are and where we consider 'home' but we can now perform in a whole host of new venues across the North Shore," said North Shore Theatre Company president, Chapin Ayres. "We can't wait to make new memorable theatre experiences while upholding our vision to produce excellent book-based musicals with top quality acting and singing to ensure we take our loyal and expanding audiences on a journey each and every time."
The second-oldest musical theatre group in Sydney has run longer than most professional theatre companies and has come a long way from its inaugural production, the Sydney premiere of "Bless The Bride" in August 1951 at Mosman Town Hall. The show's scenery was homemade in stagehands backyards and lighting was rigged by local electricians. Now the not-for-profit theatre company stars some of the brightest upcoming talents of musical theatre, showcases established professional actors who love honing their craft, employs hundreds of working musicians, and fosters the creative design talents of well-loved theatre makers. Company alumni include professional actress Elisa Colla (My Fair Lady, Les Miserables, Wicked), actress Chapin Ayres (Fiddler on the Roof, Blood Brothers, Big River), musical director Kellie Dickerson (currently musical director of Book of Mormon, and previously Wicked, Legally Blonde, Showboat, Dr Zhivago), Blake Erickson (Les Miserables, High Fidelity, Grey Gardens), and actor Jeremy Powell (Spamalot, The Producers, Witches of Eastwick, The Pirates of Penzance).
The North Shore Theatre Company remains community focussed, welcoming creatives across the entire North Shore area to collaborate on upcoming musical productions. Little Women will be the company's first show in April followed by Bring It On in July at the Independent Theatre, 269 Miller Street, North Sydney. "Join us and enjoy the best of community theatre right on your doorstep!," said Ms Ayres.
Photo Credit: Alan Roy