BWW Review: Repertory Theatre of St. Louis's Thoroughly Charming MISS BENNET: CHRISTMAS AT PEMBERLEY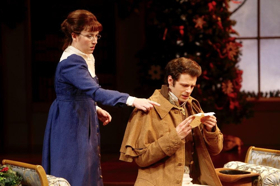 It's always interesting when sequels are written to famous works because, in order to succeed, they must project some of the same style, skill, and taste of the original author. But, Lauren Gunderson and Margot Melcon have crafted a play that carries on some of the same wit and charm that the book in question, Jane Austen's Pride and Prejudice, possesses. That makes MISS BENNET: CHRISTMAS AT PEMBERLEY an appealing new addition to the story, with the bookworm Mary Bennet finally given her due as a character. While she's certainly less exacting here than in Austen's work, a characteristic derived from her overly studious nature, she's still a sort of nerd-ish young woman with more of a thirst for knowledge than any outwardly evidenced desire for the flesh. The Repertory Theatre St. Louis has wrapped this holiday gift quite nicely, and what's more, there's an enjoyable and entertaining story inside that's both funny and touching. A nice new addition to the usual holiday fare, MISS BENNET: CHRISTMAS AT PEMBERLEY is a warm return to the world of Jane Austen's characters as witnessed through a new set of lenses. A charming treat for the season!
As a plot device, whenever an unattached and intelligent female and an unattached and intelligent male are both reading the same book there's little doubt they'll become involved in one way or another. And that's just what occurs at the Darcy family Christmas gathering at their ancestral home, Pemberley. The dutiful daughter, Mary Bennet, who's had none of the romantic encounters her more famous sisters have engaged in, nonetheless finds herself looking not just for someone with whom she can carry on a meaningful conversation, but maybe even someone she could love. That is, if any number of obstacles don't happen to stumble into the way of this happening, and they do, quite often.
Harveen Sandhu and Rhett Guter play Elizabeth Darcy (formerly Bennet) and Fitzwilliam Darcy (you'll remember them from their romance in the original book), respectively, and each does fine work here, with Sandhu bringing a spirited quality to her performance, while Guter projects a snobbish attitude that perfectly suits his character. Justine Salata is a sweet delight as Mary, bespectacled, and forever with her nose in a book, but appealing in a absolutely genuine way. She shines during a particularly amusing moment that I won't reveal. Fitzwilliam's cousin, Arthur de Bourgh, is very nicely portrayed as a virtual bookend to Mary by Miles G. Jackson, if even more comically hapless in his endeavors. Victoria Francis is a startling and direct contrast, as Anne de Bourgh, and Austen Danielle Bohmer displays a giddy enthusiasm as Lydia Wickham. Kim Wong (Jane Bingley) and Peterson Townsend (Charles Bingley) neatly round out the main cast.
Jenn Thompson's direction captures the humor and heart of this piece in deft fashion. Thompson has a talented ensemble to work with, and makes the most of their comic and dramatic sensibilities to produce a new holiday classic. Wilson Chin (scenic designer) and David Toser (costume designer) add the proper elegant touches that make the Darcy home come alive. Philip S. Rosenberg (lighting) and Toby Jaguar Algya (sound) provide just the right atmosphere for the production.
The Repertory Theatre of St. Louis is currently presenting a witty and delightful production of MISS BENNET: CHRISTMAS AT PEMBERLEY, and it's pure joy for the holidays! The show continues through December 24, 2017 on the mainstage of the Loretto-Hilton.
Photo credit: Jerry Naunheim, Jr.