BWW Review: New Line Theatre's Lovely OUT ON BROADWAY THE THIRD COMING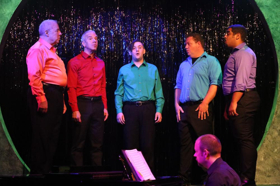 Originally conceived by artistic director Scott Miller over 20 years ago, OUT ON BROADWAY (THE THIRD COMING), is, as titled, the third incarnation of a revue designed to reinterpret songs from an array of classic and offbeat, but brilliant, musicals ( this time with a new song from Jason Robert Brown, "Hope"). This production acts to show just how much these works still retain their emotion, even when the players in each are now gay. I can assure you that the meaning remains, and so does the depth of feeling. It's a collection of over 30 pieces that are arranged to weave together a kind of narrative. Some people might find some of the choices obscure, but that actually adds to the charm for me, because then I'm exposed to things that I'll want to seek out afterwards. I'm late with this review, so forgive me, but life intrudes sometimes. But if you didn't catch it you really missed an exceptional theatrical cabaret of sorts, which was truly wonderful, and which I hope sparks a fourth coming!
Each performer had their chance to shine, none more so than Dominic-Dowdy Windsor, whose run through "Stars and the Moon" (SONGS FOR A NEW WORLD) was sublime, and my favorite of the night. Ken Haller's breeze through "Married" (CABARET) was splendid and succint, and brought back fond memories of his performance in the musical a while back. Sean Michael displayed lovely tone and passion on "You'll Be Back" (HAMILTON), and with gorgeous backing from the rest of the troupe delivered a lovely "Sleepy Man" (THE ROBBER BRIDEGROOM). Mike Dowdy Windsor brought humor and emotion to his songs throughout the night, but it was the work with his husband, Dominic-Dowdy Windsor, that really lit up the stage with a special kind of energy. Keith Thompson returned from previous versions of the show with a number of fine moments including "One of the Good Guys" (CLOSER THAN EVER), but I think his duet with Ken Haller on "Bosom Buddies" (MAME) was a delightfully bitchy charmer.
Music director and pianist Nate Jackson deserves considerable praise for his incredible work on a bevy of songs that run the gamut of styles. Jackson's work was nuanced and dynamic, delicate at times, and pounding toward a forceful conclusion at others. The harmonies he pulled from this array of vocal talent were also spot on throughout the show.
Scott Miller's concept and direction were superbly realized, as always. The evening was about these songs,and what these performers could bring to them, and that's where the focus was placed. Rob Lippert's nicely designed stage and lighting was simple, but elegant, with 2 stools, a neatly constructed entrance, and the appropriate mood lighting provided.
New Line Theatre's OUT ON BROADWAY THE THIRD COMING was filled with shimmering and beautiful tunes from shows, many of which, New Line produced over the years. It played through August 19, 2017 at the Marcelle Theater, and it was an exceptionally well done production.
Photo credit: Jill Ritter Lindberg
Related Articles View More St. Louis

Stories

Shows
Chris has been active in the local theatre scene for over 30 years and reviewing local theatre for over 11. In addition to his acting (read more...)