Review: MEET ME IN ST. LOUIS Trollies The Muny Into Its Next 100
Meet Me In St. Louis is the picture-perfect nostalgic closer for The Muny's centennial season, a romantic musical based on the 1944 film that follows the Smith family through 1903 and into the new year as they await the opening of the 1904 World's Fair. The plot is a bit old fashioned by modern standards, but focuses on family, friendship, and love, and pays an affectionate tribute to a bygone era in St. Louis history.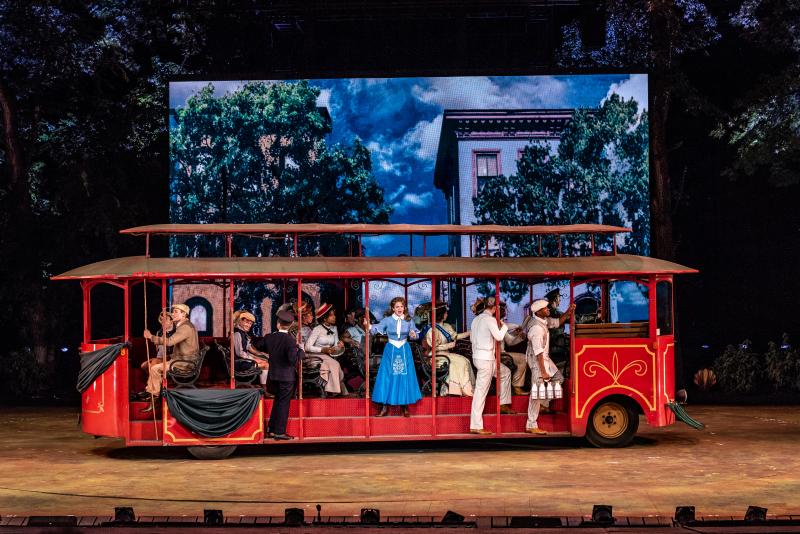 The Muny tech team outdoes itself with this one, utilizing its 25-foot LED screen to project captivating historical images, including St. Louis cityscapes of years gone by, images of the 1904 ferris wheel, and the muddy fields of what now is beautiful Forest Park but used to be known as "Skinker's Swamp." All of this complements the fabulously detailed 3-D set pieces that move in and out on the turntable stage. One unforgettable star in this production that earns a huge round of applause is the full-size red trolley, which rolls onstage for "The Trolley Song," and is accompanied by big voices and intricate choreography that really show off the ensemble's expertise. Tristan Raines' costumes are predictably elegant as well, with all the splendidly stunning details you'd expect from a turn-of-the-century piece.
There are so many standout performers in this production - Emily Walton, a Broadway and Off-Broadway veteran who makes her Muny debut as Esther Smith, has a remarkably melodious voice, and knocks it out of the park with every single musical number. Liana Hunt, also making her Muny debut as Rose Smith after performing on Broadway and in several national tours, is an impeccable counterpart to Walton, the two playing energetically off of one another. Kathy Fitzgerald as Katie, the Smiths' housekeeper and cook, who playfully claims she has a toothache from keeping her mouth so tight about a family secret, is funny in both dialogue and action, and "A Touch of the Irish," which features Katie advising the sisters in the matters of men, is entertaining and supremely endearing. The magnificent Erin Dilly (as Mrs. Anna Smith) and Stephen R. Buntrock (as Mr. Alonzo Smith) are wonderful in their roles as well, running this large and busy family with classy, polished measure.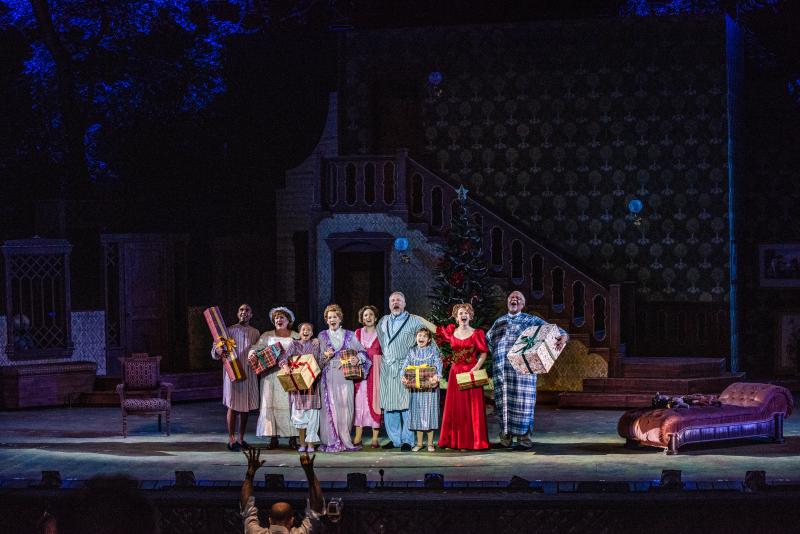 Ken Page (a Muny favorite) as Grandpa Prophater is charming as a pal and play partner to younger sisters Tootie Smith (Elena Adams) and Agnes Smith (Elle Wesley), and is adored by each of the other family members, and therefore by all 11,000 of us in the audience as well. In addition, Jonathan Burke as older brother Lon Smith and Dan DeLuca as the-boy-next-door John Truitt, both shine in their roles and have hearty singing, dancing, and acting talents.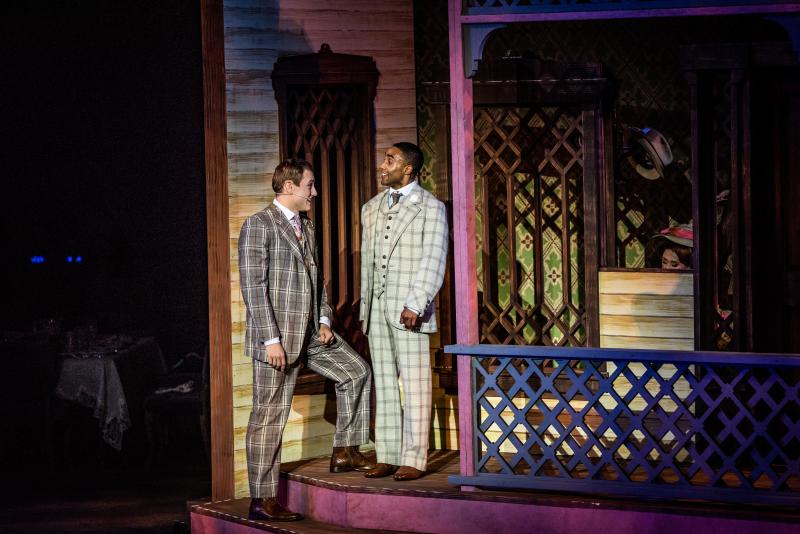 I especially appreciated the nontraditional casting in this production. The performers were all well cast with regard to their individual talents and worked in concert to create a beautiful, believable family in this show. "Whenever I'm With You," which includes most of that beautiful family, was another highlight - enchanting and sweet, with delightful dance moves. There were other lovely moments as love matches unfold, such as in the musical number "Over the Banister," and during John and Esther's picnic in Skinker's Swamp for "Boys and Girls Like You and Me." The audience also especially liked the Christmas ball scene, where we not only learned some sweet new party moves in "The Banjo" but also cracked up repeatedly at the entrances and exits of Esther and her unfortunate dance partner Pee Wee Drummond (Jeff Jordan). This is also where we got to fully appreciate the enormous new Gibson Girl hairstyle with which Lon's New York City girlfriend Lucille Ballard (Madison Johnson) tries to impress the Smith sisters.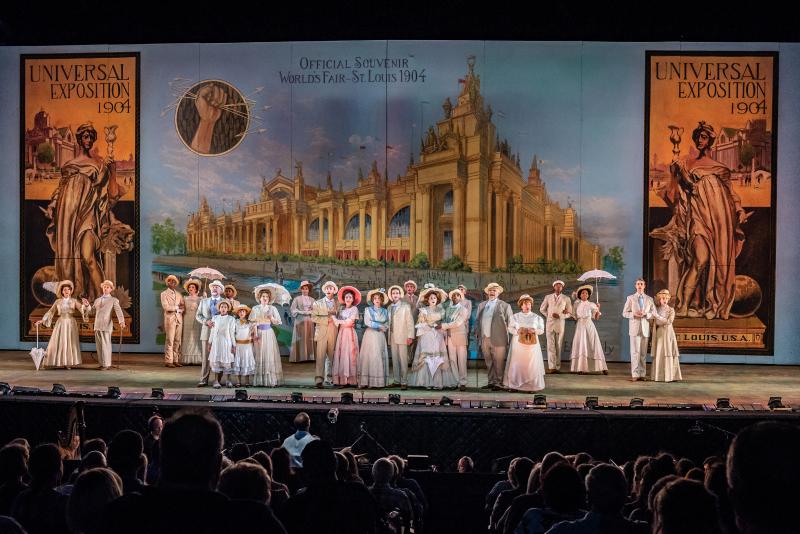 The show culminates with fireworks, which surround The Muny on three sides, and an invitation to the audience to sing along with the finale, which, as St. Louisans, we are more than pleased to do. Meet Me In St. Louis is a fun way to wind down the summer, a perfect tribute to The Muny's last 100 years. Next stop: 101!
Meet Me In St. Louis is directed by Marcia Milgrom Dodge with choreography by Josh Walden and music direction by Charlie Alterman. You can see Meet Me In St. Louis nightly until August 12 at 8:15pm at The Muny. For ticket information, visit muny.org.