BWW Review: MAMMA MIA! Sparkles and Shimmers at Stages St. Louis
Mamma Mia! is an entertaining musical experience at any venue, with any cast, but Stages St. Louis' production is an especially satiating late-summer treat, featuring a rockin' beach party atmosphere and all the chart-topping ABBA hits you know, including "Dancing Queen," "Winner Takes It All," "Take a Chance on Me," and of course, "Mamma Mia."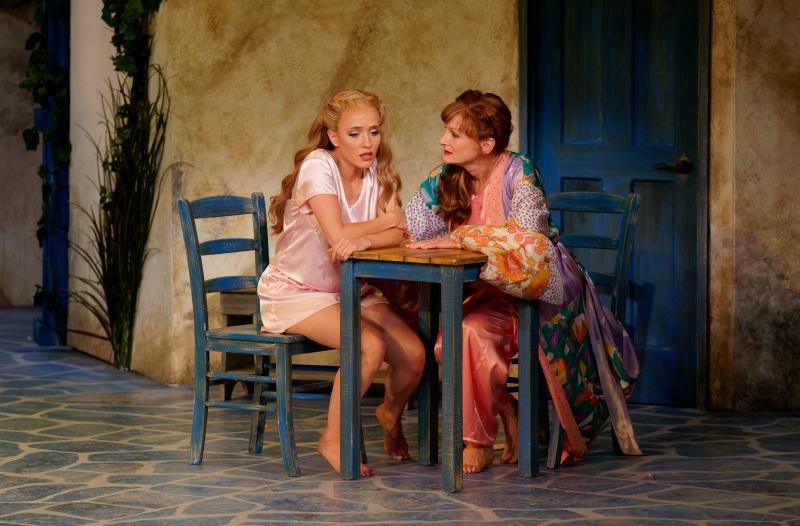 Donna (Corinne Melançon), a self-sufficient, single mother who owns and operates her own taverna on a small Greek island, has raised Sophie, 20 (Summerisa Bell Stevens), who is now engaged to be married to Sky (David Sajewich). Sophie wants a picture-perfect wedding, which means that her father should walk her down the aisle. The problem is, Sophie doesn't know who her father is, and Donna isn't talking. After peeking at Donna's old diary however, Sophie learns that there are three possible men - Sam (Gregg Goodbrod), Bill (Steve Isom), or Harry (David Schmittou) - who could be her father. Sophie takes matters into her own hands, inviting all three men to the wedding, unbeknownst to Donna.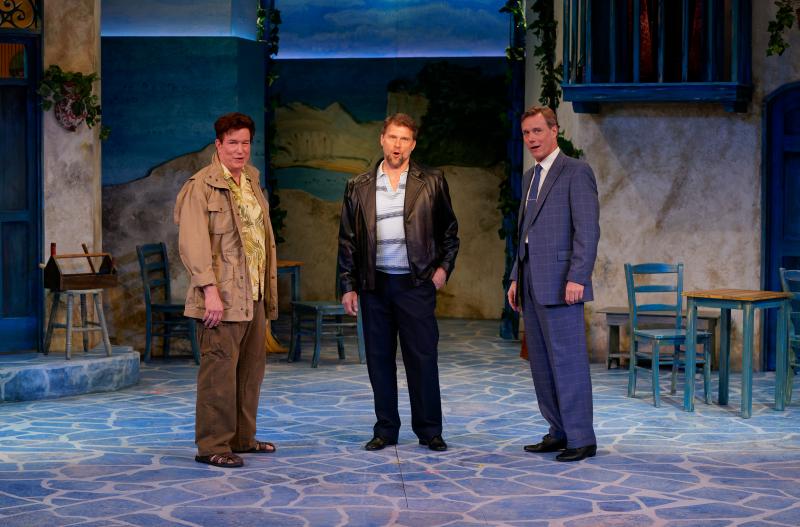 But when all three show up, Sophie and Donna have a multitude of conflicts on their hands. Add to this cast two vibrant besties for each woman, two for Sky, a strong ensemble that has clearly done the work to create unique personalities for each of their characters, and a whole host of '70s Swedish pop group ABBA hits, and you're in for lots and lots of fun in the sun!
This production, directed by Michael Hamilton, features James Wolk's wonderfully detailed set opening up in the overture to give us a light-show sneak peek into the taverna's stucco walls, green vines, and teal painted doorways, the azure ocean settled in the background. Stages spares no effort with set, props, and costumes, and this adds much to the value of this production.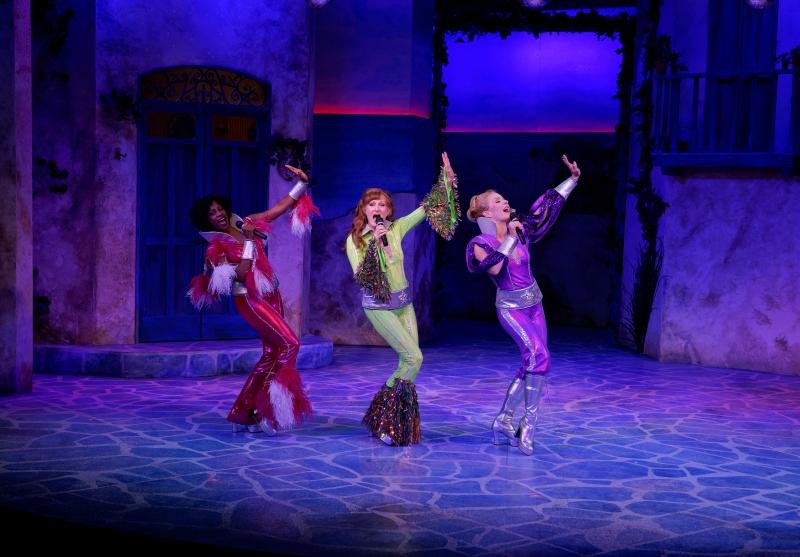 Brad Musgrove's costumes are wonderfully flamboyant, with fabulous platform shoes (for all!) and glitz, glitter, and shimmer galore! The characters' every-day island wear is attractive and appropriate too, including simple sundresses for Sophie, couture looks for Donna's affluent friend Tanya, and bare-chested beachwear for Sky and friends. Topping all of it, however, is all of the island guests' wedding attire, which you simply must see to appreciate.
Stevens is a stand-out in this cast and is a pleasure to watch. She is expressively believable throughout the performance, all at once delicate and dangerous in this role, her musical theatre and ballroom dance background evident. Melançon, who is reprising her role after 11 years in Mamma Mia! on Broadway, is accomplished as well, which makes for some lovely moments between Melançon and Stevens. One highlight of Melançon's performance is the moment when Donna first spots Sam on the island, drill in hand. "YOU!" she exclaims with all the feelings ever invented, earning much laughter and recognition. The men note that "Yep. She's still Donna," before launching into a trio that showcases their own harmonious blend of voices.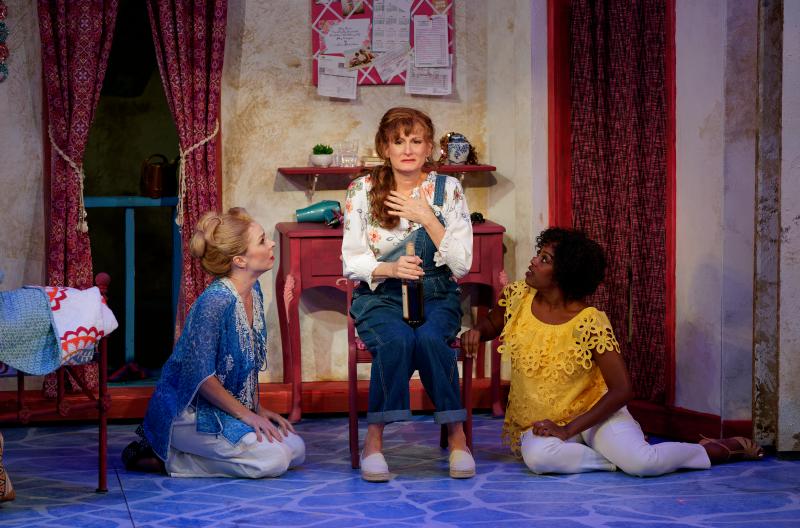 Donna's friends Tanya (Dana Winkle) and Rosie (Dan'yelle Williamson) are hilarious together, and the threesome of former party girls provides highly entertaining glimpses into a reunion of lifelong friends who are still spicy, flirty, and fun. These three, whose glory days have continued well into middle-age, can definitely still rock, as we get to witness in "Dancing Queen."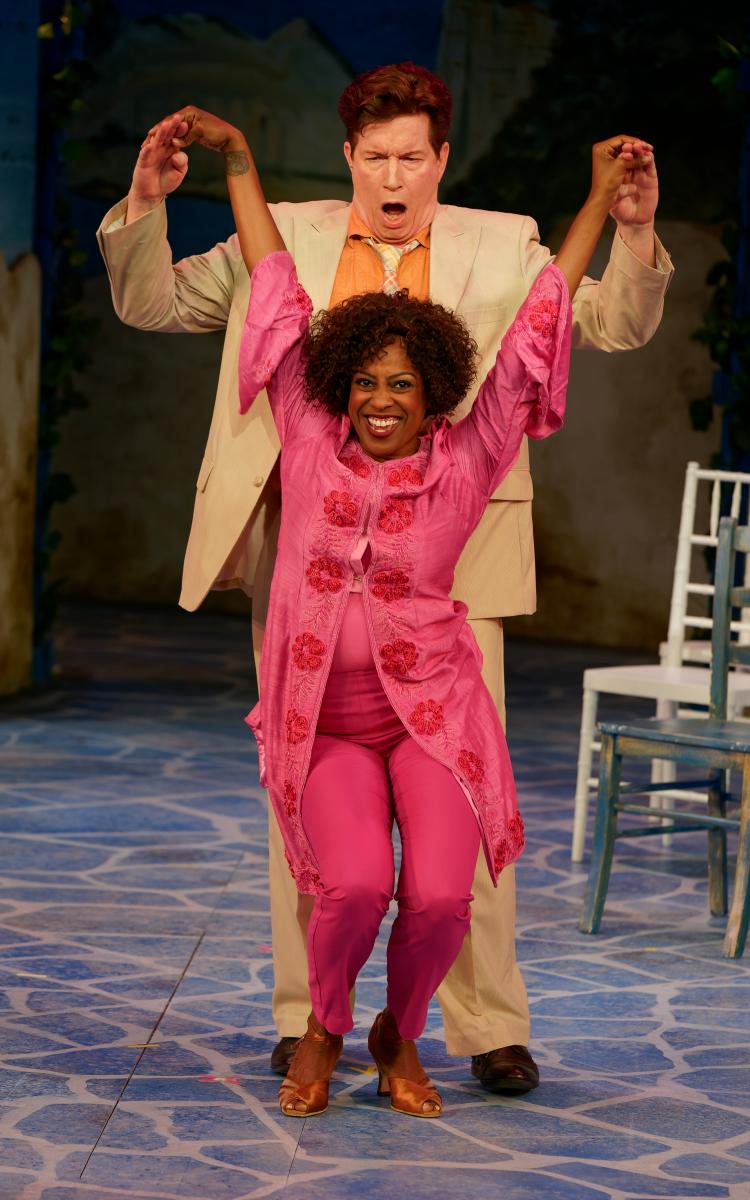 This production isn't shy. There are many funny laugh-out-loud moments, and there are sexy, peppery scenes that will prompt shared giggles and playfully raised eyebrows. Winkle steals the show in "Does Your Mother Know," while Williamson and Isom not only hold their own but create quite a flurry of delight in "Take a Chance on Me." There's also a super fun tap break during "Lay Your Love on Me" that will make your mind "flip." It is truly one of the most entertaining dance performances I've seen on stage all summer.
There were moments in the performance I saw when the music overshadowed the voices onstage. During "SOS," both Melançon and Goodbrod sang their hearts out with robust belting voices, but their chemistry seemed ever-so-slightly off. Similarly, Stevens was so strong in both voice and movement, that she seemed the stronger in her partnership with Sajewich, eclipsing him completely at times. On the whole, however, this is a production worth taking a chance on, especially with a group of friends.
This is a musical filled with interesting relationship trios. It is about love, loss, and loving again, despite the losses. It is a story about mothers and daughters, friends old and new, missed connections, newfound family, and glittery platform shoes. Lots and lots of those. Take yourself on a mini-vacation and see Mamma Mia! from now until August 19 at Stages St. Louis. For more information or to purchase tickets, call 314-821-2407 or visit www.StagesStLouis.org.

Related Articles View More St. Louis

Stories

Shows