Sarajane Mullins, Amish Acres' Original ANNIE, Returns After Twenty Years As Miss Hannigan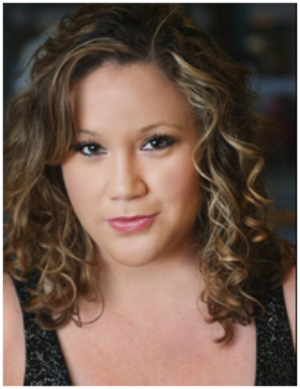 The Round Barn Theatre first produced "Annie" in 1996, its first year of repertory theatre. Nine year old Sarajane Morse Mullins captured the hearts of that first year's audience as the world's most famous redhead. Now twenty-two years later, Sarajane returns as Miss Hannigan on the same stage she began her professional career. Annie's red dress has been passed to Maddi Reese Ames, the next generation of budding starlets. It promises to be a special homecoming and debut for the two actresses and audiences.
Sarajane is now a Boston based theater artist who is returning to Amish Acres after a 22 year hiatus. She was last seen as Sarah in "Plain & Fancy." Sarajane's other treasured memories at Amish Acres include many August days on the microphone at the Annual Arts & Crafts Festival, being present for the dedication of the Joseph Stein Stage, and singing several New Years Eve cabaret celebrations. Some of her favorite New England roles include Blanche in the New England Premiere of "Bonnie & Clyde"," Lucille in "Parade" both at The Umbrella Arts. "She Loves Me" at the Greater Boston Stage Company, "Civil War Christmas" at the Huntington Theatre Company, and "Tommy" at Turtle Lane Playhouse.
Prior to moving to Boston, Sarajane spent 10 seasons as a resident actor/choreographer at the Canterbury Summer Theatre including roles such as Carrie in "Carousel." She holds a B.F.A. in Theater Arts from Boston University, trained abroad in the UK at the London Academy of Music and Drama (LAMDA), and also received her M.S. in Mental Health Counseling from UMASS Boston. She is an alumna of Interlochen Arts Academy and as a teaching artist, she has taught, directed, and performed for 30+ schools, programs, and colleges in the metro-Boston area. In her spare time, she enjoys voice over work and balances a small arts education business.
The Round Barn Theatre at Amish Acres presents "Annie", one of America's most beloved and enduring musicals November 9-December 31, 2018. The classic musical comedy is set at Christmas-time 1933 in New York City. Annie finds refuge from an orphanage run by the cynical Miss Hannigan when billionaire Oliver Warbucks invites her to spend the holidays with him. Magic and adventure follow as Annie transforms those around her. With help from her fellow orphans, she spoils Miss Hannigan's evil plots and discovers the true meaning of family. The popular score of Annie includes "Maybe", "It's the Hard Knock Life", "You're Never Fully Dressed Without a Smile", "Easy Street", and the famous "Tomorrow".
Maddi Reese Ames was chosen from an open-call audition in Nappanee. She brings an extensive resume of experience to the role; unusual for one so young. Maddi is from Valparaiso, Indiana. She has been acting and singing since she was 4. Maddi's passion has always been singing and acting. She hopes to attend Julliard and dreams of one day performing on Broadway.
The production is under the direction of Round Barn Managing Artistic Director Ryan Schisler with Choreography by Artistic Director Jerry O'Boyle. Alejandro Gutierrez provides musical direction. The design team is led by Set Designer Richard Pletcher, Karen Payton returns as Costume Designer, Kathryn Allen will design the Sound, Marty Bolob the lighting, and Jake DuVall-Early has designed the props.
Rounding out the principal cast is Dan Hasty as Daddy Warbucks, Jake DuVall-Early is Rooster Hannigan, Amelia Sutherland is Lily St. Regis and Danae DeShazer plays Grace Farrell. Jerry O'Boyle and Frank Ramirez will be sharing the role of F.D.R.
Other cast members include Derek Brookens as Drake, Chloe Solan as Star-to-Be, Travis Bird as Bert Healy, Sarah Beason, Darl Horning, Violet Race, Akira Wantanabe, and Hannah Williams.
The cast of orphans includes Savannah Griffin, Elkhart, Cora Mae Kniesly and Kylee Sark, Goshen, Kaitlyn Bell, Nappanee, Maddie Reese Ames (Annie), Valparaiso, Cora Callender and Naomi Moyer, Bremen and Lucy Hammond. Annie's dog Sandy will be played by Titus whose pet parent is Becca Yoder from Goshen, Becca also is the interpreter for the special American Sign Language performance.
A complete show schedule, ticket availability and reservations can be found by calling the Box Office at (800) 800-4942 extension 2 or online at AmishAcres.com. Theatre tickets can be combined with Amish Acres famous family style Threshers Dinner or a one-of-a-kind Theme Dinner served on November 16 or December 7. A special Meet the Characters Themed Dinner will be presented on December 14, 2018. Theme Dinner seating is limited and reservations must be made in advance with The Round Barn Theatre box office. "Annie" will be translated by American Sign Language interpreters from Goshen College for the deaf on Saturday, December 1 at 2 p.m.
2019 Season Subscriptions are now on sale and include "Life Could Be a Dream", "Plain and Fancy", "Freaky Friday", "Big River", "Anne of Green Gables", "The Sunshine Boys", and Disney's "Beauty and the Beast." 2019 subscribers receive a free ticket to "Annie."