BWW Review: Paradoxical THE NOSE Comically and Artistically Ascends into Absurdity
Personally, the best part of theater is when you are transported into total escapism. A catchy soundtrack, an in-your-face stage presence, and an increasingly silly tale but with a number of life lessons beneath it, THE NOSE at the Artscape Arena offers the perfect summer night escape from the crazy festive season while skillfully serving some "crazy" onstage itself.
Based on the short story published in the early 19th century and set in Russia, this musical adaption follows the story of a pompous social climber intent on marrying the ancient but wealthy Olga. In his insatiable quest to rise in the ladder rungs of society, his servant girl clicks her fingers and he loses his nose - who then goes on to take a social life of its own.
THE NOSE catches your attention from its lively opening number with characters bounding onto stage, which sets a tone for the rest of the production. Kit Goldstein Grant's compositions carry you through a series of bizarre happenings which become more and more ridiculous to the point that you're enwrapped in childlike wonder at the action being played out before you. Director Margot Wood has gotten the most out of her actors and somehow keeps their energy at an all-time high throughout. This is much needed when the storyline itself takes a dip about three quarters of the way in, and you almost wish that the play was reversed to capture that initial merriment while moving towards curtain call.
With a (literally) theatrical backdrop and minimal but detailed stage props, the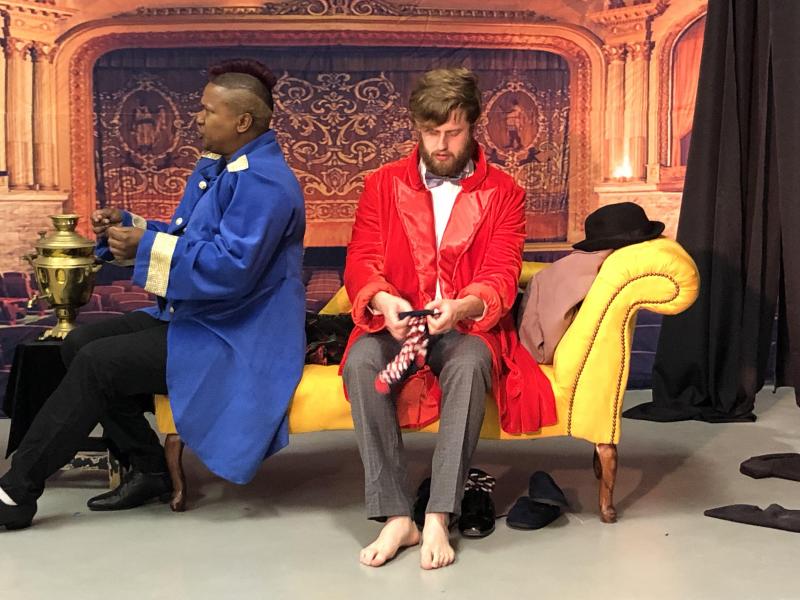 musical's setting supports the lavish characters and costumes. David Wilke stars as social climber Kovalyov. Reviving his role from the original 2017 premiere, Wilke excels in creating a slightly whiny characterization of the lead that leaves one feeling ambivalent towards his misfortune. He also proves himself a strong musical performer with his bellowing baritone naturally filling the performance space. Equally talented in vocals is servant girl Matroyska, played by Regina Malan. A recent ensemble member of CALLING US HOME, Malan stands out in this production for her pitch-perfect singing as well as her comfortable command of the stage and fellow actors. She easily floats in and out of characters and emotions which makes her highly memorable in THE NOSE.
Other standout performances come from Luvo Tamba, Schoeman Smit and Devon Hull - all portraying very different roles which each have their own strengths. Having last seen Tamba as a straight-talking presidential candidate in FORCE, the operatic performer proves his versatility in musical theater while masterfully balancing a massive papier-mâché nose on his shoulders. Smit and Hull excel as comic geniuses in the roles of The Doctor and Olga respectively. Both their uses of physical and vocal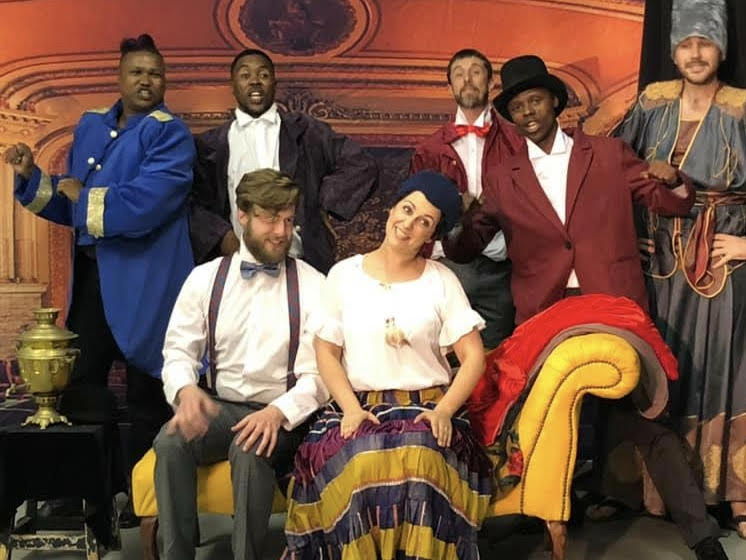 characterizations have you begging to see more of their ludicrous antics. Hull's skill particularly comes from portraying his aged female character knowing that he is comical, but without assuming the audience will find him as such. The same unfortunately cannot be said for Hilton Mandela Andries, whose exuberant portrayal of Chief of Police is so over-exaggerated that his scripted jokes fall flat. Perhaps it is the nature of THE NOSE to be over-the-top, but it would serve some characters well to tone it down slightly.
A special mention goes to the musical support of Andre Serfontein on piano and Kirsten Adams on violin. The composer's musical stylings are sometimes in contrast with the melodies being sung and Serfontein and Adams make a talented duo that never noticeably misses a beat.
Overall, this family musical makes for a great 70 minutes. As the year draws to an end, THE NOSE is the perfect note to see 2018 out. Its light-hearted lyrical fun is supported by a talented and energetic cast that will have you laughing out loud, grinning from ear to ear, and mesmerized by the sheer absurdity of watching a massive nose being chased around a stage.
---
THE NOSE runs from Tuesday - Saturday at the Artscape Arena until 15 December with two performances on Saturday 8 December. Ticket prices are R140 for unreserved seating and can be booked online at online.computicket.com and www.artscape.co.za or by calling the Artscape Box Office on (021) 410 9838.