BWW Interview: Pieter-Dirk Uys on the Heart and Humour Behind Bambi in NEVER TOO NAKED
Pieter-Dirk Uys returns as Bambi Kellermann in the satirical, scandalous and sparkling NEVER TOO NAKED. Coming to the Fugard stage later this month, Uys reveals Bambi's beginnings, journey, and what to expect next from Tannie Evita's younger sister.
BWW: Tell us about the character of Bambi Kellermann, the star of NEVER TOO NAKED. What inspired your characterisation?
Pieter-Dirk: Once Evita Bezuidenhout had a name and a surname, then a job and a husband, then three children and a mother, I thought: What about a sister? So in the 1985 film Skating On Thin Uys, Bambi was introduced in a 2 minute clip live from Paraguay and was obviously already not a fan of her older sister. In 1990 Godfrey Johnson and I started work on a Weimar-style cabaret, and there Bambi re-emerged out of my imagination to sing songs by Kurt Weill and arrangements of Afrikaans liedjies with a definite politically-incorrect slant. Her character was firmly anchored in the legend of Marlene Dietrich so that Bambi - being blonde and husky - followed in the steps of that great German diva.
BWW: What's the best way for Bambi to tell her story? What stylistic elements or genres are being used in NEVER TOO NAKED?
Pieter-Dirk: Bambi must talk without fear; meaning she has a sense of humour that Evita does not have. She also understands irony, something Evita fights. Since 1990 the various shows starring Bambi concentrated mainly on songs and the ambiance of cabaret. In this new show for the first time Bambi strips naked: she tells her story without the flash and bling of camp and comedy. She is very funny and yet her adventures are stained with danger and stress. Bambi is also a voice that addresses the issues of today, especially the rights of sex workers, the dignity of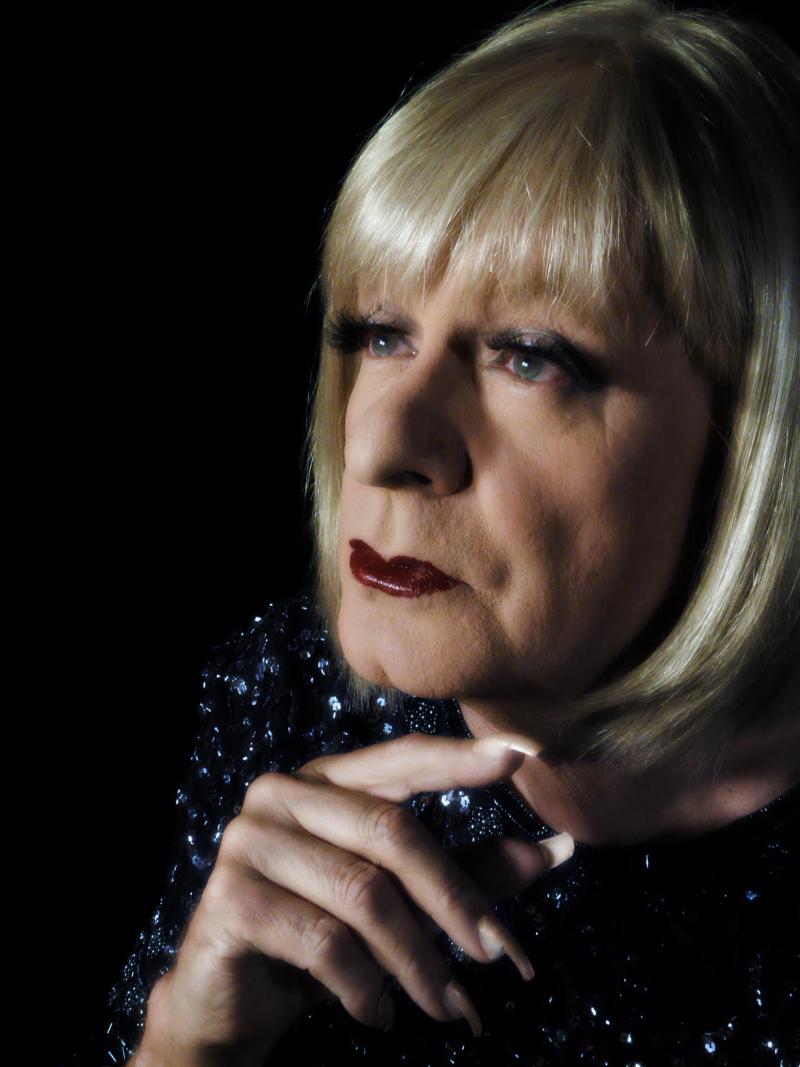 transgenderists, and the reminder not to forget the worst of the past, so that it doesn't repeat itself in the future.
BWW: As you've mentioned, Bambi is sister to one of your much-loved characters, Evita Bezuidenhout. Of your many characters, are any born out of real-life experiences, or are they pure figments of the imagination?
Pieter-Dirk: All the characters I have auditioned for my satirical cluster since 1978 are anchored in reality. Some of them are recognised as real politicians on the stamps and the coins; others are characters that reflect the madness and mediocrity of politics. And some - Evita, Bambi and Ouma - are part of a family that, since their creation in 1981, have become legendary and iconic. My imagination plays a huge role in adding detail, flair and eccentricity to the characters to prove that just because they don't exist, doesn't mean they're not real.
BWW: Where do you start with a story when you're writing one as elaborate as Bambi's?
Pieter-Dirk: Stories seldom start as one idea: they often merge many strands together as a dramatic narrative. Having written Bambi's biography (also titled Never Too Naked and on sale at the Fugard run), I have a vast spectrum of adventures and experiences to borrow from.
BWW: NEVER TOO NAKED closely follows Bambi's international gallivanting as a "super-stripper"; can you say if there are some non-fiction tales woven into her story?
Pieter-Dirk: In Bambi's life there were real people too: John F. Kennedy, Marilyn Monroe, Dietrich, Maria Callas, Christiaan Barnard, Ava Gardner, Charlize Theron. Many people read Bambi's biography hand-in-glove with Google and were amazed to see how historically correct the details were. The only fictional addition was Bambi Kellermann herself. Again it is important to respect fact when knitting a fictional world: the colours and textures must be familiar to the audience; like Alice In
Wonderland being pure fantasy-fiction which reflect hardcore facts, or George Orwell's Animal Farm using fictional pigs to reflect the factual ones.
BWW: What's the journey audiences are expected to take with NEVER TOO NAKED? Is it purely for the fun, or is there more to Bambi than meets the eye?
PIETER-DIRK: Bambi is over 80 now and is clever enough to know that less is more. She will not strip off her clothes, but also knows that one can never be too naked. So she peels the onion of her life - the shock of being in Europe after a childhood in the Orange Free State, discovering sex and the sale of sexuality, marrying a German aristocrat with darkness in his past, becoming a grand horizontal of the Northern hemisphere, and now celebrating the most important f-word in her life: fun. Much for an audience to share with laughter, with shock and awe, and, above all, with care. Because while it might all just be theatre - doesn't mean it's not real.
Photo credit: Stefan Hurter
---
NEVER TOO NAKED will be performed in The Fugard Studio Theatre from 24 March on Tuesday to Saturdays at 8pm with a matinee on Saturday 4pm. Tickets from R150 to R170 can be booked through The Fugard Theatre box office on 021 461 4554 or through The Fugard Theatre's website at www.thefugard.com. Please note NEVER TOO NAKED has an age restriction of 12 years.

Related Articles View More South Africa

Stories

Shows