BWW Feature: CABIN FEVER at Lockdown Movies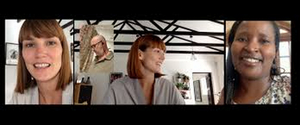 IF LIFE GIVES YOU LOCKDOWNS...
South African writer and director Tim Greene (Boy Called Twist, Skeem) has just completed post-production on Cabin Fever, possibly the world's first feature film to be created under lockdown conditions.
Cabin Fever had no crew and used no specialist movie equipment and was filmed by the cast themselves as a series of video calls, meetings and messages, using only their phones and laptops.
In March Greene put out a call on social media for actors to join him in this unique film making challenge, and was inundated with replies from actors, keen to create. And thus The Lockdown Movie Project was born, which has spawned a dozen short films to date.
But Cabin Fever stands out as possibly the only feature film on the planet to have been in production in the month of April 2020!
When shooting began only three scenes had been written, and Greene had only the broadest outline of where the story would go. The script was written in installments, tailored to the locations and the props available to the actors in lockdown.
Cabin Fever tells the story of Sarah Clayburn (Jenna Upton), a second wife, stepmother, and a successful commercial artist living under lockdown, alone at the family home in Cape Town, and trying to hold together a dysfunctional and fragmented family, scattered across the globe.
Set a year into the future, during 'the second lockdown', her husband Andrew (James Cuningham) is trapped in Abu Dhabi and going slowly out of his mind, while his three adult children struggle to cope with isolation in Australia, Wales, and South Africa.
When Sarah learns that their mother, Andrew's first wife Deborah (Michelle Scott) is dying of the Coronavirus, she organizes a family gathering online to attempt a reconciliation between the kids and their mother, who abandoned them to join a religious order when they were very young.
Told through a succession of video calls, meetings, and messages, Cabin Fever is a haunting and emotional story of a family flung to the far corners of the globe, reaching out across the void to find intimacy, understanding, and eventually forgiveness.
Cabin Fever was made possible thanks to the astonishing wealth of tools and applications available online. The project was announced and the cast assembled on Facebook.
Over a month of shooting, the actors and director remained in close contact over WhatsApp, where scripted scenes were posted, read and discussed, and revised.
Group rehearsals took place on Zoom, after which actors would film their scenes individually on their cell phones, using WeTransfer to send the hi-res footage to Greene, who would cut them together and post them online for the cast to review.
"It was unlike anything I've ever experienced." says the writer/director, "After rehearsals, I'd wait for the files and open them like a kid at Christmas, and start to cut together these awesome, emotional, and often riveting performances, sometimes featuring extremely sophisticated camera work, all achieved while they were in character!"
The filmmakers are currently in negotiations to find a home for the film on a streaming platform and hope the film will premiere around the world in the coming months.
THE TRAILER: https://vimeo.com/418894808
THE MAKING OF CABIN FEVER: https://vimeo.com/420298876 ANATOMY OF A SCENE: https://vimeo.com/415128736
IMDB: https://www.imdb.com/title/tt12381026/?ref_=fn_al_tt_8
CONTACT: TIM GREENE - 082 646-0527 - heytimmyg@gmail.co.za
CABIN FEVER: a world first
Related Articles View More South Africa

Stories

Shows