by Stage Tube - Nov 26, 2019
Tom Hiddleston was a guest on Monday night's episode of The Tonight Show Starring Jimmy Fallon to talk about Betrayal on Broadway. During the interview, Hiddleston gets embarrassed by unreleased footage of him auditioning for the part of Thor, and Jimmy tests his ability to cry on command like he does daily for Betrayal.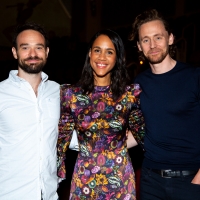 by TV - Press Previews - Aug 9, 2019
Jamie Lloyd's smash-hit production of Harold Pinter's Betrayal will begin its strictly limited 17-week engagement on Wednesday, August 14 at the Bernard B. Jacobs Theatre (242 West 45th Street), with an official opening night on Thursday, September 5 at 6:30pm. The cast just met the press and we're taking you inside the big day below!