by BroadwayWorld TV - Jun 14, 2018
Irish Repertory Theatre's ON A CLEAR DAY YOU CAN SEE FOREVER begins performances tomorrow, June 15! The show stars Tony Award-nominee Stephen Bogardus (Bright Star), John Cudia (The Phantom of the Opera), and Tony Award-nominee Melissa Errico (Finian's Rainbow). ON A CLEAR DAY features music by Burton Laneand book and lyrics by Alan Jay Lerner. BroadwayWorld has preview of the cast in action. Check it out below!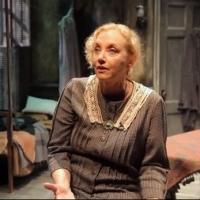 by Stage Tube - Oct 18, 2013
Off-Broadway's award-winning Irish Repertory Theatre launches its 26th season with a revival of Sean O'Casey's JUNO AND THE PAYCOCK, directed by Irish Rep Artistic Director Charlotte Moore. With a cast that features, among others, J. Smith-Cameron as Juno Boyle, Ciaran O'Reilly as 'Captain' Jack Boyle, and John Keating as Joxer Daly, JUNO AND THE PAYCOCK opens on Sunday, October 20th on the Francis J. Greenburger Mainstage of the Irish Repertory Theatre (132 West 22nd Street). Click below for a look behind the scenes!
by Stage Tube - Feb 13, 2013
John Ford's Oscar winning, The Quiet Man, is one of the best loved and most popular films of all time. Its musical adaptation, Donnybrook!, begins with the haunting love theme, Richard Farrelly's 'The Isle of Innisfree' and marches jauntily through the misty hills of the west of Ireland with a cast of characters headed by the indomitable Mary Kate Danaher (Jenny Powers), and her counterpart, American prizefighter Sean Enright (James Barbour) who, against his strong wishes, has not yet fought his last battle.