Who's Afraid of Virginia Woolf? - 2012 - Broadway Tickets, News, Info & More
$67.00 - $132.00 (Student Rush $37 w/valid student ID. First come, first served on day of performance)
On the campus of a small New England college, George and Martha invite a new professor and his wife home for a nightcap. As the cocktails flow, the young couple finds themselves caught in the crossfire of a savage marital war where the combatants attack the self-deceptions they forged for their own survival. Steppenwolf ensemble members Tracy Letts and Amy Morton face off as one of theatre's most notoriously dysfunctional couples in Albee's hilarious and harrowing masterpiece.
The Broadway opening will mark exactly 50 years to the date after the play's original Broadway opening on Saturday, October 13, 1962. This production of Edward Albee's Who's Afraid of Virginia Woolf? originally ran at Chicago's Steppenwolf Theatre Company (December 13, 2010 - February 13, 2011) and then transferred to Washington, D.C.'s Arena Stage (February 25 - April 10, 2011)
Video preview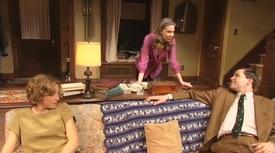 Photo preview
Schedule
Running Time:
3 hours, with two intermissions
Featured Reviews For Who's Afraid of Virginia Woolf?
Edward Albee's 'Who's Afraid of Virginia Woolf' packs a surprising punch - Newsday
From the opening moments, the Steppenwolf Theatre Company's brilliantly cast and justly celebrated production, which opened Saturday on the masterwork's 50th anniversary, gives off a voltage of the new and the giddy-making confidence that comes from being in sublimely trustworthy hands.
Chicago-style 'Virginia Woolf' cuts deep on Broadway - Chicago Tribune
MacKinnon's production, which essentially re-claims the work from its post-Hollywood identity — of a vehicle for a diva dangling on the edge and her handsome, self-loathing husband — is an ideal way to pay tribute to Albee. It banishes the image of Elizabeth Taylor (or even Kathleen Turner's) Martha and substitutes Morton's more vulnerable, down-to-earth characterization of the daughter of a college president and a woman who plays games, lashes out and ties herself in knots, but all in the service of keeping a lid on the dangerously disappointed, and thus dangerously destructive, guy she married and clearly still loves...Morton and Letts together convey, better than any of the other actors I've seen in this familiar drama, the essentially smallness of George and Martha's suffocating little republic, a dominion that can never reach beyond themselves.
Who's Afraid of Virginia Woolf? Broadway Cast