Who's Afraid of Virginia Woolf? - 2012 - Broadway
$67.00 - $132.00 (Student Rush $37 w/valid student ID. First come, first served on day of performance)
On the campus of a small New England college, George and Martha invite a new professor and his wife home for a nightcap. As the cocktails flow, the young couple finds themselves caught in the crossfire of a savage marital war where the combatants attack the self-deceptions they forged for their own survival. Steppenwolf ensemble members Tracy Letts and Amy Morton face off as one of theatre's most notoriously dysfunctional couples in Albee's hilarious and harrowing masterpiece.
The Broadway opening will mark exactly 50 years to the date after the play's original Broadway opening on Saturday, October 13, 1962. This production of Edward Albee's Who's Afraid of Virginia Woolf? originally ran at Chicago's Steppenwolf Theatre Company (December 13, 2010 - February 13, 2011) and then transferred to Washington, D.C.'s Arena Stage (February 25 - April 10, 2011)
Video preview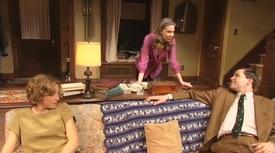 Photo preview
Schedule
Running Time: 3 hours, with two intermissions
Featured Reviews For Who's Afraid of Virginia Woolf?
Who's Afraid of Virginia Woolf?: Theater Review - Hollywood Reporter
This superlative 50th anniversary revival shows that Edward Albee's marital-warfare masterwork remains in a class of its own.
'Virginia Woolf' turns 50, with potent new revival - USA Today
Letts relays this dark-horse quality as powerfully as any performer this critic has seen in the role. From his masterfully acerbic rebuttals to Martha's initial barrage of insults, this George proves that he isn't the mere simp his wife describes but rather a simmering cauldron of frustration and disappointment. And he lets the lid off with an unmannered intensity that is as bracing as it is convincing. Of course, any production of Woolf relies on the strength of its four-member cast; and this one, transferred from Chicago's Steppenwolf Theatre Company, has no weak links. Morton's savage but ultimately poignant Martha is, in keeping with Letts' stringent delivery, drier and less flamboyant than Kathleen Turner's in the last Broadway revival...You'll leave the gathering shaken and sobered, but also exhilarated. All golden anniversaries should be this memorable.
Who's Afraid of Virginia Woolf? Broadway Cast