Violet - 2014 - Broadway
Two-time Tony Award winner Sutton Foster (Anything Goes, Thoroughly Modern Millie) returns to Roundabout in the highly anticipated Broadway debut of Violet, following the acclaimed concert performance at City Center Encores! Off-Center. Winner of the Drama Critics' Circle Award and Lucille Lortel Award for Best Musical when it premiered Off-Broadway, Violet features music by Tony nominee Jeanine Tesori (Caroline, or Change, Fun Home) and book and lyrics by Brian Crawley (A Little Princess). Leigh Silverman (Chinglish, Well) directs.
Video preview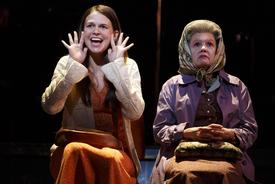 Schedule
Running Time: One hour and 45 minutes
Featured Reviews For Violet
Violet - Time Out NY
It took 17 years, but Jeanine Tesori's beloved musical about a woman with a facial deformity journeying through the 1960s South has made it to Broadway...In expanding Betts's story, Crawley freights these relationships with more weight than his writing supports, and small moments of exaggeration (in the writing and staging) interfere with the piece's mood. But Tesori's music is a savory stew of American roots, stirringly sung by a cast that includes Emerson Steele as a younger Violet and Rema Webb as a gospel soloist. Though flawed on its face, Violet provides-as Flick sings in the show's best song-reason to rejoice.
Longing for a Facial Scar to Simply Vanish - New York Times
If the time has come for Ms. Foster to take her place among the first rank of Broadway musical theater performers (fittingly in a season uncommonly rich in fine work from women), the moment also seems ripe for Violet, originally produced Off Broadway in 1997, to be acknowledged as an enduringly rewarding musical...But the musical concludes on a satisfying but not too sugary note of uplift. By shedding her illusions, at however painful a cost, Violet has also found a new kind of faith: a belief that her life's promise does not depend on divine intervention but the homelier comforts of human attachments.