Violet - Broadway
Two-time Tony Award winner Sutton Foster (Anything Goes, Thoroughly Modern Millie) returns to Roundabout in the highly anticipated Broadway debut of Violet, following the acclaimed concert performance at City Center Encores! Off-Center. Winner of the Drama Critics' Circle Award and Lucille Lortel Award for Best Musical when it premiered Off-Broadway, Violet features music by Tony nominee Jeanine Tesori (Caroline, or Change, Fun Home) and book and lyrics by Brian Crawley (A Little Princess). Leigh Silverman (Chinglish, Well) directs.
Video preview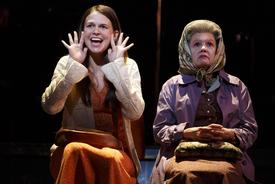 Schedule
Running Time: One hour and 45 minutes
Featured Reviews For Violet
Violet: Theater Review - Hollywood Reporter
Broad strokes and big effects often appear to be the default setting for Broadway musicals, so it's always refreshing to see a modestly scaled show in which the cast and creative team trust in the value of emotional intimacy. Driven by a performance of incandescent yearning fromSutton Foster that's all the more moving for its restraint, Violet is a delicate wildflower, craning toward the sun...While the story could be treacly sentiment in less skilled hands, Violet brings a quiet spiritual undertow to its characters' search for fortifying connections. It's emotionally satisfying without being manipulative. Even the heroine's inevitably deflating encounter with the televangelist is handled with a delicate touch, becoming less about religious hucksterism than faith of a more human nature.
STAGE REVIEW Violet - Entertainment Weekly
As musicals go, the story couldn't be simpler. Yet the material couldn't be richer...As Violet travels from the Blue Ridge Mountains to Memphis to Tulsa, the music moves from warm, soul-stirring folk-the bulk and heart of the score-to smoky R&B and blues to full-throated gospel and back again. It's impossible not to get swept up by rousing numbers...And, more important, you'll have to imagine Violet's facial scar, the result of an ax blade swung accidentally by her father when she was a girl; Foster's face remains unblemished. Of course, from the start, you know she's on a fool's journey. But you'll never regret taking the ride.