Therese Raquin - 2015 - Broadway
In this tale of love, lust, betrayal, and guilt, based upon the novel by Emile Zola, Therese has made peace with her loveless marriage to a weak man when her world is turned upside down by Laurent walking through the door. Unable to ignore their passion, the pair sets off on a violent path that may have far worse consequences for the perpetrators than for the victims.
Video preview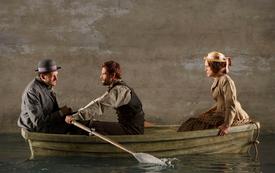 Schedule
Running Time: Two hours and 30 minutes, with one intermission
Featured Reviews For Therese Raquin
Keira Knightley, alone in her Broadway spotlight in 'Therese Raquin' - Chicago Tribune
So why have an affair? How about if you're Keira Knightley? The very capable British screen actress...has the chance to explore that question with paparazzi-free impunity by playing the title role in the Roundabout Theatre Company's new production of Emile Zola's "Therese Raquin"...on a spectacular set from the redoubtable Beowulf Boritt that is at once expressionistic, operatic and aquatic...The overarching problem with this production is that neither Knightley nor Ryan evidences any joy in their initial coupling -- I speak not, necessarily, of wild partying of un-Zola-esque frivolity, but merely of a palpable connection, of anticipated pleasure. Even their extramarital sex is perfunctory -- and executed with a positively unsettling rapidity of the kind one might suffer with one's husband, maybe, but surely not with one's chosen lover.
Keira Knightley dazzles in thrilling 'Therese Raquin' on Broadway - NJ.com
The screws turn and turn and then turn some more in "Thérèse Raquin," a terrifically nerve-wracking, beautifully mounted new drama that also marks Oscar-nominated actress Keira Knightley's Broadway debut...this story of illicit love, murder and madness -- directed with intensity and great invention by Evan Cabnet -- turns out to be one of the best plays on Broadway this year...Edmundson and Cabnet take a fresh, psychologically acute approach, using long silences and repeatedly isolating Thérèse onstage in order to draw us deeper and deeper into the woman's fractured mindset. Knightley's performance, too, is extraordinary; she employs unnerving, almost animalistic stares and a fierce-jaw to portray both Thérèse's anguish and her boundless capacity for deceit.
Therese Raquin Broadway Cast