The Winslow Boy - 2013 - Broadway
Tony Award® nominee Michael Cumpsty (End of the Rainbow), Tony Award nominee Mary Elizabeth Mastrantonio (Man of La Mancha), Alessandro Nivola (A Month in the Country) and Tony Award winner Roger Rees (The Life and Adventures of Nicholas Nickleby) star in Terence Rattigan's classic The Winslow Boy, returning to Broadway for the first time in over 60 years. Lindsay Posner (the West End's Noises Off and Carousel) directs this captivating new production from The Old Vic in London.
When Ronnie Winslow is expelled from school for stealing, it has a resounding effect on the entire family. His father Arthur must pool his resources to hire a lawyer for the boy's defense. His brother Dickie begrudgingly drops out of college and gets a banking job to help with the legal costs. And the fallout from this unexpected predicament puts his sister Catherine's engagement in jeopardy. Though they are determined to defend Ronnie, will the family's sacrifices be enough to clear his reputation and the Winslow name?
A moving exploration of family devotion, The Winslow Boy beautifully illustrates the costs of unconditional love and the rewards that make the effort priceless.
Video preview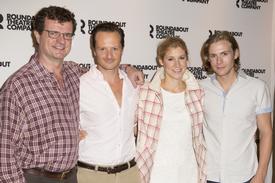 Schedule
Running Time: 2 hours and 45 minutes, with one intermission
Featured Reviews For The Winslow Boy
'The Winslow Boy' review: Exquisite revival - Newsday
Directed with exquisite nuance by Lindsay Posner, the production -- Broadway's first since 1947 -- runs two and three-quarter talky hours and employs 11 delightfully stylish actors to make something magnificently satisfying from a petty, basically irrelevant very English story...Roger Rees is wonderful as father of the boy (Spencer Davis Milford)...But this is a genuine ensemble that makes incredulity seem real and very human.
NY1 Theater Review: 'The Winslow Boy' - NY1
In other hands, "The Winslow Boy" could be slow going at nearly three hours, but director Lindsay Posner deserves much credit for doing great justice to this rich old play.
The Winslow Boy Broadway Cast