The Winslow Boy - 2013 - Broadway Tickets, News, Info & More
Tony Award® nominee Michael Cumpsty (End of the Rainbow), Tony Award nominee Mary Elizabeth Mastrantonio (Man of La Mancha), Alessandro Nivola (A Month in the Country) and Tony Award winner Roger Rees (The Life and Adventures of Nicholas Nickleby) star in Terence Rattigan's classic The Winslow Boy, returning to Broadway for the first time in over 60 years. Lindsay Posner (the West End's Noises Off and Carousel) directs this captivating new production from The Old Vic in London.
When Ronnie Winslow is expelled from school for stealing, it has a resounding effect on the entire family. His father Arthur must pool his resources to hire a lawyer for the boy's defense. His brother Dickie begrudgingly drops out of college and gets a banking job to help with the legal costs. And the fallout from this unexpected predicament puts his sister Catherine's engagement in jeopardy. Though they are determined to defend Ronnie, will the family's sacrifices be enough to clear his reputation and the Winslow name?
A moving exploration of family devotion, The Winslow Boy beautifully illustrates the costs of unconditional love and the rewards that make the effort priceless.
Video preview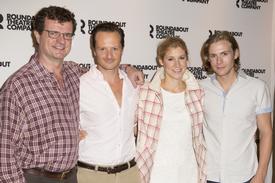 Schedule
Running Time: 2 hours and 45 minutes, with one intermission
Featured Reviews For The Winslow Boy
The Winslow Boy: Theater Review - Hollywood Reporter
Directed for the screen by Anthony Asquith in 1948, and again by David Mamet in 1999, the play was last seen on Broadway 65 years ago. It's a slow starter, and indeed its unhurried four acts might seem to lack economy for contemporary audiences. But in a production as expertly judged and performed as this one, there's real pleasure in settling into the plush upholstery to savor the nuances of character, the subtle humor and fine shadings of the drama's consideration of justice and honor.
The Winslow Boy Review: A Feminist Comedy Before Its Time? - New York Theatre
Billed as a transfer of the production of the play done by the Old Vic in London, the set and costume design by Peter McKintosh emphasizes how British this play - they are both sumptuous and staid. The play, at two hours and 45 minutes (including intermission), takes its time. But the surprising humor, and the vibrant and detailed performances of the cast, especially Roger Rees, who noticeably deteriorates over the two years that the play takes place, and Charlotte Parry as his equally stubborn daughter, offer so much more juice than the more overtly relevant (and far duller) play of Rattigan's that the Roundabout revived two years ago starring Frank Langella , Man and Boy. "The Winslow Boy," the 18th production of a Rattigan play on Broadway, but only the third over the last 40 years, is more likely to make theatergoers wonder whether there is anything else of his as worth reviving.
The Winslow Boy Broadway Cast