The Testament of Mary - 2013 - Broadway
In The Testament of Mary the mother of Jesus tells her story of her son's Crucifixion.
Video preview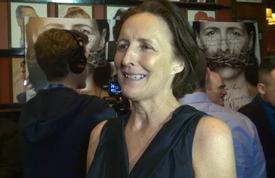 Photo preview
Featured Reviews For The Testament of Mary
The Testament of Mary - Time Out NY
Shaw's performance is keen and staggering in its total effect, and slightly self-indulgent in its particulars (I felt a similar dichotomy a decade ago with her Medea). She has a tendency, especially early in the show, to show you how. bloody. hard. she's acting! And director Deborah Warner allows too much neurotic prop-moving business and italicized bits of mugging. (It's probably intentional, as the character is still processing the trauma and avoiding the admission of her fundamental lack of faith.) Still, this is a potent piece of writing, and Shaw winds up to a shattering finale.
Review: There's something about Mary: 'The Testament of Mary' is weird and often thrilling - Associated Press
In a gentle Irish accent, Shaw is at turns mournful and at others table-flipping angry. Director Deborah Warner, a frequent Shaw collaborator, puts the actress on the constant move...This Mary is prone to menacing anger and sharp screams, suffering from simmering trauma and guilt...In a season of one-man shows on Broadway...Shaw may have one of the more controversial, rolling her eyes at apostles and dismissing them as if they were weirdoes her son met smoking funny cigarettes at Bonnaroo. She also must reveal a mother's horrific anguish at watching the brutal death of her son. Shaw is up to the task for both, even if the production seems littered with half-baked ideas.
The Testament of Mary Broadway Cast