The Testament of Mary - Broadway
In The Testament of Mary the mother of Jesus tells her story of her son's Crucifixion.
Video preview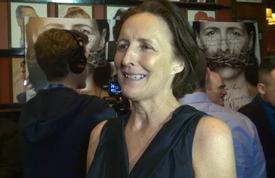 Photo preview
Featured Reviews For The Testament of Mary
Review: Fiona Shaw fleshes out 'The Testament of Mary' - LA Times
Tóibín's writing is elegant, rhythmic and vivid, but it's prose by a fiction writer and essayist whose primary medium is the page. His text, though it started as a play, is more impressive as a novel. In its dramatic format, there's an occasional choppiness to the transitions and the ending is abrupt...But "The Testament of Mary" belongs to Shaw, one of the most versatile and commanding stage actresses in the English-speaking world. Her voice infuses Tóibín's writing with living color and her emotion forcefully clarifies the point of this risky and very un-Broadway-like theatrical endeavor - to find grace and redemption in the honesty of flesh and blood.
The Testament of Mary - Time Out NY
Shaw's performance is keen and staggering in its total effect, and slightly self-indulgent in its particulars (I felt a similar dichotomy a decade ago with her Medea). She has a tendency, especially early in the show, to show you how. bloody. hard. she's acting! And director Deborah Warner allows too much neurotic prop-moving business and italicized bits of mugging. (It's probably intentional, as the character is still processing the trauma and avoiding the admission of her fundamental lack of faith.) Still, this is a potent piece of writing, and Shaw winds up to a shattering finale.
The Testament of Mary Broadway Cast