The Seagull - 2020 - West End
A young woman is desperate for fame and a way out. A young man is pining after the woman of his dreams. A successful writer longs for a sense of achievement. An actress wants to fight the changing of the times. In an isolated home in the countryside where dreams are in tatters, hopes dashed, hearts broken and there is nowhere left to turn, the only option is to turn on each other.
(London, )
Northumberland Ave, Charing Cross, London WC2N 5DE, United Kingdom
London,
The Seagull West End Cast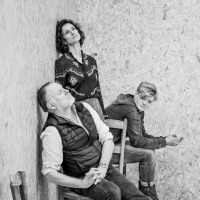 by Anthony Walker-Cook - March 12, 2020
Robert Glenister is currently treading the boards at the Playhouse Theatre in Anya Reiss's adaptation of Chekhov's The Seagull. Starring alongside Game of Thrones's Emilia Clarke and Indira Varma, The Seagull marks Glenister's second production with director Jamie Lloyd. Glenister's recent theatre credits include Alys, Always at the Bridge Theatre and Pinter Four as part of Lloyd's Pinter at the Pinter season. BroadwayWorld spoke with Glenister about the production, adapting Chekhov, and the importance of star casting for commercial theatre.