The Road to Mecca - 2012 - Broadway
Tony Award®, Emmy Award® and Golden Globe Award® winner Rosemary Harris returns to Roundabout alongside the remarkable Carla Gugino and Tony winner Jim Dale in this celebrated work from preeminent South African playwright, Tony winner Athol Fugard.
Acclaimed as "striking, compassionate and Fugard's most personal play" by The New York Times, THE ROAD TO MECCA tells the story of an eccentric elderly artist facing mounting pressure to abandon her independent life for a church retirement home. Out of desperation, she calls upon her only confidant, a fiery young teacher from Cape Town. When the village minister arrives to coax out her decision, the three enter a blazing showdown that pits conformity against free expression...faith in community against faith in oneself.
Set against the charged backdrop of South African apartheid, THE ROAD TO MECCA is a beautifully crafted tribute to the artist's indomitable spirit. Gordon Edelstein directs.
Video preview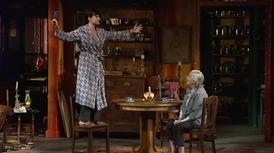 Photo preview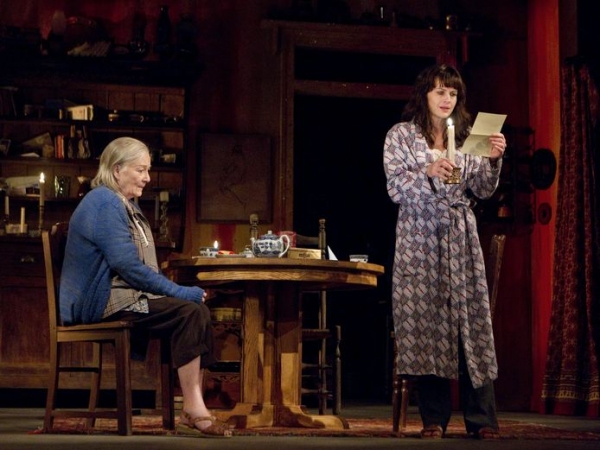 Schedule
Running Time: 2 hours, 25 minutes, with one intermission
Featured Reviews For The Road to Mecca
Rosemary Harris Plays Cape Town Recluse in 'Road to Mecca' - Bloomberg
Gordon Edelstein has staged "Mecca," which has slow-going moments, with keen sensitivity to its rhythms...Dale, too long absent from the stage, is a wonderful Marius, his eyebrows registering every emotional bump on this long evening. He also gets the accent better than his two colleagues, though Gugino is affecting as a young woman challenged by her own disappointments. Harris floats about Michael Yeargan's cluttered desert-hued set, a winsome apparition. Like one of Miss Helen's own creations, though, the lightness of being is crafted of much sterner stuff.
'The Road to Mecca,' by Athol Fugard - Newsday
Yet there is no denying that "The Road to Mecca," even with the priceless Rosemary Harris atop a fine acting trio, turns out to be a slow curve instead of a kickoff to Signature Theatre's upcoming season of Athol Fugard's important and wonderful work.
The Road to Mecca Broadway Cast