The Road to Mecca - 2012 - Broadway Tickets, News, Info & More
Tony Award®, Emmy Award® and Golden Globe Award® winner Rosemary Harris returns to Roundabout alongside the remarkable Carla Gugino and Tony winner Jim Dale in this celebrated work from preeminent South African playwright, Tony winner Athol Fugard.
Acclaimed as "striking, compassionate and Fugard's most personal play" by The New York Times, THE ROAD TO MECCA tells the story of an eccentric elderly artist facing mounting pressure to abandon her independent life for a church retirement home. Out of desperation, she calls upon her only confidant, a fiery young teacher from Cape Town. When the village minister arrives to coax out her decision, the three enter a blazing showdown that pits conformity against free expression...faith in community against faith in oneself.
Set against the charged backdrop of South African apartheid, THE ROAD TO MECCA is a beautifully crafted tribute to the artist's indomitable spirit. Gordon Edelstein directs.
Video preview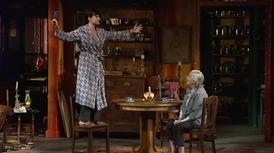 Photo preview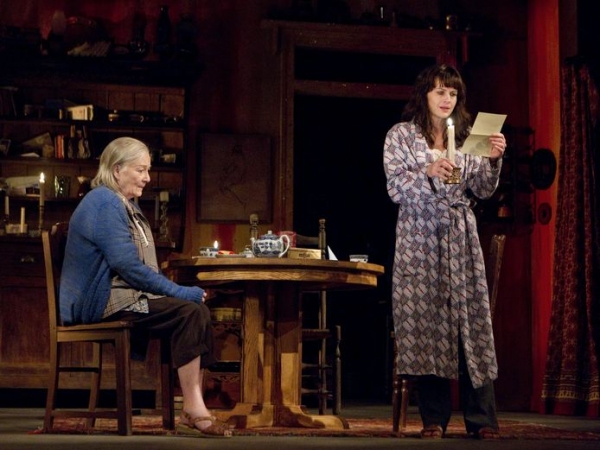 Schedule
Running Time:
2 hours, 25 minutes, with one intermission
Featured Reviews For The Road to Mecca
Those Who Seek to Make Art Often Find Themselves Alone - New York Times
In this quiet, slow and ultimately powerful production, directed by Gordon Edelstein and featuring strong performances from Jim Dale and Carla Gugino, Ms. Harris plays Miss Helen, an elderly South African woman who has hitherto seemed gracious, fretful and rather prosaic. Now she has given undiluted voice to the kind of fear that lurks in everyone — one of those personal fears that are so profound that people shirk from naming them. She is magnificent and shrunken, harrowed and harrowing.
Luminous performers brighten 1984 'Road' - NY Post
While "The Road to Mecca" meanders — and its intimacy is lost in the vast American Airlines Theatre — the show's low-key approach ultimately works in its favor. Even better, we get to watch luminous stage icon Rosemary Harris duet with Tinseltown glamour-puss Carla Gugino ("Sin City")...While far from perfect — Fugard occasionally lapses into sappy melodrama; set designer Michael Yeargan's South African shack looks more like a Santa Fe B&B — the show is a slow-burning pleasure.
The Road to Mecca Broadway Cast