The Pee-wee Herman Show - 2010 - Broadway Tickets, News, Info & More
Pee-wee Herman is an American icon. His groundbreaking Saturday morning television show and hyperkinetic, bow-tied persona shaped a generation. Now, at long last, Pee-wee's starring on Broadway in a live extravaganza!
Big, bold and uniquely fabulous, The Pee-wee Herman Show is a stage play with music that reunites Pee-wee (the one-and-only Paul Reubens) with the beloved Playhouse gang - Miss Yvonne, Mailman Mike, Cowboy Curtis, Jambi the Genie, Pterri, Conky, Chairry and many more! This is a once-in-a-lifetime opportunity to see Pee-wee's Playhouse come to wacky, unpredictable life!
Get ready to be amazed, scream real loud and laugh even louder at The Pee-wee Herman Show. It's so good, you'll want to marry it!
Video preview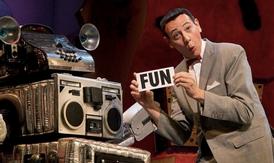 Schedule
Running Time: 1 hour and 20 minutes, with no intermission
Featured Reviews For The Pee-wee Herman Show
Pee-Wee's Stage Show a Throwback to Better Times - Associated Press
A big part of why the stage show works isn't Pee-wee, though. It's the puppets and David Korins's set under the direction of Alex Timbers. There are a lot of moving parts here and visual jokes that must be precisely orchestrated: Some of the Basil Twist-led puppets are marionettes — like Pterri — while some are operated by remote control — like Magic Screen — and still others are manipulated from inside the puppet — like Conky. Voices are done from people offstage and Jambi the Genie (John Paragon) spends most of the performance with only his head showing from within a box.
He holds his own - New York Post
To watch all this live feels supremely familiar and comforting, like eating a huge ice-cream sundae topped by a mountain of whipped cream and exploding sparklers.
The Pee-wee Herman Show Broadway Cast