The Pee-wee Herman Show - 2010 - Broadway
Pee-wee Herman is an American icon. His groundbreaking Saturday morning television show and hyperkinetic, bow-tied persona shaped a generation. Now, at long last, Pee-wee's starring on Broadway in a live extravaganza!
Big, bold and uniquely fabulous, The Pee-wee Herman Show is a stage play with music that reunites Pee-wee (the one-and-only Paul Reubens) with the beloved Playhouse gang - Miss Yvonne, Mailman Mike, Cowboy Curtis, Jambi the Genie, Pterri, Conky, Chairry and many more! This is a once-in-a-lifetime opportunity to see Pee-wee's Playhouse come to wacky, unpredictable life!
Get ready to be amazed, scream real loud and laugh even louder at The Pee-wee Herman Show. It's so good, you'll want to marry it!
Video preview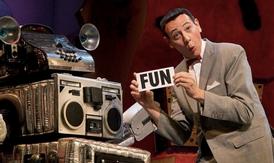 Schedule
Running Time: 1 hour and 20 minutes, with no intermission
Featured Reviews For The Pee-wee Herman Show
Kid of Comedy - The New Yorker
Bringing Pee-wee back is an act of courage in defiance of the media's puritanical twittering; it is also a great relief to his legion of fans, who, on the night I saw the show, were whooping it up long before Pee-wee skittered onstage like a bow-tied water bug, his face clenched in its familiar rictus of surprise and delight.
Pee-wee Herman, Already Hyper, Gets Wired on Sondheim's Stage - Bloomberg News
Typical scenes concern Pee-wee's love affair with Chairry, the female armchair our boy sits on, embraces and is hugged by; Jambi, the bodiless swami's head that lives in a box; and Pterri the Pterodactyl, who flits about arousing Pee-wee's yearning to fly. The plot, such as it is, hinges on the possible wiring of The Playhouse for Pee-wee's computer, which turns out to be a very bad idea indeed.
The Pee-wee Herman Show Broadway Cast