The Motherf**ker With the Hat - 2011 - Broadway Tickets, News, Info & More
THE MOTHERF**KER WITH THE HAT is a new high-octane, verbal cage match about love, fidelity, and misplaced haberdashery from playwright Stephen Adly Guirgis. Jackie and Veronica have been in love since the 8th grade. But now, Jackie is on parole and living clean and sober under the guidance of his sponsor, Ralph D, while still living and loving with his volatile soul mate Veronica who is fiercely loving, but far from sober. Still, their love is pure. And true. Nothing can come between them - except a hat.
Video preview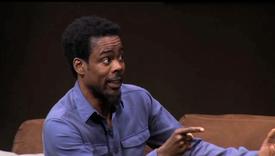 Featured Reviews For The Motherf**ker With the Hat
A Motherf**ker That Plays Hard-to-Get - New York Magazine
In a good Guirgis play (and my favorite is The Last Days of Judas Iscariot, overstuffed and Wiki-stubbed as it was), there's always some glimmering, bobbing moral buoy that recedes but never vanishes as the bumptious, hair-trigger characters kick up waves of slangy chaos. Here, as Jackie faces off against a bottomless pit of moral relativism ("What are we, Europeans or some shit?"), the buoy goes under and, for the most part, stays there. But the play really doesn't have the heft to earn the death of hope, nor does it have the stones or the seriousness to declare hope officially dead. Motherf**ker mainly concerns itself with a lot of big, mordant laughs (with Yul Vazquez, as Jackie's slightly Aspie ex-sex-addict cousin Julio, walking away with the show's chewy center). Jabbing exchanges like "I coulda fucked your wife the other night!" / "Shit, I coulda fucked your girl the other day — and I did!" land solidly in the audience's breadbasket, yet overall, the play feels jumpy and scant. Anna D. Shapiro hops from laugh to laugh at such a workmanlike tempo, the characters sometimes feel on the verge of urban blue-collar caricature. Despite the monumental pain they feel, these people lack the savor we hear in Guirgis's best stuff.
A Love Not at a Loss for Words - New York Times
This is by far the most accomplished and affecting work from the gifted Mr. Guirgis, a prolific and erratic chronicler of marginal lives ("Jesus Hopped the 'A' Train," "Our Lady of 121st Street")...The characters portrayed by a marvelous, intensely focused five-member ensemble - including the stand-up comic Chris Rock, in a solid Broadway debut, and a blazingly good Bobby Cannavale - are always striving for a mot juste to explain their less than clear-cut feelings. That Jackie's emotions, like those of everyone in "Hat," are a muddle doesn't mean that they don't burn clear, or bright enough to scorch.
The Motherf**ker With the Hat Broadway Cast