The Motherf**ker With the Hat - 2011 - Broadway
THE MOTHERF**KER WITH THE HAT is a new high-octane, verbal cage match about love, fidelity, and misplaced haberdashery from playwright Stephen Adly Guirgis. Jackie and Veronica have been in love since the 8th grade. But now, Jackie is on parole and living clean and sober under the guidance of his sponsor, Ralph D, while still living and loving with his volatile soul mate Veronica who is fiercely loving, but far from sober. Still, their love is pure. And true. Nothing can come between them - except a hat.
Video preview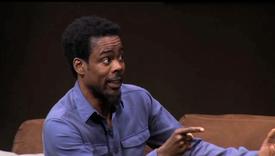 Featured Reviews For The Motherf**ker With the Hat
The Motherf**ker with the Hat - Time Out New York
The only thing holding the show back, alas, is Rock. In the pivotal role of Jackie's AA sponsor, Ralph, the gifted stand-up comic seems ill at ease; he doesn't know how to hold his body onstage, and his awkwardness is damaging to a character defined by his charisma. (One can't help feeling that the show might be even more powerful with his understudy, Ron Cephas Jones, in the part.) Each time Rock has a scene, The Motherfu**ker with the Hat falls off the dramatic wagon and takes a while to recover. But it finds its footing every time—with strength enough to kick.
The Motherf**ker With the Hat - ScheckOnTheater
The Motherf**ker With the Hat has at least two things going for it right off the bat. The first is that marvelously profane--albeit generally unprintable--title. The second is the coup of having landed comedian Chris Rock for his Broadway debut in this new dark comedy by Stephen Adly Guirgis (Jesus Hopped the 'A' Train and Our Lady of 121st Street, among others). Ironically, both elements actually work against the production. The title, although certainly memorable, has proven off-putting to mainstream Broadway audiences. And Rock has been less of a box-office draw than expected, even though his presence no doubt accounts for this Broadway engagement of a play that would have seemed far more at home in an intimate, non-commercial environment.
The Motherf**ker With the Hat Broadway Cast