The Little Dog Laughed - 2006 - Broadway
Five-time Tony nominated Playwright Douglas Carter Beane, takes us on a tangy ride with Mitchell Green, a movie star who would have it all if he didn't have that wee problem of keeping his "slightly recurring case of homosexuality" under wraps. Mix in the brash Hollywood agent, the darling rent boy who has stolen Mitchell's heart, and the rent boy's girlfriend - what? the rent boy has a girl? Pour over ice and you will be served up a deep shot glass of witty banter and risqué humor.
Video preview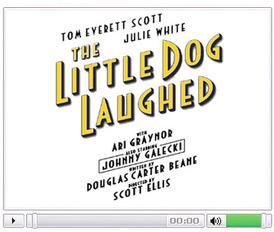 Schedule
Running Time: Two hours with one intermission
(New York, NY)
138 West 48th St.