The Addams Family - 2010 - Broadway
Based on the iconic characters created by legendary cartoonist Charles Addams, THE ADDAMS FAMILY is an all-new musical comedy starring Tony Award winner Roger Rees as Gomez and stage and screen star Brooke Shields as Morticia. THE ADDAMS FAMILY features an original story. It's every parent's nightmare. Your little girl has suddenly become a young woman, and what's worse, has fallen deliriously in love with a sweet, smart young man from a respectable family. Yes, Wednesday Addams, the ultimate princess of darkness, has a "normal" boyfriend, and for parents Gomez and Morticia, it's a shocking development that turns the Addams house upside down when they are forced to host a dinner for the young man and his parents.
THE ADDAMS FAMILY has a book by Marshall Brickman and Rick Elice (librettists of the 2006 Tony Award-winning Best Musical, Jersey Boys), music and lyrics by Drama Desk Award winner Andrew Lippa (The Wild Party), direction and design by Phelim McDermott and Julian Crouch (Shockheaded Peter, The Metropolitan Opera's Satyagraha) and choreography by Sergio Trujillo (Next to Normal, Jersey Boys).
Video preview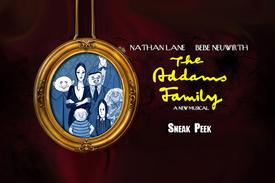 Schedule
Running Time: 2 hours and 35 minutes, with one intermission
Featured Reviews For The Addams Family
Two Snaps Down - New York
Every moment is a furious fight for life, an act of flop-sweat corpse puppetry worthy of Weekend at Bernie's. Practically from the moment the curtain parts—courtesy Thing, the bodiless hand—you detect the grim, gray whiff of obligation. The Addams Family, like so many large-scale theatrical entertainments today, feels every inch a Musicalized Property. (To call it a "musical" suggests more joie de mort than the show can muster.) It's a Broadway spectacular only because it must be, not because any of its creators felt particularly inspired. Alas, one can put the defibrillator paddles to a dead body only so many times before it starts to smoke, and long before the night is over, the air in the Lunt-Fontanne is a gritty haze of unrequited effort. "When you're an Addams," the ensemble sings (in an instructive, repetitive, highly unpromising opening number), "you're happy when your toes are in the mud/You smile a bit the moment you smell blood." Poe, this ain't. But hey, it could be worse, considering the soupy lyrical terrain on which Andrew Lippa insists on building his flimsy, prefab songs.
Festering - The New Yorker
In keeping with Addams's graphic style, Zaks offers some delightfully surreal scenic moments: a tassel cut from the end of a rope scuttles offstage by itself; a giant squid and a monster iguanodon make surprise appearances. Zaks does his best to drive this money train down the bad track it's laid on. (He replaced the show's original directing team, Phelim McDermott and Julian Crouch.) The show's narrative, however, can't handle Addams's Grand Guignol edge; the book, written by Marshall Brickman and Rick Elice, stays safely on the outside of Addams's comic world, looking in. Of all the dark cards in Addams's hand, the team has picked the weakest one: love. Wednesday, the crossbow-toting Goth, falls for Lucas Beineke (Wesley Taylor), a square from Ohio, whose buttoned-down parents come to dinner at the Addams house: in other words, it's "The Birdcage" reimagined for Bela Lugosi. Except for the occasional blip of wit, fifteen minutes into the palaver the audience can feel the show flatlining.
The Addams Family Broadway Cast