The Addams Family - Broadway
Based on the iconic characters created by legendary cartoonist Charles Addams, THE ADDAMS FAMILY is an all-new musical comedy starring Tony Award winner Roger Rees as Gomez and stage and screen star Brooke Shields as Morticia. THE ADDAMS FAMILY features an original story. It's every parent's nightmare. Your little girl has suddenly become a young woman, and what's worse, has fallen deliriously in love with a sweet, smart young man from a respectable family. Yes, Wednesday Addams, the ultimate princess of darkness, has a "normal" boyfriend, and for parents Gomez and Morticia, it's a shocking development that turns the Addams house upside down when they are forced to host a dinner for the young man and his parents.
THE ADDAMS FAMILY has a book by Marshall Brickman and Rick Elice (librettists of the 2006 Tony Award-winning Best Musical, Jersey Boys), music and lyrics by Drama Desk Award winner Andrew Lippa (The Wild Party), direction and design by Phelim McDermott and Julian Crouch (Shockheaded Peter, The Metropolitan Opera's Satyagraha) and choreography by Sergio Trujillo (Next to Normal, Jersey Boys).
Video preview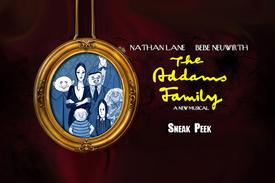 Schedule
Running Time: 2 hours and 35 minutes, with one intermission
Featured Reviews For The Addams Family
Festering - The New Yorker
In keeping with Addams's graphic style, Zaks offers some delightfully surreal scenic moments: a tassel cut from the end of a rope scuttles offstage by itself; a giant squid and a monster iguanodon make surprise appearances. Zaks does his best to drive this money train down the bad track it's laid on. (He replaced the show's original directing team, Phelim McDermott and Julian Crouch.) The show's narrative, however, can't handle Addams's Grand Guignol edge; the book, written by Marshall Brickman and Rick Elice, stays safely on the outside of Addams's comic world, looking in. Of all the dark cards in Addams's hand, the team has picked the weakest one: love. Wednesday, the crossbow-toting Goth, falls for Lucas Beineke (Wesley Taylor), a square from Ohio, whose buttoned-down parents come to dinner at the Addams house: in other words, it's "The Birdcage" reimagined for Bela Lugosi. Except for the occasional blip of wit, fifteen minutes into the palaver the audience can feel the show flatlining.
The Addams Family - Time Out New York
For a Broadway megamusical that celebrates antisocial behavior and schadenfreude, The Addams Family inspires mixed emotions. It's a night of pleasant, clever songs and sly jokes, charming performances and swoony visuals—but the whole never soars to the heights we now expect of a bona fide blockbuster. Don't brace yourself for the pop-fantasy spectacle of Wicked or the ruthless comic proficiency of The Producers. Instead, The Addams Family is a Frankenstein creature: adult and juvenile, idiosyncratic and generic, grandiose and homey. Maybe that's its triumph: Not even this household is sick enough to settle for straightforward razzle-dazzle.
The Addams Family Broadway Cast