The Addams Family - 2010 - Broadway Tickets, News, Info & More
Based on the iconic characters created by legendary cartoonist Charles Addams, THE ADDAMS FAMILY is an all-new musical comedy starring Tony Award winner Roger Rees as Gomez and stage and screen star Brooke Shields as Morticia. THE ADDAMS FAMILY features an original story. It's every parent's nightmare. Your little girl has suddenly become a young woman, and what's worse, has fallen deliriously in love with a sweet, smart young man from a respectable family. Yes, Wednesday Addams, the ultimate princess of darkness, has a "normal" boyfriend, and for parents Gomez and Morticia, it's a shocking development that turns the Addams house upside down when they are forced to host a dinner for the young man and his parents.
THE ADDAMS FAMILY has a book by Marshall Brickman and Rick Elice (librettists of the 2006 Tony Award-winning Best Musical, Jersey Boys), music and lyrics by Drama Desk Award winner Andrew Lippa (The Wild Party), direction and design by Phelim McDermott and Julian Crouch (Shockheaded Peter, The Metropolitan Opera's Satyagraha) and choreography by Sergio Trujillo (Next to Normal, Jersey Boys).
Video preview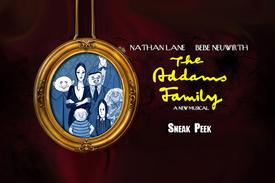 Schedule
Running Time:
2 hours and 35 minutes, with one intermission
Featured Reviews For The Addams Family
Uncle Fester Flies, Gomez Tangos in 'Addams Family' - Bloomberg News
McDermott and Crouch's sets and costumes achieve both hilarity and charm. (Morticia's decolletage stops precisely short of her nipples, while the cast moves from the fog-draped exterior of the family's gothic pile, with prominent moon, to the heavy furnishings of gloomy interiors.) They are staunchly abetted by Basil Twist's polymorphously perverse puppets and Natasha Katz's cheeky lighting. The whole show is a menage a trois of the ghastly, the ghostly and the side-splitting. And you know what? Unlike in most current musicals, the songs really shine: Melody, too, has risen from the dead.
The Addams Family - nytheatre.com
Brevity is not one of the qualities of the latest incarnation of The Addams Family. The first act of this new musical comedy is a pleasant, if often mindless and more often vulgar, diversion; certainly the spectacular set and special effects (notably a delightful Venus flytrap puppet) keep us engaged even when the comedy and songs sag. But Act Two proves to be one act too many; it felt as if the show's creators had tired of playing with their toys, and instead left them to flounder on their own within a bottomless pool of cliches drawn from second-rate kids' films, sitcoms, and hackneyed musicals. Nothing interesting or witty happens during this last hour, which is surprising in that it includes three songs that are clearly intended by the producers to be show-stoppers. I was bored and disappointed and left The Addams Family, which I sincerely tried to enjoy, feeling saddened by the squandering of resources that it represents.
The Addams Family Broadway Cast