Paradise Square - Broadway Tickets, News, Info & More
New York City. 1863. The Civil War raged on. An extraordinary thing occurred amid the dangerous streets and crumbling tenement houses of the Five Points, the notorious 19th-century Lower Manhattan slum. Irish immigrants escaping the devastation of the Great Famine settled alongside free-born Black Americans and those who escaped slavery, arriving by means of the Underground Railroad. The Irish, relegated at that time to the lowest rung of America's social status, received a sympathetic welcome from their Black neighbors (who enjoyed only slightly better treatment in the burgeoning industrial-era city). The two communities co-existed, intermarried, raised families, and shared their cultures in this unlikeliest of neighborhoods.
Video preview
Photo preview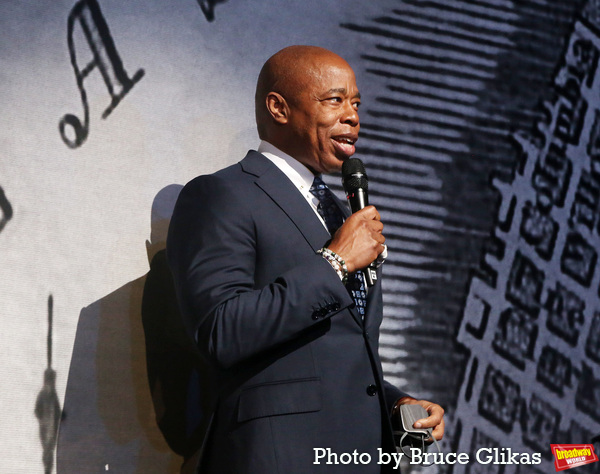 Schedule
Running Time:
Two hours and 40 minutes with one intermission
Preview schedule varies. Check official site for the most up-to-date performances days and times.
Tuesdays: 7 p.m.
Wednesdays: 2 p.m. and 7:30 p.m.
Thursdays: 7 p.m.
Fridays: 8 p.m.
Saturdays: 2 p.m. and 8 p.m.
Sundays: 3 p.m.
About the Theatre
(New York, NY)
243 West 47th St.
Seating Chart
Featured Reviews For Paradise Square
'Paradise Square' Broadway Review: Call Her Madam, or Return of the Happy Hookers - The Wrap
In "Paradise Square," which opened Sunday at the Ethel Barrymore Theater, sex workers and their madam, Nelly (Joaquina Kalukango), come bubble-wrapped with enough important issues to placate the most hardened moralist. The credits reveal that the show is "inspired in part by the songs of Stephen Foster." The songwriter gets no thanks from the book writers, who deem his music racist. Actually, the little bit we hear of those simple Foster ditties is a relief from the bloated tunes surrounding them. Whether the characters are happy or sad, pissed off or just in a funk, they're simply thunderous when they sing. Best of the songs is Nelly's fiery "Let It Burn," not to be confused with "Let It Go" from "Frozen." How much more effective it would be if not preceded by so much aural bombast.
'Paradise Square' Packs Valuable Lessons in Old-Fashioned, Familiar Wrapping - Did They Like It?
The musical features a talented ensemble led by the powerhouse Joaquina Kalukango (as Nellie, the owner of the tavern where the majority of the action takes place) and the nimble A. J. Shively (as Owen, a masterful dancer Irish immigrant terrified of getting drafted). It is chock-full of impressive dance numbers that pair the percussive rhythmic step dances of the Irish and Black communities. The score is catchy (especially the title song), compelling, and feels period-specific (heavily featuring the fiddle) while appealing to a modern musical theater ear. The highlight of the show is without a doubt "Let it Burn," Kalukango's 11 o'clock number, which receives a standing ovation and will be canonized alongside the greats like "I'm Here," "Lot's Wife," and "Rose's Turn."
Paradise Square Broadway Cast
Buy at the Theatre Shop
T-Shirts, Mugs, Phone Cases & More