On A Clear Day You Can See Forever - 2011 - Broadway
Love blooms in unexpected places in the delightful, newly imagined world of On a Clear Day You Can See Forever. Still in love with his deceased wife, Dr. Mark Bruckner (Harry Connick, Jr.), a dashing psychiatrist and professor, unknowingly takes on the case of his life with David Gamble, a quirky young florists' assistant. While putting David under hypnosis to help him quit smoking so he can move in with his perfect boyfriend Warren, Dr. Bruckner stumbles upon what he believes to be David's former self – a dazzling and self-possessed 1940's jazz singer Melinda Wells. Instantly intrigued by Melinda, Dr. Bruckner finds himself swept up in the pursuit of an irresistible (and impossible) love affair with this woman from another time and place, who may or may not have ever existed. Michael Mayer and Peter Parnell's enchanting new version celebrates much of the beloved score from the 1965 musical including the classic hits "Come Back To Me," "What Did I Have That I Don't Have Now?," "She Isn't You," and the titular "On a Clear Day You Can See Forever," while adding songs from the film score such as "Love With All The Trimmings," and "Go To Sleep." Songs from the Lerner and Lane score for the film Royal Wedding such as "Ev'ry Night At Seven," "You're All The World To Me," "Open Your Eyes" and "Too Late Now" complete the landscape for this romantic musical comedy. This production of On a Clear Day makes the case for living life with your eyes, and heart, wide open.
Photo preview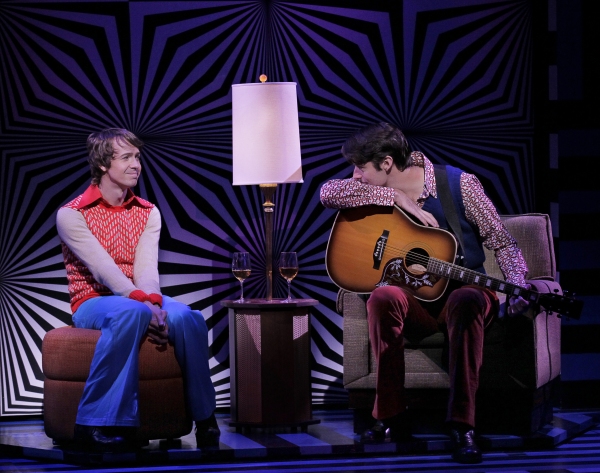 Schedule
Running Time: 2 hours and 15 minutes, with one intermission
Featured Reviews For On A Clear Day You Can See Forever
Broadway Review: 'On a Clear Day You Can See Forever' - Philadelphia Inquirer
Well, you get the picture, even if audiences may find it spotty. The plot was tough in 1965, without all the sexual confusion that in fact gives the plot new depth - even as it makes it harder to believe. Except for the memory scenes with Melinda, On A Clear Day was set then in the '60s. It's update takes place in the mid '70s, still with Alan J. Lerner's lyrics and Burton Lane's lovely music, although some of it was not in the original and much of the rest has been moved around to nicely fit the new plot.
Reincarnation All Over Again - New York Times
Where the heck is Zoloft (and Prozac and Abilify) when you need the little suckers? This wholesale reconception of a fluffy, muddled 1965 musical about reincarnation appears to have given everyone who appears in it — including its charismatic star, Harry Connick Jr. — a moaning case of the deep-dyed blues. Though done up to resemble a psychedelic fun house (the sanitized, perky kind that brings to mind middle-of-the-road rock album covers from the late 1960s and early '70s), this "Clear Day" still has the approximate fun quotient of a day in an M.R.I. machine.
On A Clear Day You Can See Forever Broadway Cast