Machinal - 2014 - Broadway
Inspired by the infamous 1927 murder trial of Ruth Snyder, Machinal is a gripping drama by American journalist and playwright Sophie Treadwell. Golden Globe nominee Rebecca Hall (The Town, Vicky Cristina Barcelona) stars in this sensational new production helmed by acclaimed British director Lyndsey Turner.
It's America's Golden Age, a time of happiness, freedom and prosperity - or is it? For one young woman in the industrial, male-dominated world of the 1920s, life is nothing like she hoped it would be. Restless and unfulfilled in a passionless marriage and an unwanted motherhood, she finds her only joy in the form of an illicit love affair. But when reality sets in and she must return to her routine existence, she'll go to any lengths to regain her freedom.
A groundbreaking work in the landscape of American theatre, Machinal is a riveting look at the danger that can come from a life unlived.
Video preview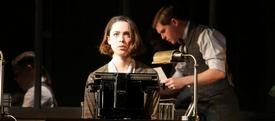 Featured Reviews For Machinal
Theater review: 'Machinal' -- 4 stars - amNY
Lyndsey Turner's extraordinary production makes for an absolutely stirring 90 minutes of theater. It powerfully captures the play's heightened theatricality and terrifying aura, utilizing a sleek, box-shaped set that swiftly rotates back and forth to reveal new scenes. The cast is unusually large, allowing the depiction of a stifling, uncaring crowd of strangers inducing claustrophobia. English actress Rebecca Hall, who was stunning in "The Winter's Tale" at BAM back in 2009 and has also appeared in many films, delivers the intense, vulnerable and haunting performance that her demanding role requires.
Broadway's new 'Machinal' spins its wheels starkly - USA Today
...this stark new staging, which opened Thursday at the American Airlines Theatre, forces us - and its cast, rigorously directed by Lyndsey Turner - to confront Machinal's own limitations. From the opening subway segment (Turner's addition) on, we get a keen sense of how Helen, played by Rebecca Hall in her Broadway debut, feels smothered by everything and everyone around her...An accomplished stage actress with acclaimed British productions of Shakespeare and Shaw under her belt, the leading lady seems stumped by her character's exaggerated inability to articulate her unhappiness beyond vague yearnings for freedom...By the time Machinal runs its course, theatergoers may feel as if they're the ones who have been beaten into submission, by an anti-heroine who inspires dark fascination but little empathy.