Machinal - 2014 - Broadway Tickets, News, Info & More
Inspired by the infamous 1927 murder trial of Ruth Snyder, Machinal is a gripping drama by American journalist and playwright Sophie Treadwell. Golden Globe nominee Rebecca Hall (The Town, Vicky Cristina Barcelona) stars in this sensational new production helmed by acclaimed British director Lyndsey Turner.
It's America's Golden Age, a time of happiness, freedom and prosperity - or is it? For one young woman in the industrial, male-dominated world of the 1920s, life is nothing like she hoped it would be. Restless and unfulfilled in a passionless marriage and an unwanted motherhood, she finds her only joy in the form of an illicit love affair. But when reality sets in and she must return to her routine existence, she'll go to any lengths to regain her freedom.
A groundbreaking work in the landscape of American theatre, Machinal is a riveting look at the danger that can come from a life unlived.
Video preview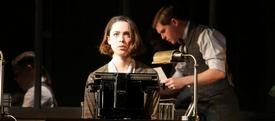 Featured Reviews For Machinal
'Machinal' Theater Review: Rebecca Hall Wins by Losing It in Her Broadway Debut - The Wrap
This 2014 staging is notable for giving Rebecca Hall her stunning Broadway debut and proving that "Machinal" is an arresting and not some old chestnut that deserves to be cracked open only once every century. It helps, too, that director Lyndsey Turner (another Broadway deb) and her design team (Es Devlin, Michael Krass, Jane Cox, Matt Tierney) have choreographed this story, based on a real-life case of a woman who murdered her husband, as if it were a very modern atonal opera.
'Machinal,' theater review - NY Daily News
Hall, known for films like "The Town" and "Iron Man 3," hides her beauty and plummy English accent as Helen. She's sturdy at some times, singsong in others. Hall's stature and height allow her to strike a physical presence, but when it comes to Helen's freeform monologues, she's emotionally empty. "Machinal" doesn't elicit strong reaction - but it's well served by the world and well-oiled machine created by Turner.