La Bete - 2010 - Broadway
American playwright David Hirson's rollicking 1991 play, LA BÊTE, is a comic tour de force about Elomire (David Hyde Pierce), a high-minded classical dramatist who loves only the theater, and Valere (Mark Rylance), a low-brow street clown who loves only himself. When the fickle princess (Joanna Lumley) decides she's grown weary of Elomire's royal theatre troupe, he and Valere are left fighting for survival as art squares off with ego in a literary showdown for the ages.
Video preview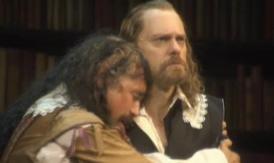 Schedule
Running Time: 1 hour and 45 minutes, with no intermission
Featured Reviews For La Bete
La Bête - The Hollywood Reporter
Bottom Line: The brilliant Mark Rylance and David Hyde Pierce bring whatever comic life there is to this spoof of 17th century theatrical conventions.
Populist and elitist views clash in 'La Bete' - New Jersey Newsroom
The original Broadway production of "La Bete" was an extremely stylish but fatally under-performed folly of a comedy that shut like a bad clam back in 1991. Believe me, I saw it (and smelled it). David Hirson's play returned on Thursday, still very much a folly as a piece of stagecraft, but now acted to much finer effect by Mark Rylance and a smart company at the Music Box Theatre.