La Bete - 2010 - Broadway Tickets, News, Info & More
American playwright David Hirson's rollicking 1991 play, LA BÊTE, is a comic tour de force about Elomire (David Hyde Pierce), a high-minded classical dramatist who loves only the theater, and Valere (Mark Rylance), a low-brow street clown who loves only himself. When the fickle princess (Joanna Lumley) decides she's grown weary of Elomire's royal theatre troupe, he and Valere are left fighting for survival as art squares off with ego in a literary showdown for the ages.
Video preview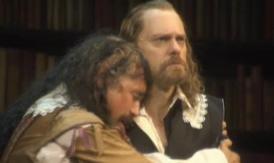 Schedule
Running Time: 1 hour and 45 minutes, with no intermission
Featured Reviews For La Bete
'Bloody Bloody Andrew Jackson,' 'La Bête,' 'A Life in the Theatre' - Washington Post
Still, "La Bête" is so raucously front-loaded, thanks to Rylance, that even though the rewards diminish as the 110-minute play unfolds, the piece manages to maintain a giddy afterglow. Entering with a mouthful of melon and a wildly miscalculated sense of self-importance, Rylance's Valere terrorizes Elomire and an actor in his company (Stephen Ouimette) with a monologue of a length to match the size of his ego.
'Bloody Bloody Andrew Jackson' Oozes Political Relevance - USA Today
The new Broadway revival of La Bête (* * *) also finds fresh relevance in the past. Set in 17th-century France, David Hirson's comedy asks just how low popular art can go - a question that resonates even more today than it did when the play bowed in 1990.