Kristin Chenoweth: My Love Letter to Broadway - 2016 - Broadway Tickets, News, Info & More
This fall, Tony and Emmy winner KRISTIN CHENOWETH reunites with her greatest love- Broadway- in a strictly limited, 12-performance engagement at the Lunt-Fontanne Theatre! Don't miss KRISTIN CHENOWETH: MY LOVE LETTER TO BROADWAY, a once-in-a-lifetime concert event.
After stealing hearts with her show-stopping turn in You're a Good Man, Charlie Brown, Ms. Chenoweth rose to Broadway super-stardom as Glinda in Wicked, a performance so iconic it changed the Great White Way for good. She's since become a sweetheart of the small and silver screens, dazzling audiences across the globe with her powerhouse vocals and irresistible charm.
Ms. Chenoweth will perform a handpicked selection of musical theater favorites, including songs from her upcoming album "The Art of Elegance." An intimate evening of romance, glamour and laughter, this must-see performance will remind you why you first fell head-over-heels for Broadway... and its most enchanting star!
Video preview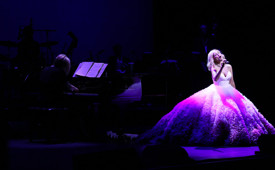 Photo preview
Twitter Watch
@KChenoweth
12/02/2021 11:08am
✍️✍️✍️✍️✍️✍️✍️✍️✍️✍️✍️✍️✍️✍️✍️✍️✍️✍️✍️✍️✍️✍️✍️✍️✍️✍️✍️✍️✍️✍️✍️✍️✍️✍️✍️✍️✍️✍️✍️✍️✍️✍️✍️✍️✍️✍️✍️✍️✍️✍️✍️✍️✍️✍️✍️✍️✍️… https://t.co/2lXc4DpOMk
Kristin Chenoweth: My Love Letter to Broadway Broadway Cast