Hughie - 2016 - Broadway
Hughie is set in the lobby of a small midtown hotel on the West Side of Manhattan. Forest Whitaker will make his highly anticipated Broadway debut as Erie Smith, a drunken, small time hustler who is mourning the recent death of the hotel's night clerk, Hughie. Erie regales the new night clerk with tall-tales of his glory days and times spent with Hughie.
HUGHIE, by four-time Pulitzer Prize winner and Nobel Prize Laureate Eugene O'Neill, will be directed by Tony and Olivier Award winner winner Michael Grandage.
Video preview

Photo preview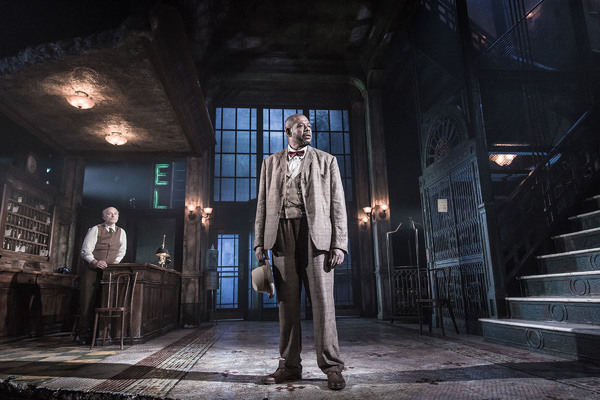 Schedule
Running Time: One hour and five minutes, with no intermission
Featured Reviews For Hughie
Theater Reviews: A Miscast Hughie and a Cheesy-Fun Pericles - Vulture
Whitaker is a fine film actor who has brought method intensity and authenticity to a variety of highly dramatic characters, from Charlie Parker to Idi Amin. But the method technique isn't a good match for Hughie, even if Al Pacino made a success of Erie on Broadway in 1996. The role requires not just the deep dive into personality that the Method suggests but the huckster tricks and verbal animation of a true stage animal. (The original Broadway Erie, in 1964, was Jason Robards.) Whitaker is so interiorized he seems catatonic, with peculiar diction, a strange accent ("dolls" is rendered as "dawls"), and a way of chopping up sentences that suggests he has only a tentative grip on the lines. He moves well, which is to say idiosyncratically, with a rolling gait and a charadeslike intensity of hand movement that might well make the characterization visible if it weren't so inaudible. Even so, you spend a lot of the time looking at Wood, a theatrical creature through and through, doing much more with much less.
Forest Whitaker and Lupita Nyong'o lead a starry spring on Broadway - NY Post
Forest Whitaker may have an Oscar under his belt (for "The Last King of Scotland") but his Broadway debut is largely inconsequential -- he brings no heft or insight to Erie Smith, the small-time gambler in Eugene O'Neill's two-hander, "Hughie"...Whitaker's soft-toned take is laudable -- without making much of an impression. You're more likely to remember the gorgeous set: the darkened lobby of a ghostly hotel, dominated by a steep, foreboding staircase. Michael Grandage's direction emphasizes a spooky atmosphere that makes you wonder if the characters -- Frank Wood plays the other, mostly silent, one -- are dead and in some kind of purgatory.