Hughie - 2016 - Broadway
Hughie is set in the lobby of a small midtown hotel on the West Side of Manhattan. Forest Whitaker will make his highly anticipated Broadway debut as Erie Smith, a drunken, small time hustler who is mourning the recent death of the hotel's night clerk, Hughie. Erie regales the new night clerk with tall-tales of his glory days and times spent with Hughie.
HUGHIE, by four-time Pulitzer Prize winner and Nobel Prize Laureate Eugene O'Neill, will be directed by Tony and Olivier Award winner winner Michael Grandage.
Video preview

Photo preview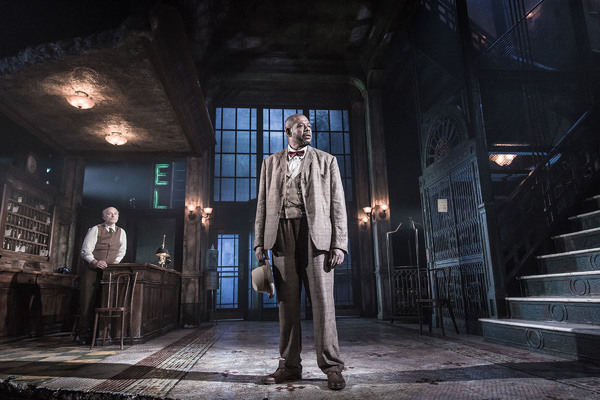 Schedule
Running Time: One hour and five minutes, with no intermission
Featured Reviews For Hughie
Theater review: Forest Whitaker makes Broadway debut in Eugene O'Neill's 'Hughie' - NY Daily News
This "Hughie" is hooey. It's not that Forest Whitaker's acting is bad in this high-profile revival. It's that this likeable Oscar winner is not doing any discernible acting to speak of...Whitaker...is simply reciting his lines rather than embodying Erie Smith...Whitaker offers was no connection or depth. That's a shame, since there's plenty to play as Erie, who's down on his luck and living on illusions...Director Michael Grandage...comes up short with a production that lacks high points...Christopher Oram's scenic design is an unqualified success...If you tire of Whitaker's disconnected talk, gaze at the faded tin ceiling or the broken elevator. They're subtle signs of former glory.
BWW Review: Forest Whitaker Undistinguished in a Handsomely Designed HUGHIE - BroadwayWorld
The play is essentially a monologue for Erie, as he tries making buddies with the new, disinterested night clerk in an attempt to change his luck...Sadly, Whitaker's performance is far too undistinguished...Under Michael Grandage's direction, he's a rather ordinary, friendly presence, who continually speaks in a repetitive sing-songy rhythm. There's little depth, or even vocal variety in his portrayal and the proceedings get dull quickly. It would be unfair to say that Wood steals the show with his tiny role, but his fine, understated turn is a lovely display of a stage actor's craft.