High - Broadway
When Sister Jamison Connolly agrees to sponsor a 19-year-old drug user in an effort to help him combat his addiction, her own faith is ultimately tested. Struggling between the knowledge she possesses as a rehabilitation counselor and a woman of religious conviction, she begins to question the belief in miracles and whether people can find the courage to change. High explores the universal themes of truth, forgiveness, redemption and human fallibility.
Video preview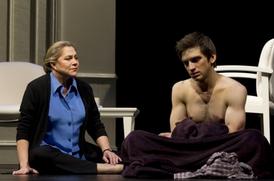 Featured Reviews For High
High - New York Daily News
Played by Kathleen Turner, Sister Jamison is a recovering alcoholic who curses like a sailor and bows to no one - sometimes not even God. Her full portrait slowly comes into focus as the action unfolds in director Rob Ruggiero's bare-bones staging.
High - ScheckOnTheater
Despite its manipulative aspects, the play is nonetheless reasonably compelling due to the inherent emotional power of its subject matter and Turner's compelling performance. The veteran actress commands the stage with a ferocious intensity that would make anyone scared straight.