High - 2011 - Broadway
When Sister Jamison Connolly agrees to sponsor a 19-year-old drug user in an effort to help him combat his addiction, her own faith is ultimately tested. Struggling between the knowledge she possesses as a rehabilitation counselor and a woman of religious conviction, she begins to question the belief in miracles and whether people can find the courage to change. High explores the universal themes of truth, forgiveness, redemption and human fallibility.
Video preview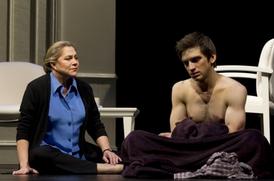 Featured Reviews For High
Kathleen Turner is heavenly as a gritty nun in Matthew Lombardo's Broadway play 'High' - Associated Press
The play is helped by two stunning performances - by Turner, who pretty much never leaves the stage, and Evan Jonigkeit, making his Broadway debut as the addict Cody. Watching these two angry, broken, world-weary animals circle each other is an uncomfortable pleasure...[Turner] is the play's fairy godmother and soul.
Turner show's got hell and grand dame-nation - New York Post
Indeed, "High" has twists and revelations, but no suspense. Nobody will bat an eye upon learning about Sister Jamie's stormy past, or the reasons Father Michael is so invested in Cody's well-being. And when someone eventually makes a direct appeal to God, you think, "What took so long?" Indeed, everything's foreshadowed with clumsy insistence. While the play clearly hits close to home for Lombardo -- who's been candid about his own faith and past drug problem -- its purple prose and potboiler flourishes could easily have come from a 1960s "social issues" flick.