Hidden Horizon - 1946 - Broadway
(New York, NY)
236 W. 45th St.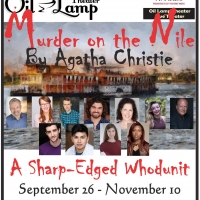 by BWW News Desk - Sep 5, 2019
Executive and Artistic Director, Keith Gerth and Associate Artistic Director, Stephen Smith of the Oil Lamp Theater in Glenview announce their next production, the gripping thriller Murder on the Nile by Agatha Christie. This tale of mystery and suspense is directed by Oil Lamp's Executive and Artistic Director Keith Gerth and will be performed from September 26th through November 10th 2019 at 1723 Glenview Road in Glenview.
by Allison Rambler - Feb 6, 2017
Agatha Christie is widely known as one of the most successful authors across the globe. Her theatrical works, including THE MOUSETRAP, AND THEN THERE WERE NONE, and LOVE FROM A STRANGER have been performed countless times since their publication and continue to be loved by all audiences today. MURDER ON THE NILE as put on by Oyster Mill Playhouse in Camp Hill, Pennsylvania, is no exception to Christie's suspenseful repertoire. It is the tale of passengers from many different walks of life thrown into close quarters on a paddle steamer down the Nile River, set adrift towards drama and misfortune.
by BWW News Desk - Dec 12, 2011
Now in its seventh thrilling year, The Agatha Christie Theatre Company presents a stylish new production of the queen of crime's classic thriller Murder on the Nile, which will tour the UK with an all star cast in 2012.