Guests of the Nation - 1980 - Off-Broadway
(New York, NY)
Address Unknown
by Chloe Rabinowitz - May 17, 2021
Corcadorca Theatre Company are currently in the process of developing a large-scale, outdoor, theatre piece based upon Frank O'Connor's seminal short story 'Guests of the Nation' which will be presented as part of Cork Midsummer Festival in 2022.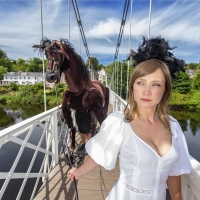 by Chloe Rabinowitz - Jun 17, 2021
As part of Cork Midsummer Festival 2021, Corcadorca Theatre Company will present "Where is the Horse?".  FitzHenry, a theatrical Anglo-Irish horse, is visiting this year's festival taking in the city and its environs until 27th June.
by Sally Henry Fuller - Feb 7, 2012
Local independent film director, Daniel Speers, and Producers Alex Gibson and Alex Peck, are in the pre-production phase for an adaptation of Frank O'Connor's classic short story, 'Guests of a Nation,' which will take viewers into the midst of the Irish War for Independence.