God of Carnage - 2009 - Broadway
God of Carnage is a comedy of manners without the manners. The play deals with the aftermath of a playground altercation between two boys and what happens when their parents meet to talk about it.
On July 27, 2009 the production began a six-week summer hiatus. Performances resumed September 8.
Video preview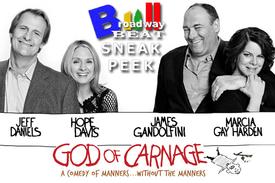 Schedule
Running Time: 90 minutes, with no intermission
Featured Reviews For God of Carnage
Rumble in the Living Room - New York Times
Examined coldly, this 90-minute play about two couples who meet to discuss a playground fight between two of their children isn't much more than a sustained Punch and Judy show, dressed to impress with sociological accessories. But there's a reason that Punch and Judy's avatars have fascinated audiences for so many centuries in cultural forms low ("The Honeymooners" of 1950s television) and high (Edward Albee's 1962 drama "Who's Afraid of Virginia Woolf?"). "God of Carnage," which is poised somewhere in between, definitely delivers the cathartic release of watching other people's marriages go boom. A study in the tension between civilized surface and savage instinct, this play (which recently won the Olivier Award in London for best new comedy) is itself a satisfyingly primitive entertainment with an intellectual veneer.
God of Carnage - The Hollywood Reporter
The play doesn't really have the heft to sustain its somewhat strained thematic premise. But thanks to witty dialogue and incisive characterizations, it's wonderful fun nonetheless. Matthew Warchus has staged the farcical proceedings to comic perfection, with the physical (and sometimes gross) slapstick humor expertly rendered.
God of Carnage Broadway Cast