God of Carnage Broadway
God of Carnage is a comedy of manners without the manners. The play deals with the aftermath of a playground altercation between two boys and what happens when their parents meet to talk about it.
On July 27, 2009 the production began a six-week summer hiatus. Performances resumed September 8.
Video preview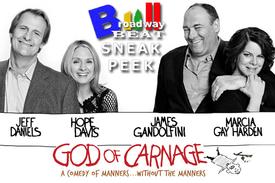 Schedule
Running Time: 90 minutes, with no intermission
Featured Reviews For God of Carnage
God of Carnage - NY1
Not quite a fully realized play, it's an extended situation comedy featuring two couples meeting to discuss a playground fight between their 11-year-old sons. It seems one of the little boys whacked the other with a stick causing him to lose two teeth. At first, the interaction is civil but there are tensions in the air. It doesn't take long before emotions erupt. And look out. Besides being exceptionally funny, there are several shocking moments in this play that are bound to take you by complete surprise.
God of Carnage - Time Out New York
God of Carnage is the author's most satisfying work since Art (1998), which also balances her very French tendency to jumble philosophy and farce with a surgical dissection of bourgeois pretension and slippery social identity. Matthew Warchus masterfully stages the work, heeding the playwright's command to eschew strict naturalism and embrace the artificial nature of the action. The characters exist as stock types (Daniels as the callous lawyer and Davis as an icy wealth-management consultant), yet the loopier script convulsions allow for ridiculous (and theatrically bracing) psychological leaps.
God of Carnage Broadway Cast