Elling - 2010 - Broadway
Set in the current day, ELLING is a comedy about a wildly mismatched pair of roommates trying to embrace life, love, friendship, pizza, poetry and women. Denis O'Hare plays obsessive/compulsive Elling. Brendan Fraser, plays the wildly enthusiastic gentle giant Kjell. Jennifer Coolidge plays Reidun, the object of Kjell's considerable affection, and Richard Easton plays Alfons, Elling's unlikely poet mentor.
ELLING is based on the popular original Norwegian novels by Ingvar Ambjørnsen and adapted for the Oscar nominated film and the stage by Axel Hellstenius and Petter Næss, in a new English adaptation by Simon Bent. ELLING played the West End and was nominated for the Lawrence Olivier Award for Comedy of the Year.
Video preview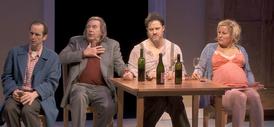 Schedule
Running Time: 2 hours and 10 minutes, with one intermission