Cymbeline - 2015 - Off-Broadway
Tony Award winner Daniel Sullivan (King Lear, The Comedy of Errors, Proof) directs the Shakespearean fairy tale CYMBELINE, featuring Tony nominee Lily Rabe and Hamish Linklater. In the Shakespearean fairytale CYMBELINE, Princess Imogen's fidelity is put to the royal test when her disapproving father banishes her soul mate. Cross-dressing girls and cross-dressing boys, poisons and swordfights and dastardly villains all take the stage in this enchanting romp about the conquering power of love.
Video preview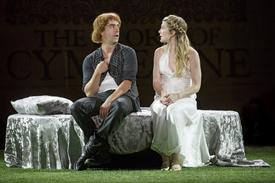 Cymbeline Off-Broadway Cast
by BroadwayWorld TV - August 4, 2015
The Public Theater's Free Shakespeare in the Park continues with CYMBELINE, which began performances on Thursday, July 23, and runs through Sunday, August 23, with an official press opening on Monday, August 10. BroadwayWorld brings you a first look at the cast in action below!