Bright Star - 2016 - Broadway
With music and book by Steve Martin and music and lyrics by Edie Brickell, BRIGHT STAR is based on an original story by Martin and Brickell and features direction by Walter Bobbie.
Inspired by an astonishing true event, the wholly original new musical BRIGHT STAR tells a sweeping tale of love and redemption set against the rich backdrop of the American South in the 1920s and 40s. When successful literary editor Alice Murphy meets an ambitious young soldier just home from World War II, their connection inspires Alice to confront a shocking incident from her past. Together they discover a long-buried secret with the power to transform their lives.
Video preview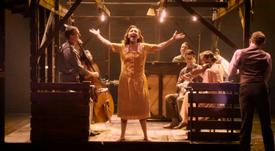 Photo preview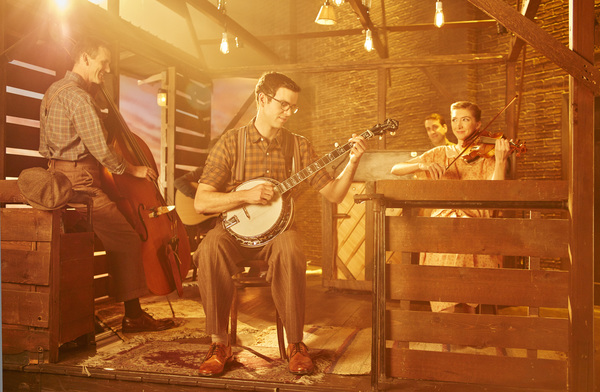 Schedule
Running Time: Two hours and 30 minutes, with one intermission
Featured Reviews For Bright Star
Bright Star - TimeOut NY
"If you knew my story, you'd have a good story to tell," sings Alice (Carmen Cusack) in the introductory number of Bright Star. But would you know how to tell it? That's where Steve Martin and Edie Brickell, cowriters of this gawky tall tale, fall short...Bright Star aspires to be what the older Alice asks from a young fiction writer (A.J. Shively): "a sweeping tale of pain and redemption." But it cries out for an editor's sharp blue pen. Sweeping? In lieu of the color that the story seems to call for, Walter Bobbie's production is often actively plain, as though trying to hide its central bathos in beige. Painful? For the audience, perhaps, thanks to shoddy craftsmanship that saddles likable, plucky bluegrass music with lyrics that run from workmanlike to egregious. It does, however, have a genuine redeeming feature in Cusack...Cusack is distinctive and immediately interesting, convincing at playing Alice at both ages, with a voice that is full of beautiful surprises.
16 2 Steve Martin and Edie Brickell's 'Bright Star' shimmers on Broadway - USA Today
...Bright Star aspires to the kind of emotional sweep and folksy wit we associate with Golden Age musicals, from Rodgers and Hammerstein classics to Meredith Willson's The Music Man. That's a tall order in 2016, with irony and its bratty child, snark, having emerged as prevalent comic tools. But Martin, a master ironist, captures some of that old-school spirit with a book that's as forthright as it is smart, funny and charming...Director Walter Bobbie culls spirited, endearing performances from the actors cast in these roles. Carmen Cusack's Alice evolves convincingly from a mischievous girl to an accomplished but lonely and disappointed woman, while A.J. Shively makes Billy at once wholesome and credibly ambitious
Bright Star Broadway Cast