Arcadia - 2011 - Broadway
"TOM STOPPARD'S MASTERPIECE. AN EXQUISITE REVIVAL."
Scott Brown, New York Magazine
"FEEL THE HEAT RISING. Arcadia is propelled by genuine, panting passion. A TRULY WONDERFUL, DEEPLY FELT PLAY. SEE IT."
Ben Brantley, The New York Times
Tom Stoppard's ARCADIA is now playing on Broadway for a limited engagement following a sold-out run in London. Directed by five-time Tony Award® nominee David Leveaux, ARCADIA is a masterpiece of misunderstanding and quest for knowledge resonating across centuries that John Lahr of The New Yorker calls "ONE OF THE GREAT PLAYS OF MY THEATERGOING LIFE."
"A TIME TRAVELING MASTERWORK. A RAVISHING ROMANCE.
DAVID LEVEAUX'S celebrated revival is emotionally exuberant."
Linda Winer, Newsday
"In revealing and celebrating the wanting in all of us, ARCADIA offers as thrilling and offers as thrilling and fulfilling a theatergoing experience as you'll likely have this season."
Elysa Gardner, USA Today
"ARCADIA STANDS TO LIVE FOREVER."
Marilyn Stasio, Variety
Video preview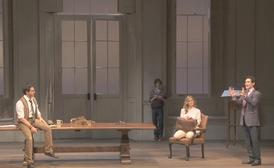 Schedule
Running Time: 2 hours and 45 minutes, with one intermission
Featured Reviews For Arcadia
Arcadia - The Hollywood Reporter
The production is not without rewards, but for a play of this complexity to land both intellectually and emotionally, it requires a seamless ensemble of actors who really listen to one another. That's too infrequently the case with this uneven cast.
"Arcadia" - NY1
"Arcadia" is a play with marvelous potential to amuse, delight and inspire intellectual discussion late into the night, but this misjudged revival doesn't really crack the equation.