Act One - 2014 - Broadway
When the playwright and director, Moss Hart, published his autobiography, "Act One," in 1959 it was a sensation, filled with vivid recollections of colorful characters, especially Hart's first great collaborator, the brilliant George S. Kaufman.
The book gave a fascinating insider's view of how a show really gets to the stage. Many people feel it has never been bettered. "Act One" was more than just a Broadway tale, though. It was a bestseller for almost a year, topping the New York Times list for 41 weeks. Why would this story of the playwright and director's early years be so wildly and widely popular?
We think it's because "Act One" is not just the ultimate valentine to the theater. It is also a Dickensian story of a young immigrant and his family, struggling to escape poverty in the early 20th century. From tenements to glamorous townhouses, from Buffalo stages to Catskills summer camps, and finally to the Broadway of his dreams, Hart's masterful telling captures the hope, misery and comedy of the climb, but also the glee of making it - because he did! A classic New York story.
Now, almost 75 years after Moss Hart's first Broadway success, James Lapine (who knows a thing or two about collaboration from his many shows written with Stephen Sondheim) brings ACT ONE to the stage. He has written and directs this world premiere production at the Beaumont. Tony Shalhoub, playing both George S. Kaufman and Moss Hart as an adult, is familiar to LCT audiences as the father in Golden Boy for which he was nominated for a Tony Award last season. Santino Fontana (the Tony-nominated prince in Broadway's Cinderella) portrays Mr. Hart as a young man. Andrea Martin (Tony winner for her spectacular turn as Berthe in Pippin, and also for LCT's My Favorite Year) plays Aunt Kate, a pivotal figure in Hart's early life.
Video preview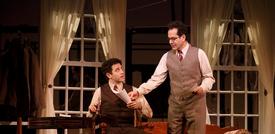 Twitter watch
@LCTheater
09/21/2020 12:55pm
We urge Congress to pass the #SaveOurStages Act & extend pandemic unemployment assistance to help our thousands of… https://t.co/gc7CVUNboV
Featured Reviews For Act One
Review: Little drama in 'Act One'; still, there's some good theater - LA Times
But there's a fundamental problem in bringing "Act One" to the stage: The episodic story isn't structured as a drama. There's tension but little suspense. Anyone who knows the vaguest thing about Hart will know that he became one of the 20th century's major Broadway figures...on stage this roller coaster journey, unable to induce butterflies of excitement, seems unduly repetitive. The book hasn't been distilled into a workable dramatic form...But there are rewards to the production. Three actors play Moss Hart: Matthew Schechter is young Hart, Tony Shalhoub is the older Hart looking back, and Santino Fontana is the anxious, eager-beaver acolyte Hart determined to conquer the Great White Way. All three are terrific, but Shalhoub, who also plays Hart's father as well as a highly neurotic George S. Kaufman (who has some of the same compulsive tendencies as Shalhoub's TV character Monk) is outstanding.
Theater review: 'Act One' - Bergen Record
Moss Hart's autobiography "Act One" was big news in 1959. But are people interested in a man whose fame on Broadway happened well over a half-century ago? If they're not, it's hard to see what they'll find to savor - other than a delightful performance by Tony Shalhoub - in James Lapine's stage adaptation of the book, which opened Thursday night at the Vivian Beaumont Theater.