Act One - 2014 - Broadway
When the playwright and director, Moss Hart, published his autobiography, "Act One," in 1959 it was a sensation, filled with vivid recollections of colorful characters, especially Hart's first great collaborator, the brilliant George S. Kaufman.
The book gave a fascinating insider's view of how a show really gets to the stage. Many people feel it has never been bettered. "Act One" was more than just a Broadway tale, though. It was a bestseller for almost a year, topping the New York Times list for 41 weeks. Why would this story of the playwright and director's early years be so wildly and widely popular?
We think it's because "Act One" is not just the ultimate valentine to the theater. It is also a Dickensian story of a young immigrant and his family, struggling to escape poverty in the early 20th century. From tenements to glamorous townhouses, from Buffalo stages to Catskills summer camps, and finally to the Broadway of his dreams, Hart's masterful telling captures the hope, misery and comedy of the climb, but also the glee of making it - because he did! A classic New York story.
Now, almost 75 years after Moss Hart's first Broadway success, James Lapine (who knows a thing or two about collaboration from his many shows written with Stephen Sondheim) brings ACT ONE to the stage. He has written and directs this world premiere production at the Beaumont. Tony Shalhoub, playing both George S. Kaufman and Moss Hart as an adult, is familiar to LCT audiences as the father in Golden Boy for which he was nominated for a Tony Award last season. Santino Fontana (the Tony-nominated prince in Broadway's Cinderella) portrays Mr. Hart as a young man. Andrea Martin (Tony winner for her spectacular turn as Berthe in Pippin, and also for LCT's My Favorite Year) plays Aunt Kate, a pivotal figure in Hart's early life.
Video preview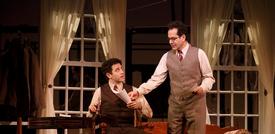 Twitter Watch
@LCTheater
08/31/2021 04:56pm
Atticus Ware started dancing at 4 and doing musical theater at 6. Now at 13, he's set to make his Broadway debut in… https://t.co/dCC5AXeJWR
@LCTheater
08/31/2021 04:56pm
Atticus Ware started dancing at 4 and doing musical theater at 6. Now at 13, he's set to make his Broadway debut in… https://t.co/dCC5AXeJWR
Featured Reviews For Act One
Act One - Time Out NY
In its trajectory and most memorable scenes and players, Lapine's stage adaptation of Hart's sprawling tale -- part rags-to-riches fable, part showbiz fantasy, part professional handbook -- is quite faithful and wrought with abundant skill and empathy...Less smoothly transferred from page to stage is Hart's narrative tone...But Lapine's Act One is a play, not an audiobook or TV miniseries. If this adaptation included considerably more narration, it would invite complaints of too much telling, not enough showing. So credit is due to Lapine for efffectively distilling a fast-moving memory play...Lapine has a superb cast at his disposal -- the thoroughly charming Fontana, the drolly tetchy and bilious Shalhoub, and, in a few crucial, nurturing mother-figure roles, the grace-filled Andrea Martin.
Lapine salutes Moss Hart's first act, affectionately - USA Today
Lapine's Act One (* * * out of four stars), which opened Thursday at Lincoln Center's Vivian Beaumont Theatre, doesn't match the inspired zaniness that was Hart's ideal and trademark -- but its creator doesn't seem to be going for that. The new Broadway production is rather an appreciation, most notable for its deep affection and almost deferential reverence. To say the play lacks the complex poignance of the Sunday in the Park with George and Into the Woods librettist's best work wouldn't be fair; however wry Hart's humor or complicated his relationships -- with show business, his family, other people -- his Act One is a nostalgic and ultimately upbeat reflection on fulfilling a dream.