BWW Review: JANE EYRE at Arts West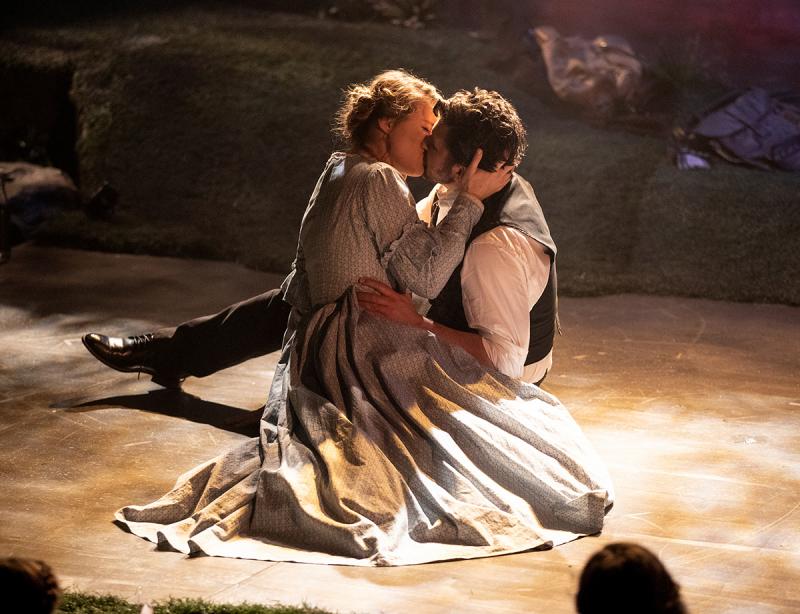 ArtsWest gives new life to an old story with its production of JANE EYRE. The musical is presented in an updated chamber version in its West Coast premier. The story is a classic. The lessons of following your heart and forgiveness are universal. But above it all is the music. The glorious music will haunt you, enrapture you, and seep into your very bones. You may come for the story, but it is the music that will make you want to see it again and again.
Like so many heroes and heroines in literature, Jane Eyre is an orphan. The story opens with Jane living with her aunt Mrs. Reed who is openly hostile toward her. Things go from bad to worse when Jane is sent away to an orphanage where sadness, cold, and hunger are constant companions. The only bright spot in this dismal place is her first true friend, Helen Burns. And epidemic of typhus runs rampant through the orphanage taking sweet Helen. Jane struggles on, but eventually decides to seek a better life as a governess. She find employment at Thornfield teaching the young, spirited Adele. Thornfield provides Jane with a home, a purpose, and a kind supervisor in Mrs. Fairfax. The house, shaded by a giant chestnut tree, is also home to strange laughter and mysterious pranks. When the master of the house, Mr. Rochester returns, Jane finds an intriguing man unlike any she has known before. As Mr. Rochester and Jane seek to find happiness together, the secrets of the house are unleashed and shatter their plans.
The ten person cast is a tight-knit group with several people playing multiple roles. From top to bottom, this cast can sing. Chelsa LeValley as Jane Eyre is perfectly at home. The power of her voice matches the inner fire of her character. She provides shades of dreaminess and fortitude. Louis Hobson's Rochester is powerful and charming, making him much more likeable than the character in the book. Seattle is lucky to enjoy this caliber of artist in such an intimate setting. Zoe Foster as Helen Burns reminds us how powerful tenderness can be in a cruel world. Just as Jane continued to remember her, I'm sure you will too. It's not the first time I've seen her take a supporting role and fill it with meaning. She did the same in Anne of Green Gables last year at SecondStory Rep.
Tatum Poirrier continues to delight audiences with her smooth voice and spunk. I especially enjoyed her portrayal of Adele, Mr. Rochester's ward. I wish her version of young Jane Eyre had been less like Adele and more like the adult Jane. It would have been nice to see more of a connection in the two. Mikko Juan appears in a variety of small roles, but it is his performance as St. John Rivers that will totally catch you off guard. This character that is normally considered as a way to fill time until Jane gets back to Rochester becomes interesting in his own right. He sees Jane and her inherent goodness and offers her a different path by way of a most beautiful song. Speaking of beautiful songs, I See My Maker, is one of those rare moments in a show when the audience holds its collective breath. Aaron Norman's falsetto was itself the sound of angels. As the song progressed and Norman unleashed the full power of his voice upon us, an involuntary shiver took hold of me. It was an honor to witness such a pure moment of beauty. Kudos to Music Director Chris DiStefano who had the foresight to see that this song should be in Norman's hands. It is usually sung by Jane, but the purity of the moment was only enhanced by the delicate sounds wafting over her collapsed body.
Scenic design by Lex Marcos provided a versatile setting for the entire show. However, the people in the side seats were occasionally left with obstructed views from the stairs and upper platform. The costumes by Siri Nelson were a bit of a mix. Some characters were in complete period dress while others wore more modern stuff. I'm not sure if there was a reason for the inconsistency. But once I stopped studying it trying to find a reason, it didn't bother me as much. Director Matthew Wright has configured a staging that uses the ensemble well and spreads the action to all corners of the space. The transitions move quickly, and the story unfolds in a very measured manner. There is great restraint and control in the production, much like in Jane herself. Winnowed of tangential story lines and songs, the chamber version presents the story of Jane Eyre that is focused on the heart of the story.
Jane Eyre is playing at ArtsWest through December 23rd. For tickets or more information, visit www.artswest.org.