BWW Review: CINDERELLA, King's Theatre, Edinburgh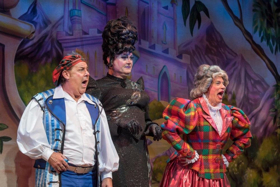 Cinderella is often regarded as the greatest pantomime story of all, and this year's King's Theatre production certainly does not disappoint. From start to finish, it's a concoction of laughter and fun, and a real visual treat.
For the eighth year in succession, it's the winning combination of the much-loved veteran trio of Allan Stewart (Fairy May), Andy Gray (Buttons) and Grant Stott (Baroness Hardup) that provides the real highlight here.
Twenty years on from his first appearance as the King's Theatre pantomime dame, Stewart noticeably gets a greater number of solo songs than usual this time around, which serves to remind us that, in addition to presently being unparalleled on the Scottish panto scene for comic timing and the ability to ad-lib, he has an excellent singing voice too.
Gray's traditionally glakit facial expressions are particularly hilarious in the 'hit song excerpt' miming routine, which has made a welcome return from its debut last year, complete with new song titles. Stott (whose character's middle name is 'Hibernia', to the surprise of no-one who knows his football allegiance) is joined in the baddie camp by two ugly sisters going by the names of Nicola and Ruth - in one of several references to the current Scottish politics scene.
New faces on stage this year include Gillian Parkhouse (Cinderella), Andrew Keay (Dandini) and James Darch (Prince Charming). All three are strong on the vocal front - particularly Keay - but one is left hoping that Darch might take things a little less seriously as the run progresses, despite his regal role.
Amongst the sketch highlights are the 'falling off the wall' scene, making a welcome return after several years' absence and funnier than ever. The 'DVD titles' scene is a masterpiece of comedy timing from Stewart, reminiscent of a Two Ronnies sketch, and it's good to see a higher quota than usual of memorable songs, including a now traditional number celebrating the city of Edinburgh, and a very lively "Marie's Wedding" which opens the second half.
Visually, it is hard to remember anything more memorable in a King's Theatre pantomime than this year's first half finale, which is a triumphant fusion of hydraulics and animatronics.
Like last year, the second half is a mere 40 minutes, which seems just a little short. The penultimate scene of the King's panto seems to presently be on a three-year rotation of the hilarious "The Twelve Days of Christmas", the "bring doon the cloot" song-sheet tradition, and the music hall / holiday camp sketch "If I Were Not Upon The Stage". Stewart, Gray and Stott are joined this year by Keay in "If I Were Not In Hardup Hall", and the quartet present an excellent seven-minute, non-stop rendition.
All in all, a hugely entertaining show which has much for all the family, and serves to set expectations high for the more unusual choice of Beauty and the Beast next year.
Cinderella runs at the King's Theatre, Edinburgh until 21 January, 2018.
Picture credit: Douglas Robertson
Gregor is a Principal Teacher at a large secondary school in Edinburgh. He has loved musical theatre since the age of eight, and enjoys seeing (read more...)