BWW Review: THE LEGEND OF GEORGIA MCBRIDE at Florida Studio Theatre
A different kind of Cinderella story, this charming comedy explores gender through glam and glitter.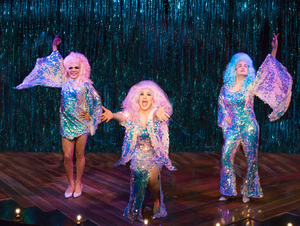 At FST's Gompertz Theatre, the stage is nearly empty in front of its closed red curtains, occupied by only a microphone stand and small, illuminated vanity table. However, the space contains other clues into the world of "The Legend of Georgia McBride": the pre-show playlist includes an Elvis song performed by a female vocalist, a disco ball hides in the shadows overhead. Then, the play is opened by an Emcee's announcement: "Welcome to Cleo's on Panama City Beach, Florida. We're gonna do a show for you tonight."
Tony Award-winning playwright Matthew Lopez himself hails from Panama City, where as a teen, he would accompany a friend to the town's sole gay bar. There, Lopez says he hung out in the dressing room before drag shows, observing queens prep for shows. Lopez says, "I had a firsthand demonstration of how it came together, how it was built on these queens' bodies and on their faces... I wanted to see that happen onstage - of course, an abbreviated, madcap version of it, because to fully get into drag can take hours."
Combine this appreciation for the art of drag with a story Lopez heard about a friend of a friend, in which a woman "created a playlist for her boyfriend who was beginning to explore drag as a performance outlet," and the story of Georgia McBride began to take root. An important detail: that playlist, titled 'Persona,' largely featured country-western female vocalists like Dolly Parton, Loretta Lynn, and Brenda Lee, among others. Also, Lopez notes,"interspersed were covers of Elvis Presley songs and songs about Elvis by female vocalists."
These influences emerge throughout FST's "McBride," in which Elvis impersonator Casey (played by Britt Michael Gordon) is replaced as the entertainment at a local dive bar by a B-level drag show led by the larger-than-life and highly aspirational Miss Tracy Mills (played by Kraig Swartz). When Rexy is unable to take the stage, Casey is coerced into ditching his Elvis jumpsuit and giving the audience what they came to see: a drag show. From there, the success of the drag show keeps Casey in pantyhose and wigs to support his pregnant wife, though he keeps the true nature of his performances a secret from her. Ultimately, that secret is revealed and Casey is confronted by the truth which is, as Rexy tells him, that "drag ain't a hobby, baby. Drag ain't a night job."
"The Legend of Georgia McBride" was originally planned for FST's 2019-2020 winter season, but was forced into cancellation by Covid-19 after one week of rehearsals. Two years later, much of the original team has returned to the 2022 production, including director Kate Alexander, Stanley Martin (playing a drag queen named Rexy as well as Casey's landlord, Jason) and Tatiana Williams (as Casey's wife, Jo).
Swartz and Gordon shine as drag fairy godmother and protégée onstage and off at Cleo's, as Tracy welcomes Casey - and the audience, by proxy - into the world of drag. Casey's first transformation is particularly gripping, as his reluctance turns into discovery and, eventually, acceptance of his own femininity, all played with beautiful delicacy by Gordon. Where, during scenes in Casey and Jo's apartment, the comedic timing, and Floridian accents are hit-or-miss, the fourth-wall-breaking drag performances, emcee'd by grizzled but open-minded bar owner Eddie (played by Eric Hoffman, a frequent FST artist), were a smash hit with the audience.
In fact, much of the second act of the music-filled play is comprised of lip-synching dance numbers brilliantly choreographed by BillyD Hart. Casey, established as having a knack for performance even in his Elvis days, evolves as a drag performer throughout the show from a disheveled, uncoordinated Edith Piaf to a well-endowed, charismatically confident Dolly Parton. The costumes (designed by Lea Umberger) and wigs become increasingly elaborate, to great comedic effect. Miss Tracy Mills' numbers were equally entertaining and perfectly polished, likely benefitted by Swartz having previously played the role of Tracy in 2017.
The source material isn't without flaws; its depiction of the sole female character, in particular, as a nagging, self-depreciating wife is unoriginal and predictable. However, the overall message of the piece is clear and necessary (particularly for Florida at this time), emphasizing the importance of accepting one another as we are and embracing our differences.
The themes addressed by "The Legend of Georgia McBride" sparkle in Florida Studio Theatre's production, in a way both respectful of drag as an art form but also approachable for an audience who may be experiencing it in person for the first time. Most importantly, the cast's performances create characters that are lovable vessels transporting us on a glitter-filled odyssey though sexuality, gender expression, and family.
"The Legend of Georgia McBride" plays now through May 22. For tickets and additional info, visit https://tickets.floridastudiotheatre.org/overview/legendofgeorgiamcbride or call 941-366-9000.
Photo credit: John Jones