The 34th Annual Body Mind Centering Association's Somatic Movement Conference Self And Other Announced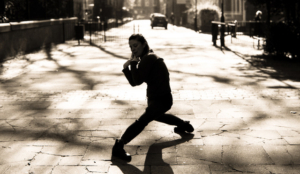 The Body-Mind Centering Association presents it's 34th annual conference, Self and Other. Hosted by brooke smiley, a new member on faculty at UC Santa Barbara's Theater and Dance Department, this six day somatic movement conference brings together 70 international and local presenters offering concurrent workshops, panels, presentations, and performances. UCSB students, campus community, and locals interested in somatic learning will have a once in a life time opportunity to participate in cutting edge somatic research with six studios and classrooms occupied for a week with guest and local presenters, including luminaries of the experiential body mind inquiry.
brooke smiley brings an indigenous focus to this years conference as host. The Plenary Session includes a panel from the Sovereign Nations of the Coastal and Santa Ynez Band of Chumash Indians. This indigenous inclusion brings focus to a Native oral history of the land at the site of UC Santa Barbara, with a discussion of the body's relationship to the land and the dances which grew from it. As an indigenous dance artist herself, brooke brings a diversity to the UC Santa Barbara department. She was recently awarded as an Advancing Indigenous Performers Fellow 2019/2020.
Workshops offered by Internationally recognized Somatic Visionaries include Ann Cooper Albright (recent Guggenheim scholar 2019), and Bonnie Bainbridge Cohen (founder of Body- Mind Centering) Please see bios below.
This conference serves as an interdisciplinary laboratory, research, and workshop setting. While the setting is organized and sponsored by the Body-Mind Centering Association, vetted sessions are offered both by BMC professionals as well as by other, non-BMC professionals, and occasionally by highly-qualified students. These include: Alexander TechniqueTM, Bartenieff FundamentalsTM, Bones for Life, Dynamic Embodiment, Feldenkrais Method, Fluid Strength Yoga PracticeTM, GYROKINESIS, and GYROTONIC.
Valuing Self and Other acknowledges difference and begins to reveal our vibrant interdependence. What somatic practices, or rituals foster our ability to meet with a deeper awareness of Self, while finding discovery and heartfelt respect for Other?
Join over 130 somatic movement researchers, practitioners, healers, activists, and artists asking: What does somatic research bring forth?
For a look at the program go to this link: https://bit.ly/2JHR7YJ For further details go to: https://bmcassociation.org/conferences/2019-bmca-conference
Schedule: Self and Other Main Conference: Wednesday, August 7th (2-5:30pm) through Saturday, August 10th (9am-12pm).
Additional Workshops: Pre-Conference Presenter: Ann Cooper Albright Cultivating the 3R's: Responsiveness, Resistance, Resilience Tuesday, August 6th (2-5pm) and Sunday, August 11 (9am-12pm) Bio: https://www.oberlin.edu/ann-cooper-albright
Post-Conference Presenter: Bonnie Bainbridge Cohen Engaging Self and Other through Embodiment Saturday, August 10 (2-5pm) and Sunday, August 11 (9am-12pm) Bio: https://www.bonniebainbridgecohen.com/
Performances: Free and different performances on the evenings of: Wednesday, August 7th at 8pm Thursday, August 8th at 8pm
Fee Information: Main Conference: $600 until July 31st Pre-Conference: $125 Post- Conference: $150
Register for the Main Conference Before July 31st and receive a $100 discount with code: BMCA2019 Discounted Rate for all CA College Students, and UC Santa Barbara Students and Faculty: $250
Related Articles View More Santa Barbara

Stories

Shows
More Hot Stories For You