Review: HUSBANDS AND WIVES at Ensemble Theater Company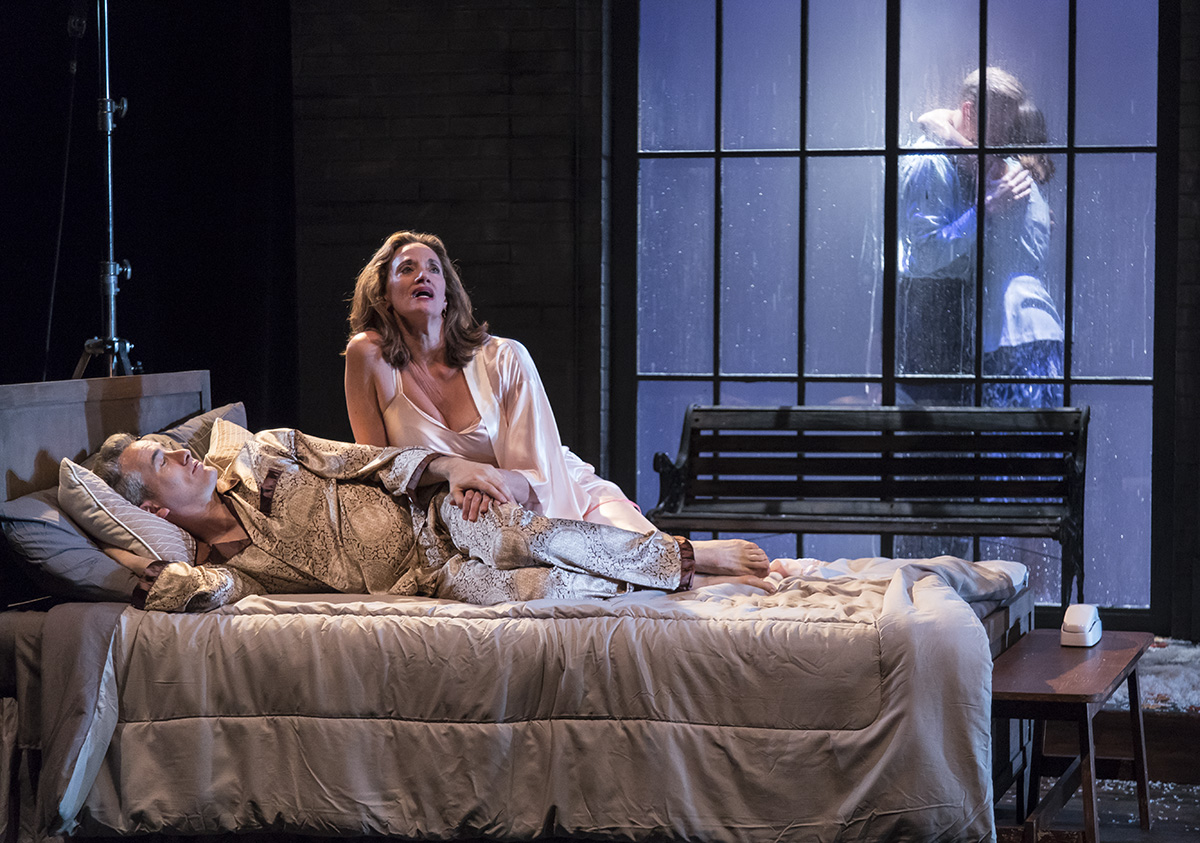 Ensemble Theater Company opens their 2017-18 season with a brand new film-to-stage adaptation of Woody Allen's Husbands and Wives. Allen's film--and now, Ensemble's adaptation--examines the slings and arrows of long-term pairing through the relationships of two middle-aged couples in crisis. Facing matrimonial stagnation, Jack (Douglas Dickerman) and Sally (Alicia Sedwick), and Gabe (Gabriel Marin) and Judy (Lesley Fera) consider the pros and cons of staying the course or jumping ship. The influence of extramarital romances lead to greater awareness of the characters' needs within partnership: Jack's new girlfriend (Emily Goglia) is a sexy party-girl who makes him feel alive and relevant, and gives him breathing room from Sally's stifling critical nature. Sally, played by Alicia Sedwick with a wicked sense of unapologetic snobbery, hooks up with Judy's coworker: sensitive, soft-spoken editor, Michael (Jeff Lorch). In the wake of Jack and Sally's break-up, Gabe and Judy are forced to examine their own relationship, and admit that it's lacking. Judy is (also) interested in Michael, and Gabe is enticed by a vibrant young student in his writing class (Emily James). Adapted for the stage and directed by Jonathan Fox, Husbands and Wives offers a sympathetic view of divorce expressed with Woody Allen's recognizable humor palette.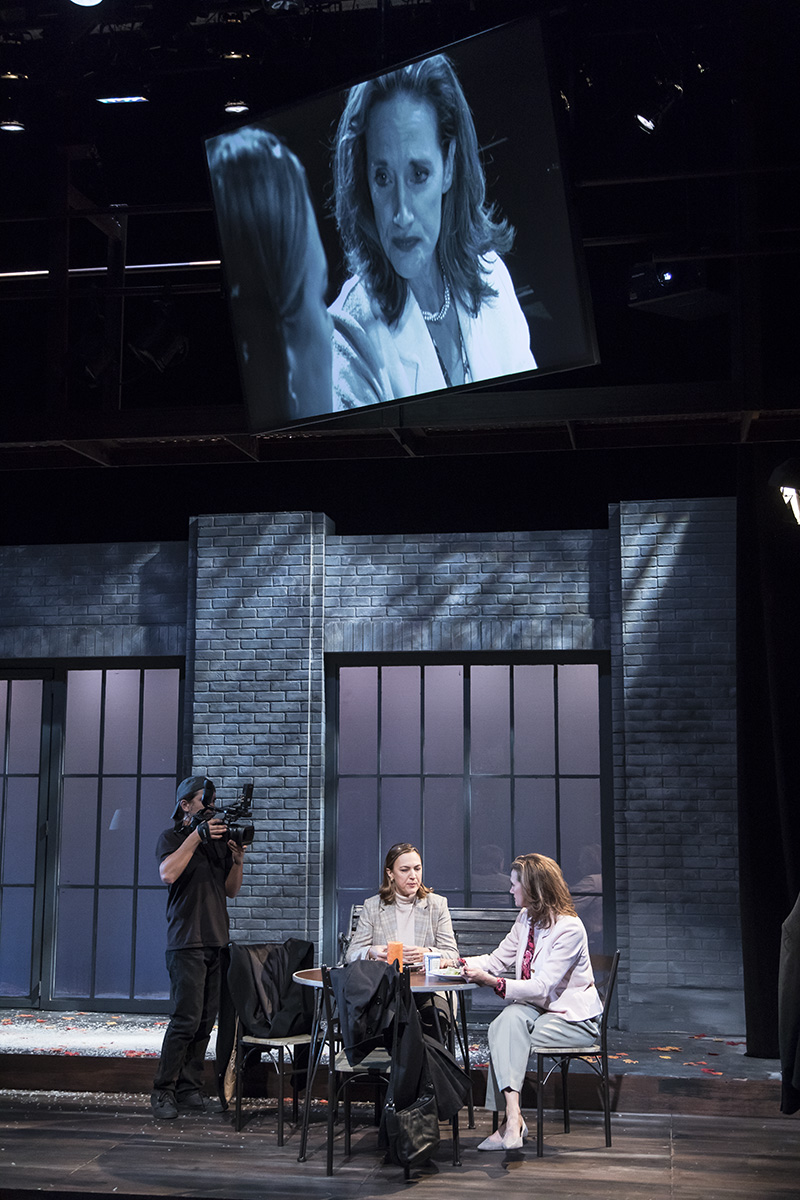 Written by Woody Allen in the 1990s, Husbands and Wives begins a conversation about the evolving idea of a successful marriage (and an increasingly de-stigmatized view of divorce). Allen shot the film pseudo-documentary style, creating a heightened intimacy between the audience and the characters. Director and adapter Jonathan Fox has long been interested in experimenting with live video feed as a narrative structure, making Husbands and Wives an enticing choice for theatricalization. Ensemble's version of the piece captures the neurotic floundering of the Woody Allen-style characters, but the translation of the documentary style from film to theatre lacked structure and purpose. The concept, which features a cameraman (Sean Cisowski) creeping through the play action, capturing footage that is projected on two large screens above the set, prompts problematic questions: Who is that cameraman? What is his documentary about? Why is he filming these characters' lives?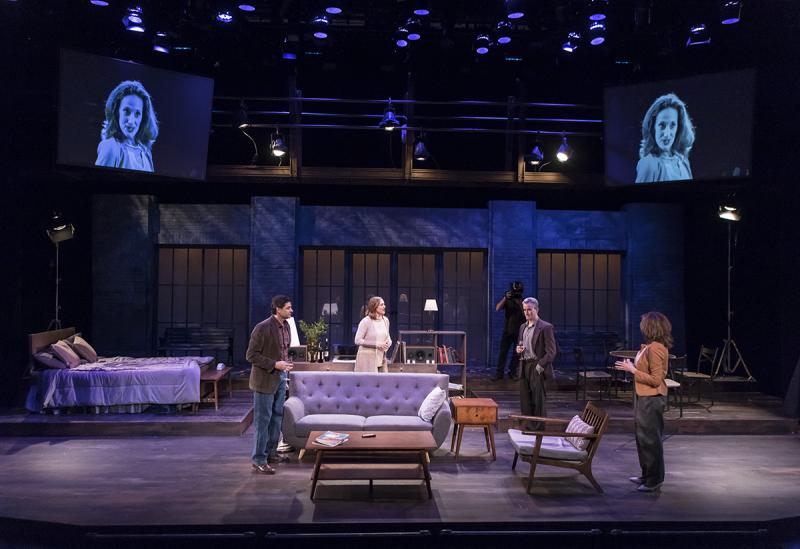 The intent of including video feed was to deliver characters' hidden reactions and private thoughts directly to the audience. However, the creation of these moments too often involved characters leaving the stage completely, making the performers seem ungrounded and transitory within the playing space. The set, too, offered conflicting information about the universe of the play: a multi-use space that functioned as the characters' various New York haunts was interrupted by an overhead catwalk loaded with theatrical lighting, implying a layer of artifice within the world of the play that is never fully realized or overtly addressed. Are we, the audience, watching people on a movie set? Or on a theatrical set within a theatrical set? Coupled with the presence of the cameraman, Husbands and Wives feels like an interrupted translation from film to theatre shrouded in nebulous "meta" ether.
Despite the confusion surrounding the video element of the show, Husbands and Wives features relatable characters and honest representations, and the performers make poignant and authentic the hilarious moments in these couples' flailing attempts toward satisfaction. The show has an easygoing chemistry and appealing comic rhythm--especially for appreciators of Woody Allen's particular, neurotic sense of humor.
Husbands and Wives runs through October 22nd at the New Vic Theater.
Ensemble Theater Company Presents
Husbands and Wives
by Woody Allen
Directed by Jonathan Fox
October 5-22
The New Vic Theater