World Premiere Of Ashlin Halfnight's THE RESTING PLACE Comes to Magic Theatre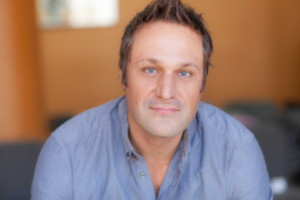 Magic Theatre (Loretta Greco, Artistic Director and Jaimie Mayer, Managing Director) announced today the complete cast of Ashlin Halfnight's World Premiere The Resting Place, the first production of the 2018- 2019 season. The Resting Place will be directed by Jessica Holt. Previews begin onWednesday, October 10, 2018 at Magic Theatre's Fort Mason location, with a press opening on Wednesday, October 17, 2018 at 8:00 p.m. Tickets are on-sale now.
Ashlin Halfnight's The Resting Place is a provocative and intense look at an American family in a cloudburst of crisis-filled with raw humor, piercing darkness and fierce love. Ashlin Halfnight (Magic Virgin Play Festival 2017) addresses familial obligation and asks: what do we owe each other?
The cast will feature James Carpenter as "Mitch," Emilie Talbot as "Angela," Emily Radosevich as "Macy," Martha Brigham as "Annie," Wiley Naman Strasser as "Liam" and Andrew LeBuhn as "Charles."

In addition to Mr. Halfnight and Ms. Holt, the creative team includes Edward T. Morris (Scenic Design), Sara Huddleston (Sound Design), Shelby-Lio Feeney (Costume Design) and Wen-Ling Liao (Lighting Design).
"I'm delighted to welcome Ashlin Halfnight, as he opens our 2018-19 season with his stunning play, The Resting Place," said Magic Theatre's Artistic Director Loretta Greco. "He will be a provocative and prolific addition to our Magic family of writers and I can't wait to share his work with Bay Area audiences. It's also a thrill to have one of our beloved colleagues whose been a part of the Magic community for over a decade return to direct Ashlin's premiere. Jessica Holt's credits include Why We Have a Body, The Lily's Revenge, and most recently our joyous production of Tanya Barfield's Bright Half Light in 2015."
"The Magic has put the pieces in place for an explosive, beautiful show," said playwright Ashlin Halfnight. "The cast is fierce. Jessica Holt is sharp and gifted. The set is stunning. I can't wait to get busy."
"Ashlin Halfnight has written a powerfully visceral and gripping new drama for our times in The Resting Place that took my breath away when I first read it," said director Jessica Holt "I can't wait to dig into this masterful, exquisite play and bring it to life alongside Ashlin and our phenomenal cast, design and production team."
About Ashlin Halfnight
Ashlin Halfnight is currently a writer on the Emmy Award-winning Netflix show, "Bloodline." His feature films "Astraea" and "Diving Normal" can be found on VOD, and his mockumentary feature "Maybe There's a Tree" (starring Colin Mochrie & Creed Bratton) is currently in post-production. His teen thriller "Survival Box" is in pre-production, scheduled to shoot in July, 2017 in Toronto. His plays have been performed across North America and Europe and include Artifacts of Consequence, A Hard Wall at High Speed, Laws of Motion and God's Waiting Room. Ashlin is a Fulbright Scholar, former professional hockey player signed by the NHL's Carolina Hurricanes, a Howard Stein Playwriting Fellow, and was the 2006 artist in residence at the National Theater of Hungary, in Budapest. Ashlin holds an honors BA in English from Harvard University and an MFA in Playwriting from Columbia University's School of the Arts. He lives in Brooklyn with his wife and sons, and enjoys whiskey, new socks, and the film "Footloose."

About Jessica Holt:
Jessica is thrilled to return to the Magic to direct The Resting Place by Ashlin Halfnight. At Magic Theatre, Jessica has directed the West Coast Premiere of Tanya Barfield's Bright Half Life, "Act 5" of Taylor Mac's five-hour epic The Lily's Revenge, staged readings by L. Feldman, Ashlin Halfnight, Katja Gottlieb-Steir, and Kate Tarker and Matthew George for the Virgin Play Festival (2012, 2017), was the Associate Director of the revival of Clare Chafee's Why We Have a Body and directed the staged reading of The Laramie Project: 10 Years Later. She has developed, produced and directed new work at Ensemble Studio Theatre, Sewanee Writer's Conference, Rivendell Theatre, Berkeley Rep's Ground Floor, Bay Area Playwrights Festival, ALLIANCE THEATRE, the American Academy of Dramatic Art in NYC, Theater Emory, Playwrights Center SF, New Conservatory Theater Center, and PianoFight. She is a proud graduate of the Yale School of Drama, where she received her MFA in Directing. (www.jessicaholt.org)

About Loretta Greco:
Loretta Greco is currently in her eleventh season as Magic Theatre's Artistic Director. At Magic, she has developed and premiered Taylor Mac's Hir; Luis Alfaro's Oedipus El Rey; Polly Pen and Victor Lodato's Arlington; Sharr White's Annapurna; Lloyd Suh's American Hwangap; and Octavio Solis' Se Llama Cristina. Ms. Greco's directing credits at Magic include Theresa Rebeck's Mauritius, Jessica Hagedorn's Dogeaters, the revival of Sam Shepard's Fool For Love, and the World Premiere of Han Ong's Grandeur. Last season, Ms. Greco directed the World Premieres of Barbara Hammond's The Eva Trilogy and Jessica Hagedorn's The Gangster of Love.
Ms. Greco's New York Directing premieres include:
Tracey
Scott Wilson
's The Story, Lackawanna Blues (Obie) by
Ruben Santiago Hudson
,
Nilo Cruz
's Two Sisters and a Piano at NYSF/Public Theater,
Rinne Groff
's Inky at
Women's Project
, and
Nilo Cruz
's A Park in Our House at New York Theatre Workshop. Prior to her Magic post, she served as Producing Artistic Director of New York's
Women's Project
and the Associate Director/Resident Producer at the
McCarter Theatre
. Ms. Greco received her MFA from Catholic University, her BA from Loyola University New Orleans, and has received two Drama League Fellowships and a Princess Grace Award.
Following The Resting Place, Magic Theatre's 2018-2019 season will continue with the World Premiere of Mfoniso Udofia's In Old Age (March 22 - April 21, 2019 and an anniversary revival of Luis Alfaro's critically acclaimed Oedipus el Rey (May 29 - June 23, 2019) which premiered at Magic Theatre ten years ago. Subscriptions are available at are available online at MagicTheatre.org or by calling Magic Theatre at (415) 441-8822.

Magic Theatre is located in the Marina District of San Francisco, at the historic Fort Mason Center for Arts & Culture (Fort Mason, 2 Marina Blvd., Building D, 3rd Floor, San Francisco, CA 94123). The entrance to Fort Mason is at the intersection of Marina Blvd and Buchanan Street. The performance schedule is Tuesday at 7:00 p.m.,Wednesday - Saturday at 8:00 p.m. and Sunday at 2:30 p.m.
Tickets, priced from $15.00 to $75.00, are available online at MagicTheatre.org; by calling Magic Theatre at (415) 441-8822; or visiting Magic Theatre's Box Office,Tuesday - Friday 10:00 a.m. to 5:00 p.m. during non-performance dates. On performance dates, the Box Office is open Tuesday - Friday from 12:00 p.m. to 5:00 p.m. andon Saturday and Sunday one hour prior to the show. For more information, visit MagicTheatre.org.
About Magic Theatre
Now celebrating its 51st year of continuous operation, Magic is dedicated to creative risk: we cultivate bold new plays and playwrights to produce incendiary and ideologically robust stories that ask substantive questions about our place in humanity. Magic provides a nurturing yet rigorous artistic home where innovative writers can create a body of work. We believe that developing an evolved artistic vocabulary with the playwright at our side greatly improves a playwright's chances to thrive. By adding voices to the canon, we ensure the vibrancy of the American theatre.
Magic's impact has resonated throughout the country and beyond since its founding by John Lion in 1967; Lion brought in Sam Shepard and Michael McClure as playwrights-in-residence, establishing Magic as a space for the communion of playwright and audience. From these early plays to the World Premieres of Luis Alfaro's Oedipus el Reyand Taylor Mac's The Lily's Revenge and Hir, Magic continues to produce groundbreaking new work.
Since Artistic Director Loretta Greco assumed leadership of Magic in 2008, the theatre has produced twenty world premieres, seventeen of which have enjoyed life beyond the Magic stage. Magic plays have received numerous awards including the Pulitzer Prize, ten Obie Awards, the Kennedy Center Award, Bay Area Critics' Circle Awards, and the NAACP Image Award.