Click Here for More Articles on OPERA - SAN FRANCISCO
San Francisco Opera Presents New Production of Massenet's MANON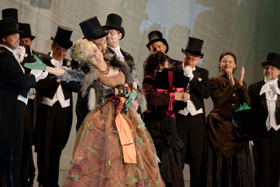 San Francisco Opera presents six performances of Jules Massenet's Manon at the War Memorial Opera House November 4-22. One of the composer's most enduring and sensuous works, Manon returns to the Company's repertory after a 19-year hiatus in a new production by French director Vincent Boussard, which is a co-production with Lithuanian National Opera and Ballet Theatre and the Israeli Opera. Soprano Ellie Dehn and tenor Michael Fabiano make highly anticipated role debuts as Manon and Chevalier des Grieux. French conductor and Massenet specialist Patrick Fournillier leads the San Francisco Opera Orchestra. Ian Robertson prepares the Company's Opera Chorus.
Last performed by San Francisco Opera in 1998, Massenet's romantic opera, which follows the ascent and fall of a beautiful and capricious young woman, returns in a new staging by the director whose production of Bellini's I Capuleti e i Montecchi was presented at San Francisco Opera in 2012 and is currently available on DVD and Blu-ray. Boussard's theatrical interpretation of Manon, for which he also designed the costumes, was proclaimed "a collaborative work of brilliance" by The Baltic Times at its 2016 Lithuanian premiere. The production features sets designed by frequent Boussard collaboratorVincent Lemaire and lighting by Gary Marder.
Boussard noted: "As a director, I try to create bridges between periods of time to make the story seem more immediate. I am led by the quality of the music and the singing. We're trying to build bridges between the time of the story (the beginning of the 18th century) and the time of Massenet (1884) and now. I'm trying to give the character of Manon a chance to be imagined and received by the audience as if she could also be a lady of today."
Ellie Dehn thrilled San Francisco Opera audiences last summer in what the San Francisco Chroniclecalled a "sumptuous, sparkling turn as the sexually irresistible Musetta" in Puccini's La Bohème. In her sixth leading role with the Company, the American soprano takes on Manon for the first time. In another exciting role debut, internationally-acclaimed American tenor Michael Fabiano, who was recently praised by the New York Times for his "sensitive, vibrant lyric tenor," adds the role of Chevalier des Grieux to his expanding repertory. Known for his portrayals of Italian roles such as Rodolfo in Puccini'sLa Bohème and the title role of Verdi's Don Carlo, Des Grieux will be his first French role with San Francisco Opera.
The cast for Manon also features baritone David Pershall as Manon's cousin Lescaut, bass James Creswell as Comte des Grieux, baritone Timothy Mix as the wealthy De Brétigny and tenor Robert Brubaker as Guillot de Morfontaine. Soprano Monica Dewey makes her Company debut as Pousette, mezzo-soprano Laura Krumm is Javotte and mezzo-soprano Renée Rapier is Rosette.
A longtime champion of Massenet's music, Patrick Fournillier conducts the San Francisco Opera Orchestra and Chorus. The French conductor made his Company debut leading Alfano's Cyrano de Bergerac in 2010 and returned in 2013 to conduct a new production of Offenbach's Les Contes d'Hoffmann.
San Francisco Opera first produced Manon at the Civic Auditorium in 1924 during the Company's second season. San Francisco Opera founder Gaetano Merola conducted a cast headed by Greek soprano Thalia Sabanieva and Italian tenor Tito Schipa. The latter scored a historic success on opening night and was compelled to repeat Des Grieux's "Le Rêve," or dream aria, in response to a thunderous ovation. Casts in later seasons featured luminaries such as sopranos Bidú Sayão, Grace Moore, Leyla Gencer, Beverly Sills, Sheri Greenawald and Ruth Ann Swenson. The list of tenors who performed Des Grieux with the Company includes Beniamino Gigli, Jussi Björling, Nicolai Gedda, Francisco Araiza and Jerry Hadley.
Sung in French with English supertitles, the six performances of Manon are scheduled for November 4 (7:30 p.m.), November 7 (7:30 p.m.), November 10 (7:30 p.m.), November 16 (7:30 p.m.), November 19(2 p.m.) and November 22 (7:30 p.m.), 2017.
Manon Insight Panel, November 1
Get a rare glimpse into the creative process as the cast and creative team share insights about the process of bringing Manon to life. Hear directly from the artists in an illuminating, moderated panel discussion that will be followed by a Q&A session. The Insight Panel will take place on Wednesday, November 1 from 6:30-7:30 p.m. in the Dianne and Tad Taube Atrium Theater on the fourth floor of the Veterans Building, 401 Van Ness Avenue, San Francisco. Presented by San Francisco Opera and San Francisco Opera Guild, the Insight Panel is free to members and subscribers, and students with a valid student ID; $5 for general public admission. Visit sfopera.com/insights for more information.
TICKETS AND INFORMATION
Tickets for Manon are priced from $26 to $370. Please visit sfopera.com for further details or call the Opera Box Office at (415) 864-3330. San Francisco Opera Box Office hours are Monday 10 a.m.-5 p.m.;Tuesday through Friday 10 a.m.-6 p.m.; Saturday 10 a.m.-6 p.m. during performance season. Standing Room tickets go on sale at 10 a.m. on the day of each performance; standing room tickets are $10 each, cash only and limited to two tickets per person. Casts, programs, prices and schedules are subject to change.
Each presentation at the War Memorial Opera House features an informative 25-minute Pre-Opera Talk. Beginning 55 minutes prior to curtain and free of charge to patrons with tickets for the corresponding performance, each Manon Pre-Opera Talk will be presented by music lecturer, author, filmmaker and arts professional Dr. Marcia Green.
OperaVision screens, suspended from the ceiling of the balcony section at selected performances, provide close-up and mid-range ensemble shots in high-definition video; English subtitles appear at the bottom of each screen. OperaVision is made possible by the Koret-Taube Media Suite.
The War Memorial Opera House is located at 301 Van Ness Avenue. Patrons are encouraged to use public transportation to attend San Francisco Opera performances. The War Memorial Opera House and Veterans Building are within walking distance of the Civic Center BART Station and near numerous bus lines, including 5, 21, 47, 49 and the F Market Street. For further public transportation information, visitbart.gov and sfmta.com.
Photo: Martynas Aleksa