SUNDAY IN THE PARK WITH GEORGE Comes to San Francisco Playhouse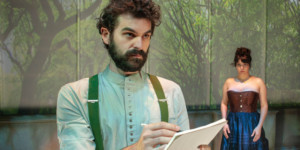 San Francisco Playhouse (Artistic Director Bill English; Producing Director Susi Damilano) announced casting for the final show of its 2017-18 Mainstage Season--Sunday in the Park with George, the quintessential Stephen Sondheim musical about the art of creation and the creation of art. Bill English will direct the 1985 Pulitzer Prize-winning musical.
The cast of Sunday in the Park with George will star John Bambery as George and
Nanci Zoppi
* as Dot and feature Michelle Drexler,
Ryan Drummond
*, Corrie Farbstein, Samuel Faustine,
Ayelet Firstenberg
*, William Giammona,
Abby Haug
*, Gwen Herndon,
Charlotte Ying Levy
,
Maureen McVerry
*, Emily Radosevich, Xander Ritchey, and
Anthony Rollins-Mullens
. "This is a show I have always cherished and yet been terrified to bring to the stage because it feels so personal," said Artistic Director
Bill English
. "The story exposes the vulnerability of art and how that deeply affects the artists who create it. Sunday in the Park with George examines how artists struggle to balance their passion for storytelling with the desire for intimacy, and is more resonant than ever, reminding us how essential art and artists are to a free and compassionate society." In the final days before the completion of his masterpiece, A Sunday Afternoon on the Island of La Grande Jatte, Georges Seurat is torn between making meaningful art and maintaining a relationship with his lover, Dot. One of the most acclaimed musicals of our time, Sunday in the Park with George won the Pulitzer Prize and was nominated for 10 Tony Awards including Best Musical. This stunning masterpiece merges past and present into beautiful, poignant truths about life, love and the creation of art. The story, spanning over a century, begins in 1884 with struggling artist Georges Seurat, who demands that the world look at art in a shocking new way. A century later, Seurat's grandson George-also an artist-is frustrated as he searches for his artistic path only to find the answer to his future is in the past. San Francisco Playhouse's production of Sunday in the Park with George is made possible by Executive Producer Robert Hulteng; Producers Bill and Marsha Adler, Associate Producers Muffy Barkocy & John Merlino, Geoff Jue, Rowland Weinstein, Cliff and Betty Nakamoto; and Artistic Underwriter Marcy Taylor Pattinson.
Stephen Sondheim
(Music and Lyrics) wrote the music and lyrics for Saturday Night (1954), A Funny Thing Happened on the way to the Forum (1962), Anyone Can Whistle (1964), Company (1970), Follies (1971) , A Little Night Music (1973), The Frogs (1974), Pacific Overtures (1976), Sweeney Todd (1979), Merrily We Roll Along (1981), Sunday in the Park with George (1984), Assassins (1991), Passion (1994) and Road Show (2008) as well as lyrics for West Side Story (1957), Gypsy (1959) and Do I Hear a Waltz? (1965) and additional lyrics for Candide (1973). Anthologies of his work include Side By Side with Sondheim (1976), Marry Me a Little (1981), You're Gonna Love Tomorrow (1983), Putting it Together (1993/99) and Sondheim on Sondheim (2010). He composed the scores of the films "Stavisky" (1974) and "Reds" (1981) and songs for "Dick Tracy" (1990) and the television production "Evening Primrose" (1966). His collected lyrics with attendant essays have been published in two volumes: "Finishing the Hat" (2010) and "Look, I Made A Hat" (2011). In 2010 the Broadway theatre formerly known as
Henry Miller
's Theatre was renamed in his honor.
James Lapine
(Book) has also worked with
Stephen Sondheim
on Passion as well as the recent Broadway show, Sondheim on Sondheim. He also directed the first revival of Merrily We Roll Along at
La Jolla Playhouse
in 1985. With
William Finn
he has collaborated on Falsettos, A New Brain, 25th Annual Putnam County Spelling Bee, and the soon to be produced Little Miss Sunshine. Other Broadway credits: The Diary of Anne Frank, Golden Child, and Amour. He has written the plays: Table Settings; Twelve Dreams; Luck, Pluck & Virtue; The Moment When; Fran's Bed; and
Mrs. Miller
Does Her Thing.
Bill English
(Director) is co-founder and Artistic Director of the San Francisco Playhouse. An accomplished singer, pianist and composer, has spent his life producing works of art. He co-founded San Francisco Playhouse, and in 14 years, has overseen its growth from a storefront to a major regional theater company, with a 6-play main stage series, a 2-play World Premiere series, an education program and a New Works program that has commissioned 10 playwrights. Bill's vision propels San Francisco Playhouse to stand out among its peers for making bold choices and taking artistic risks. Bill's work in the theater has been recognized with numerous awards for acting, directing, sound and set design. Under Bill's leadership The San Francisco Playhouse, has earned multiple nominations and awards. Dave Dobrusky (Music Director) is proud to have been associated with San Francisco Playhouse for twelve years: La Cage aux Folles, City of Angels; Company; Into the Woods; Camelot; My Fair Lady; Man of LaMancha*; Putting It Together. Dave is also the resident music director at
42nd Street Moon
Theatre where he has played, conducted, arranged & orchestrated dozens of "uncommon" musicals since 1996. Favorites include: No No Nanette; New Girl in Town; Scrooge in Love! (world premiere); Most Happy Fella; Boys from Syracuse; Nick and Nora; Do I Hear a Waltz?; ...It's Superman!; Call Me Madam; Out of This World; Can-Can; Paint Your Wagon*; with cast recordings of
Cole Porter
's Leave It to Me and
Jerome Kern
's The Cabaret Girl. Other Bay Area credits include Theatre Rhinoceros: Road Show; Marry Me a Little; Tick, Tick... Boom!; TheatreWorks: Violet; Side Show; Playhouse West: The Boy Friend; In This House*; USF: The Wedding Singer; Rent; and numerous cabaret appearances. Dave is from Albuquerque and was educated at Oberlin Conservatory. *BATCC award Founded by
Bill English
and Susi Damilano in 2003, San Francisco Playhouse-now in its 15th season-has been described by the New York Times as "a company that stages some of the most consistently high-quality work around," and deemed "ever adventurous" by the Bay Area News Group. Located in the heart of the Union Square Theater District, San Francisco Playhouse is the city's premier Off-Broadway company, an intimate alternative to the larger more traditional Union Square theater fare. San Francisco Playhouse provides audiences the opportunity to experience professional theater with top-notch actors and world-class design in a setting where they are close to the action. The company has received multiple awards for overall productions, acting, and design, including the SF Weekly Best Theatre Award and the Bay Guardian's Best Off-Broadway Theatre Award. KQED/NPR recently described the company: "San Francisco Playhouse is one of the few theaters in the Bay Area that has a mission that actually shows up on stage. Artistic director
Bill English
's commitment to empathy as a guiding philosophical and aesthetic force is admirable and by living that mission, fascinating things happen onstage." San Francisco Playhouse is committed to providing a creative home and inspiring environment where actors, directors, writers, designers, and theater lovers converge to create and experience dramatic works that celebrate the human spirit. *Actors appear courtesy of
Actors' Equity
Association