Berkeley Rep Names Johanna Pfaelzer New Artistic Director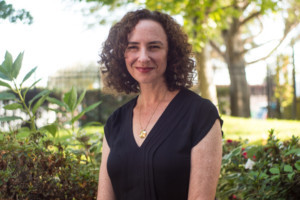 Berkeley Repertory Theatre today announced that Johanna Pfaelzer will become the new artistic director of the award-winning theatre company. The appointment comes following Tony Taccone's previously announced departure in January 2017. Pfaelzer will join long-time managing director, Susan Medak, as the next team to lead the distinguished company. Currently the Artistic Director of New York Stage and Film, Pfaelzer will remain at the company through its 2019 Powerhouse Summer Season, and will work with the Stage and Film founders and Board to identify her successor. Taccone will step down in August, 2019 after 33 years with Berkeley Rep, 21 years as artistic director. Pfaelzer will plan Berkeley Rep's 2019-20 season and will take on the artistic director role full-time on September 1, 2019.
"On behalf of the Board of Trustees, it is my great honor to welcome Johanna Pfaelzer," says Board President Stewart Owen. "The Board is thrilled with Johanna's appointment and voted unanimously to hire her as Berkeley Rep's new artistic director. Johanna brings great taste and a keen aesthetic eye. She has strong leadership skills and works as a generous collaborator. And we were also all drawn to her warmth and character. What Johanna brings is a respect for the eclecticism that has been a hallmark of this company, our unusual mix of classics, new work, and musicals. And she has the necessary desire to bring her own perspective to that work. It's what I've been characterizing as an energetic evolution."
"I am honored beyond measure to serve as the next artistic director of Berkeley Rep. It is a company I have admired my whole life, and to have the opportunity to return home to the Bay Area as its leader is a dream," says Pfaelzer. "Tony Taccone and Susie Medak have built an organization that is a place of boundless creative vision, great intellectual rigor, and a deep sense of community. I can't wait to get to work with this extraordinary board and staff to continue to bring world-class work from the widest possible range of artists to Berkeley Rep's stages."
"I couldn't be happier about having Johanna join us," says Managing Director Susan Medak. "During the interview process I became increasingly fond of and inspired by her. We had an illustrious field of candidates from across the country with a wide range of backgrounds. Johanna's knowledge of the field and the enthusiasm of artists with whom she had worked made her our perfect choice. Her work at NYSAF in the development of new plays and musicals has made her such a good match for us. She is committed to our Ground Floor Center for the Creation and Development of New Work and our School of Theatre, as both are important pieces of our programmatic puzzle."
"While the Task Force looked at candidates from across the country it was a pleasure to find a candidate with deep roots in Berkeley and the Bay Area," continues Owen. "Pfaelzer lived in Berkeley as a child and worked for five years as the associate artistic director at American Conservatory Theater. She gets the particular nature of this community where we have rich diversity, strong political opinions, and a very well-educated audience." Pfaelzer will move to the Bay Area with her husband, lighting designer Russell Champa, and their son, Jasper.
She comes to the theatre in the tradition of luminaries who themselves were not directors, such as Joe Papp, founder of The Public Theater, and Andre Bishop, leader of Lincoln Center. "Johanna's full attention will be on display in the care she gives to the curation of the season, and the in-depth collaboration with each show's creative team throughout their production process," says Medak. "We are also excited by her interest in knowing our audience and our community."
"If I could invent a person to fill the big shoes left at Berkeley Rep by Tony Taccone, Johanna Pfaelzer would exceed my imaginings," says Tony Award-winning director Michael Mayer. "She's a true gift to theatre-makers of all stripes; she creates a home for pure creativity, champions new writing in a wide range of forms, celebrates process like nobody I've ever known, understands storytelling in profound ways, and as she's demonstrated during her many years at New York Stage and Film, is a charismatic, wildly articulate, and inspiring leader."
"Let the wild ride continue," says outgoing artistic director Tony Taccone. "Johanna's vision, intelligence, and long history of curating great work make her an inspired choice as the new artistic director of Berkeley Rep. On behalf of the entire artistic staff, we welcome her with open arms. May the Force be with her."
Currently the artistic director at New York Stage and Film (NYSAF), Johanna Pfaelzer is a highly respected organization leader who has led NYSAF for the last decade to its current status as a highly successful and complex organization that is having a major impact by providing a rigorous and nurturing environment for writers, directors, and other artists to realize work that has gone on to production at the highest levels of the profession. Notable works that were developed under Johanna's leadership with NYSAF include the 2016 Tony Award winners Hamilton by Lin-Manuel Miranda and The Humans by Stephen Karam, The Wolves by Sarah DeLappe, Junk and The Invisible Hand by Ayad Akhtar, A 24-Decade History of Popular Music by Taylor Mac, Hadestown by Anaïs Mitchell, The Homecoming Queen by Ngozi Anyanwu, The Great Leap by Lauren Yee, John Patrick Shanley's Pulitzer- and Tony- Award-winning Doubt, The Fortress of Solitude by Michael Friedman and Itamar Moses, The Jacksonian by Beth Henley, and Green Day's American Idiot.
Johanna is a graduate of Wesleyan University and the Actors Theater of Louisville Apprentice Program, and has served as an adjunct assistant professor in the MFA Theater Program in the Columbia University School of the Arts. Johanna Pfaelzer's selection follows a yearlong search for Tony Taccone's successor conducted by the nationally recognized consulting firm, Albert Hall & Associates with a task force led by Board President, Stewart Owen.
In anticipation of the transition, members of the board met with staff members as well as over 30 working artists from across the nation and abroad to help them understand the issues facing the field. Berkeley Rep revisited and revised its mission statement and articulated its values in an effort to clearly identify the candidate it was looking for. The transition task force received nearly 160 applications and ultimately interviewed a field that included women, men, people of color, seasoned artists, and early career candidates. Over many months, the task force travelled to meet candidates and see work. "Ultimately it became clear that Pfaelzer had what it will take to lead Berkeley Rep into a fresh artistic direction," says Owen.
Tony Taccone will continue in his position through the 2018-19 season. He will direct the world premiere musical that continues his long relationship with John Leguizamo, Kiss My Aztec!, next spring. Taccone announced his departure in January 2017, with the intent of giving Berkeley Rep time to secure a smooth transition.
Berkeley Repertory Theatre has grown from a storefront stage to an international leader in innovative theatre. Known for its ambition, relevance, and excellence, as well as its adventurous audience, the nonprofit has provided a welcoming home for emerging and established artists since 1968. Over 5.5 million people have enjoyed nearly 500 shows at Berkeley Rep, which have gone on to win five Tony Awards, seven Obie Awards, nine Drama Desk Awards, one Grammy Award, and many other honors. Berkeley Rep received the Tony Award for Outstanding Regional Theatre in 1997. Its School of Theatre engages and educates some 20,000 people a year and helps build the audiences of tomorrow with its nationally recognized teen programs. Berkeley Rep's bustling facilities - which also include the 400-seat Peet's Theatre, the 600-seat Roda Theatre, and a spacious campus in West Berkeley - are helping revitalize a renowned city. Be a Rep. Learn more at berkeleyrep.org
Related Articles View More San Francisco

Stories

Shows
More Hot Stories For You