Review Roundup: THE FULL MONTY at San Diego Musical Theatre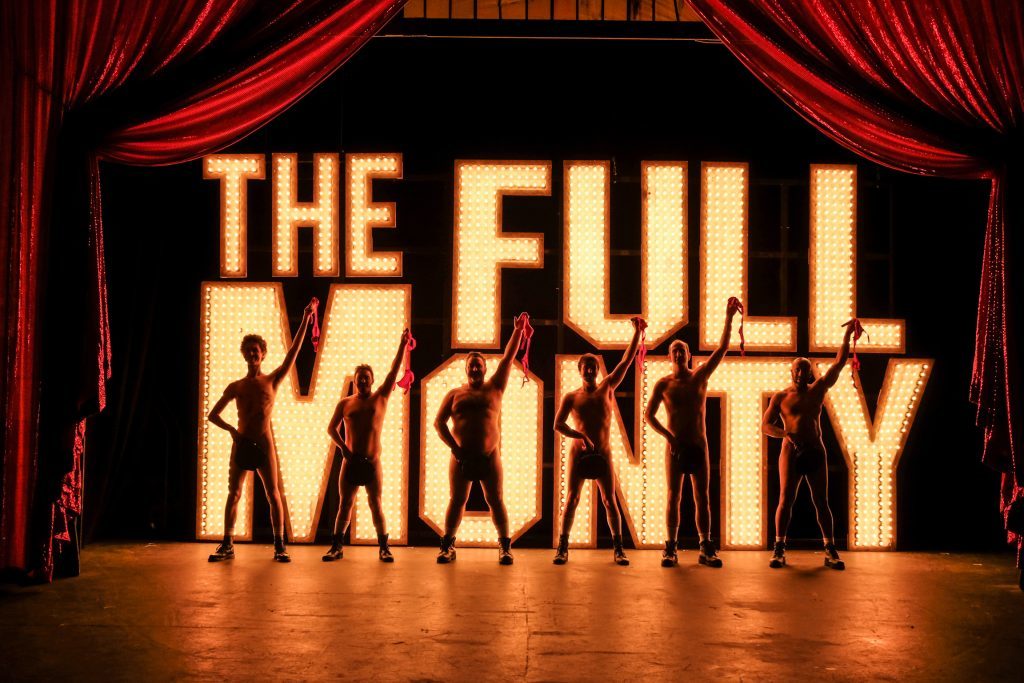 The reviews are in for THE FULL MONTY at San Diego Musical Theatre, which opened on January 26th and is set to run through February 25th. The musical comedy features Music and Lyrics by David Yazbek and Book by Terrence McNally, and is based off of the 1997 comedy film of the same name.
THE FULL MONTY follows six men recently laid off from their jobs working at a Steel Mill. Desperate to earn some cash to help support their families, they turn to a more non-conventional way to earn money: they create a strip-tease act, sans the tease. They're going THE FULL MONTY.
The Cast of THE FULL MONTY: Steven Freitas (Jerry Lukowski), Danny Stiles (Dave Bukatinsky), Richard Van Slyke (Harold Nichols), Ron Christopher Jones (Noah 'Horse' Simmons), Jonathan Sangster (Malcolm Macgregor), Jack Eld (Ethan Girard), Devlin (Jeanette Burmeister), Amy Perkins (Pam), Joy Yandell (Georgie Bukatinsky), Karyn Overstreet (Vicki Nichols), Scott Arnold (Buddy 'keno' Walsh), Owen Schmutz (Nathan Lukowski), Beth Alison (Estelle), Sydney Joyner (Ensemble), Stella Kim (Ensemble), Luke H. Jacobs (Marty), Shayne Mims (Ensemble), Paul Morgavo (Reg), and Alex Nemiroski (Teddy).
The Creative Team: Neil Dale (Director), Don Lemaster (Music Director/Conductor), and Paul David Bryant (Choreographer).
Let's see what the critics had to say!
Pam Kragen, San Diego Union-Tribune: At The Old Globe, the lead character - debt-laden, trouble-making single dad Jerry Lukowski - was played by the matinee idol-handsome Patrick Wilson. Dale's production stars Steven Freitas, a smaller, scruffier, more even match with the film's scrappy star Robert Carlyle. Freitas had some vocal issues on opening night but he's entirely believable in the role. Dale also has opened the door a bit wider for the character of Malcolm, a suicidal and closeted gay ex-steelworker. In the hands of Jonathan Sangster, a strong singer and actor, Malcolm is more open with his emotions and his affections, in keeping with today's times. The heart of the production are Danny Stiles and Joy Yandell, who play Jerry's overweight and unemployed best friend Dave and his loving but neglected wife, Georgie. They're charismatic actors with strong voices and a tender connection so honest they'll bring tears to your eyes with the duet "You Rule My World." Other standouts are the singularly named Devlin as Jeanette, the gruff, chain-smoking and eccentric rehearsal pianist, and Ron Christopher Jones as the aging troupe member "Horse," who dances and sings with surprisingly youthful vigor in one of the show's best numbers "Big Black Man." Richard Van Slyke and Jack Eld complete the sextet of out-of-work strippers Harold and Ethan, respectively. Karyn Overstreet amuses as Harold's adoring wife, Vicky. Amy Perkins plays Jerry's ex-wife Pam. Owen Schmutz plays their precocious pre-teen son, Nathan. Scott Arnold plays pro stripper Keno Walsh. The rest of the ensemble includes Beth Alison, Luke Harvey Jacobs, Sydney Joyner, Stella Kim, Shayne Mims, Paul Morgavo and Alex Nemiroski.
Milo Shapiro, Stage and Cinema: Directed by Neil Dale and choreographed by Paul David Bryan, the performance quality felt strongly split between the acts. By the end of the first act, San Diego Musical Theatre's production would best be described as "pleasant and enjoyable." Voices felt adequate, but unremarkable. The humor was entertaining, but not excitingly so. Devlin adds some wonderful and welcome comic character work as Jerry's pianist, Jeanette, a hardened veteran of yesteryear show-biz. Ron Christopher Jones joyfully riles up the audience as "Horse," far too old to be stripping, but notably the first auditionee for Jerry's show to have a real sense of rhythm, making him a contender. In Act II, a fire seemed to be lit beneath everyone musically. Notes were held longer, stronger, and in better pitch. Numerous impressive harmonies triumphed, especially during "You Walk With Me," a tender moment between two of the stripper-wannabees: the frequently-awkward Malcolm (Jonathan Sangster) and the emotionally-taxed Ethan (Jack Eld). The book and music even seem to gain energy, with more laugh lines that the cast delivers well and more memorable songs from David Yazbeck, like the sweet "You Rule My World" featuring two of the wives in a lovely split-stage number (Karyn Overstreet and Joy Yandell). In the end, SDMT's The Full Monty is fun, touching, and recommendable production, full of solid musical performances.
Photo Courtesy of Ken Jacques.