Photo Flash: THE COMPLETE WORKS OF WILLIAM SHAKESPEARE (ABRIDGED) Originates Laughs This Fall At The Utah Shakespeare Festival
Festival audiences will laugh out loud at the playful, precocious production of "The Complete Works of William Shakespeare (abridged)," presented as part of the 2009 fall season at the Utah Shakespearean Festival.
The show runs from September 18-October 17. Performances are at 2 p.m. and 7:30 p.m. Tuesday- Saturday.
Tickets: $25–$52.
The play by Adam Long, Daniel Singer, and Jess Winfield explores all thirty-seven of Shakespeare's plays in ninety-seven minutes. Mixing in hilarious antics and props galore, the three actors attempt to transform into theatre's most famous characters.
"This show is strictly entertaining," said director David Ivers. "It's an event for these characters, an impossible challenge to see if getting through all of the Bard's work can be done." "Complete Works" is one of the world's most popular and oft performed comedies. It was London's longest-running comedy, running for 10 years at the Criterion Theatre. "Sometimes the right idea with the right combination of talent comes together at the right moment and creates something magical," says playwright Daniel Singer.This is the Festival's second time producing the play, the last being in the fall of 1999. This time around, the Festival worked with playwright Daniel Singer to produce the most updated and relevant for 2009 script.Actor Quinn Mattfeld stays on for the fall season after playing Orlando in "As You Like it" and Antipholus in "The Comedy of Errors" this summer at the Festival. Making their Festival debut are Geoffrey Kent and Matthew Mueller, who come directly from the Colorado Shakespeare Festival's production of "Complete Works."Tickets for "The Complete Works of
William Shakespeare
(abridged)" are on sale now at 1-800-PLAYTIX and
www.bard.org
. Also presented this fall is the poignant comedy "Tuesdays with Morrie" based on the best-selling book by Mitch Albom, and the haunting thriller "The Woman in Black"
Photos by Karl Hugh. Copyright Utah Shakespearean Festival 2009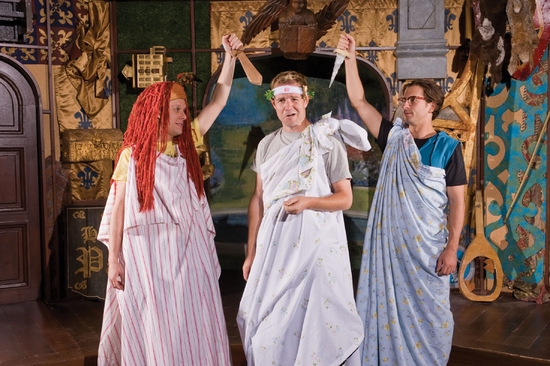 Matthew Mueller, Geoffrey Kent, and Quinn Mattfeld

Geoffrey Kent and Matthew Mueller